Ziegler established as rock in D-backs bullpen
Reliever leads current staff with most appearances in Arizona uniform
SCOTTSDALE, Ariz. -- It's rare in the Major Leagues these days for a reliever to stay with the same club for more than a few years. That's why the D-backs consider Brad Ziegler, suddenly an elder statesman in the team's bullpen, such a valuable commodity on the mound and in the clubhouse.
Ziegler, 35, has pitched for just two teams (the A's and the D-backs) in his seven-year career but has now established himself as one of the veterans of Arizona's pitching staff. No current Arizona pitcher has more appearances in a D-backs uniform than Ziegler's 246. And only Josh Collmenter, David Hernandez and Daniel Hudson have tenures with the team that date back as long or longer than Ziegler, who arrived in a 2011 Trade Deadline deal.
"It's a lot for one team," Ziegler said. "There are a lot of relievers that have been around [the Majors] a lot longer than me, for sure. Even [Oliver Perez has] been around a lot longer, but as far as being here -- I feel like in some ways there's a lot of experience that I can pass on to guys because of that. But in a lot of ways, with a new manager and new front office, we're all kind of in the same spot and kind of learning together and feeling off each other."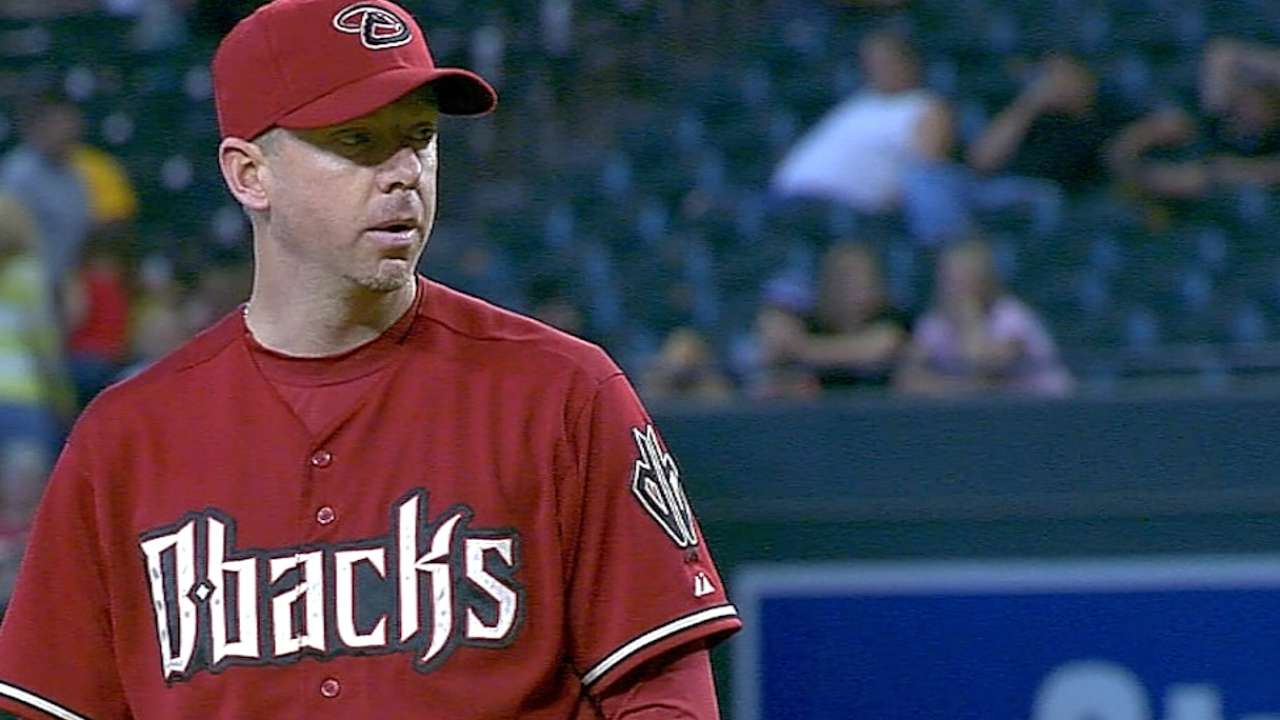 D-backs manager Chip Hale pointed to Ziegler's experience in a variety of roles as one of his most valuable traits. The right-hander, known for his distinctive sidearm-submarine delivery, has never started a game but has at least one save in five of his seven big league seasons.
"He's a guy who's closed. There aren't that many guys who have done it and have had success, and he has. So we always know there's a second guy if [Addison Reed] needs a day off or if Addison goes down. He's very important, and that's why those guys are very valuable in the league."
Ziegler said some of the leadership role comes by default -- players come and go, and suddenly he's one of the veterans being called on in meetings or sought out by younger players -- but he also wants to lead by example. Earlier in his time with the D-backs, he took on a role as the team's union representative.
Whatever the scenario, he enjoys being a guy teammates can go to for answers.
"I think it's part of being the natural role," fellow reliever Matt Reynolds said. "As you get older in this league, you naturally acquire more knowledge. There comes a point where you flip from being the young guy looking up to the older person to now you have the knowledge and you can help pass it on to some of the younger guys. I think Brad's really taken on that role. He's been one of those guys that's enjoyed being a mentor to younger guys and helping guys out when needed."
Joey Nowak is a reporter for MLB.com. Follow him on Twitter at @joeynowak. This story was not subject to the approval of Major League Baseball or its clubs.