Hoffman enjoys mentoring young players
Padres coach even has impact on player leaving organization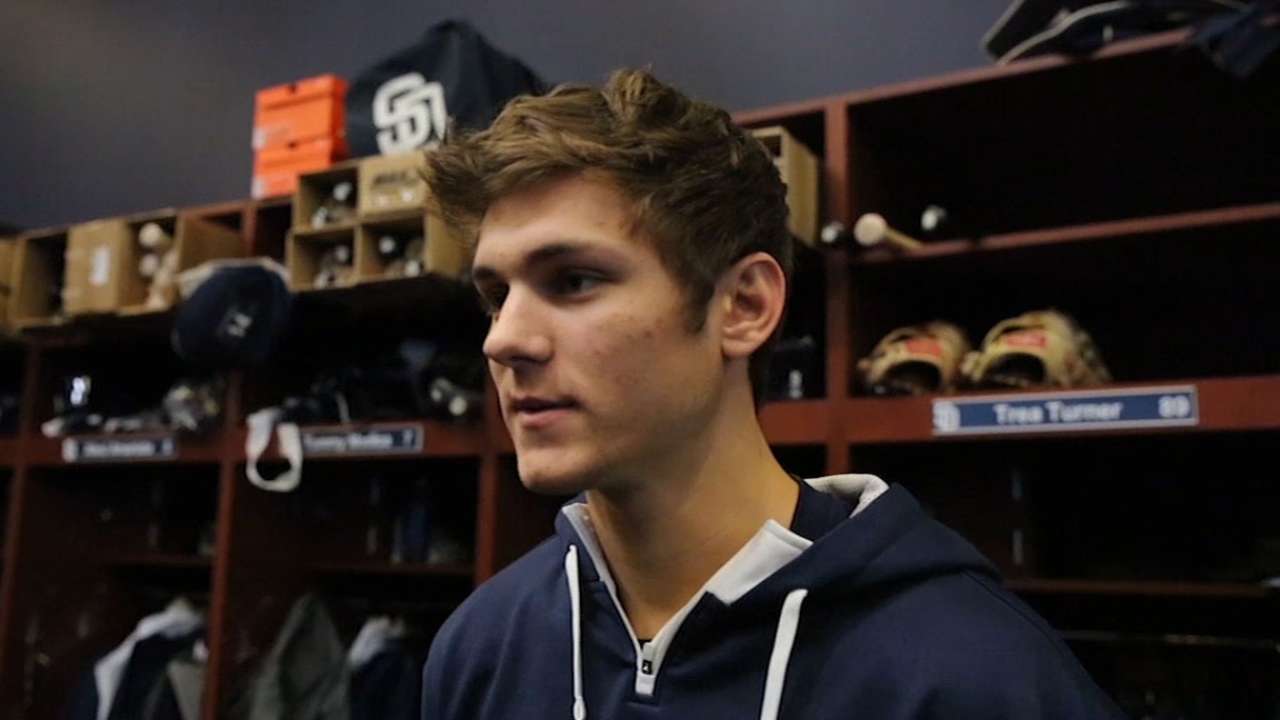 PEORIA, Ariz. -- Trea Turner's existence in big league camp with the Padres hasn't so much caused a stir as it has curiosity -- the talented 21-year-old Minor League shortstop that, come June, will be playing in another organization.
Turner, the player to be named later in a wild three-team trade the Padres pulled off in December, will become property of the Nationals after one year passes since he signed his first professional contract.
For now, Turner is trying to assimilate himself in drills and games like any other young player -- acting like a sponge, soaking in instruction where he can get it, watching and learning from older players.
"It's been great. It's been everything I've hoped for and more," Turner said.
Helping ease Turner's transition to big league camp and helping him get better during morning drills on the back fields of the team's training facility is third-base coach Glenn Hoffman, who is Trevor Hoffman's older brother.
"He's been great. We know all the stuff going on," Hoffman said of Turner. "But once you're on the field, you're just a ballplayer. He's here trying to get better."
Hoffman, starting his 10th season with the team, works with the infielders. He knows about the nuances of infield play from his own career with the Red Sox (1980-87), Dodgers (1987) and the Angels (1989).
This is Hoffman's 40th professional season overall. He's brimming with experience, exuberance. All of which he's willing to pass along.
"He makes ground balls pretty fun, he brings a lot of energy to practice and meetings," Turner said. "We play games out there and he helps you get better. It's been awesome working with him."
It's not just fundamentals and defensive mechanics that Hoffman is trying to instill in Turner and the other young players in camp. He's more than willing to share his own story about his first big league camp with the Red Sox in 1978, when he was 19.
The memory of it, even today, still brings a smile to Hoffman's face -- playing next to Red Sox infielders Jerry Remy and Rick Burleson and even watching Carl Yastrzemski pick his throws out of the dirt.
"It was unbelievable. I was overwhelmed. My idol was Carl Yastrzemski. I saw Ted Williams there, he was an instructor. Walking up from the Minor League field, stretching with them, it was just so unreal. I was just looking around, going, 'Wow, this was really neat,' Hoffman said.
"I got nine at-bats and felt like I was going to make the team. Then [manager Don Zimmer] called me in and said that I was going back down. I'm walking back to the Minor League side and I'm crying. I didn't understand how it all worked."
The lesson here, Hoffman said, is to enjoy the experience of big league camp, soak in as much as you can and then take those lessons with you -- to a Minor League affiliate, wherever that may be, even if it's with another organization.
"The overall experience, what an honor and a privilege it was," Hoffman said. "I made the most of it. And I think as a young player, it's so different than when you're a veteran. It's something so special."
Corey Brock is a reporter for MLB.com. Keep track of @FollowThePadres on Twitter. This story was not subject to the approval of Major League Baseball or its clubs.