Bailey pleased with progress after latest bullpen session
Recovering righty pitches from stretch, throws slider, split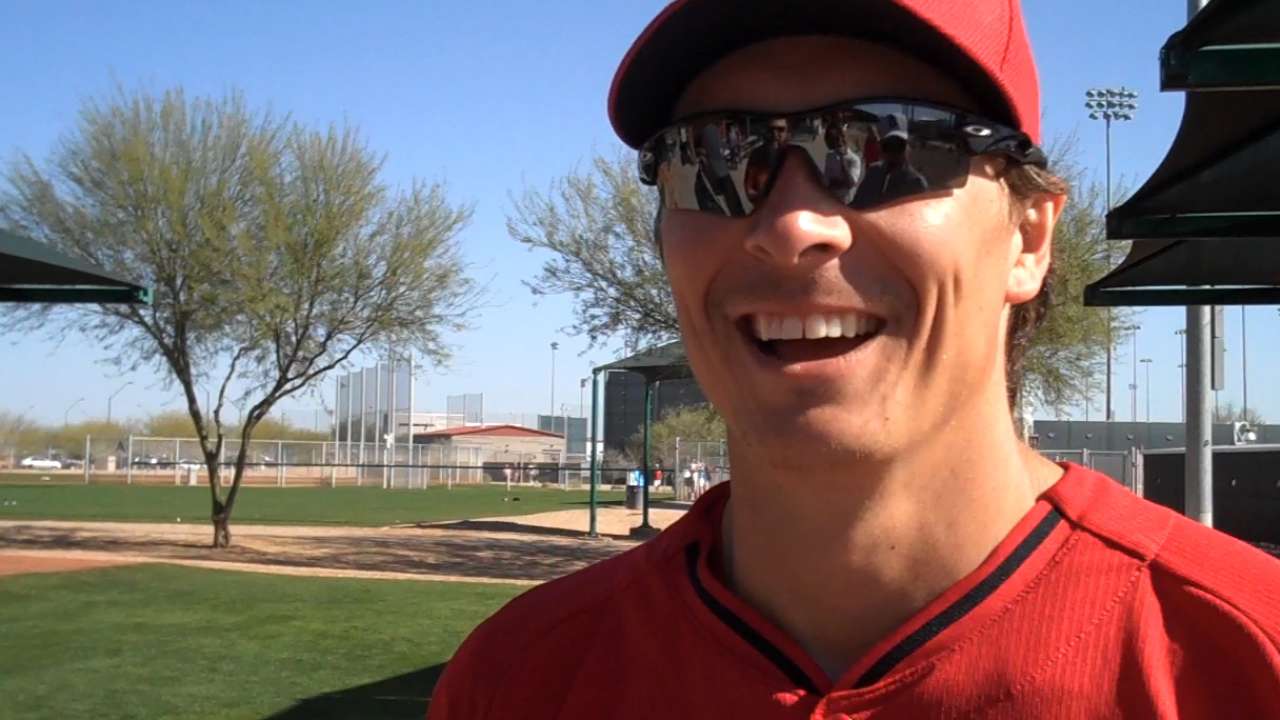 GOODYEAR, Ariz. -- Reds starting pitcher Homer Bailey was on a mound for the fourth time on Sunday morning in his latest bullpen session. What made this outing important for Bailey was it was the first time he threw pitches other than fastballs and he also worked from the stretch.
Overall, 49 pitches were thrown with only about 20 being from the windup.
"I think today was our best day," Bailey said. "We threw splits and sliders, worked both sides of the plate. Same thing with the fastball."
Bailey had surgery on Sept. 5 to repair a torn flexor mass tendon near his right elbow. After Sunday's session, Bailey did not know what the next step was, or if he was ready to face hitters in live batting practice.
"You're asking the wrong person. They tell me to do stuff and I do it," Bailey said.
Bailey felt good using the other pitches for the first time.
"Strangely enough, it was probably the best command with the slider I've ever had. I just used them all up," Bailey said. "A slider and split, to me, doesn't put as much stress on my forearm and elbow as a fastball does, sheer velocity wise."
Other items of note from Sunday:
• Outfielder Brennan Boesch, a non-roster invite, has been impressive to this point. Boesch hit his second homer in two days on Saturday vs. the Royals. The Reds' bench currently lacks many power options and Boesch hit 25 home runs last season at Triple-A for the Angels.
"I think in an optimum situation, you have players that are great situational players -- table setters -- and you have guys that, when needed, provide the threat of a three-run homer," Reds manager Bryan Price said. "I think we have a good portion of our bench secured to a certain degree and we're very happy with those players. But there are some open spots that we could use some thump."
• Price expects more of the same this season when it comes to defensive shifts for his left-handed pull hitters, namely Jay Bruce. While he doesn't want his hitters to harm their swing while changing their approach, he hopes they can take more advantage of the open left side of the infield.
"If you're leading off an inning down by two, a solo homer's great, but you really want to create a bigger opportunity and the bunt is sitting right there in front of you, I think we have to appreciate that opportunity and take advantage of it," Price said. "And I think Jay worked hard on it last year and wasn't terribly successful. I think you have to be able to utilize what's available to you based on the game situation."
Mark Sheldon is a reporter for MLB.com. Read his blog, Mark My Word, and follow him on Twitter @m_sheldon. This story was not subject to the approval of Major League Baseball or its clubs.