Trout's big blast highlights 'bee' game vs. KC
Outfielder hits solo shot; Shoemaker makes spring debut after swarm delay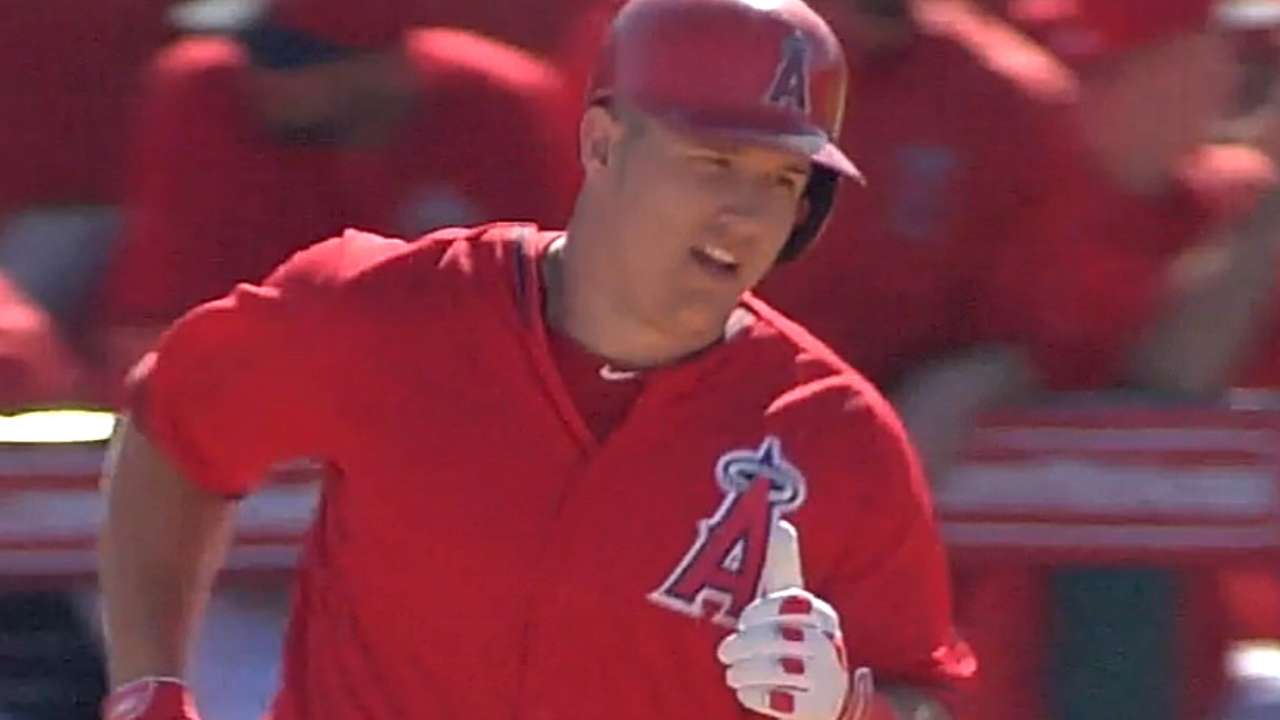 TEMPE, Ariz. -- A swarm of bees and an exchange of runs got the Cactus League game between the host Angels and the Royals off to an exciting start Sunday, and the Royals went on to claim a come-from-behind 6-4 victory at Tempe Diablo Stadium.
Mike Trout hit his first homer of the spring with a booming shot over the berm in left-center field in the fifth inning after some back-and-forth scoring in the first inning interrupted by the bees.
After second-year starter Matt Shoemaker, the runner-up in American League Rookie of the Year Award voting last season, warmed up a second time after the swarm of bees delayed the start of the game by 10 minutes, the Royals got on the board on a two-run homer by Eric Hosmer.
In the bottom half of the inning, the Angels responded with consecutive singles by Trout, Albert Pujols and David Freese to send their first run across the plate in what turned into a three-run first against right-hander Edinson Volquez, making his Royals debut. The Angels scored their other two runs that inning when Erick Aybar reached on an error and C.J. Cron delivered a sacrifice fly.
The Royals entered the ninth trailing, 4-2, but a four-run frame -- keyed by Orlando Calixte's two-run triple and Ryan Jackson's go-ahead RBI single -- helped K.C. remain unbeaten (5-0) in Cactus League play.
Shoemaker settled down to finish his first outing of the spring with three innings pitched, allowing the two runs on four hits.
Volquez, meanwhile, allowed three runs, only one of them earned, on three hits while striking out one.
"I felt really good," Volquez said. "My breaking balls were outstanding. I was a little up in the zone, but it was OK."
The swarm of bees was removed by a beekeeper in the middle of the fourth inning, causing another delay of about 10 minutes.
Up next: The Angels hit the road for Monday's Cactus League game against the Reds at Goodyear Ballpark, and it will be left-hander Andrew Heaney on the mound for his Angels debut. Heaney, acquired from the Dodgers in the Howie Kendrick trade and ranked by MLB.com as the No. 5 left-handed pitching prospect in the game, is vying for the club's No. 5 starter spot. The game, with first pitch at 1:05 p.m. PT, can be seen live on MLB.TV and listened to with Gameday Audio.
John Schlegel is a national reporter for MLB.com. You can follow him on Twitter @JohnSchlegelMLB. This story was not subject to the approval of Major League Baseball or its clubs.