Niese builds base as Mets fall to Bogaerts, Red Sox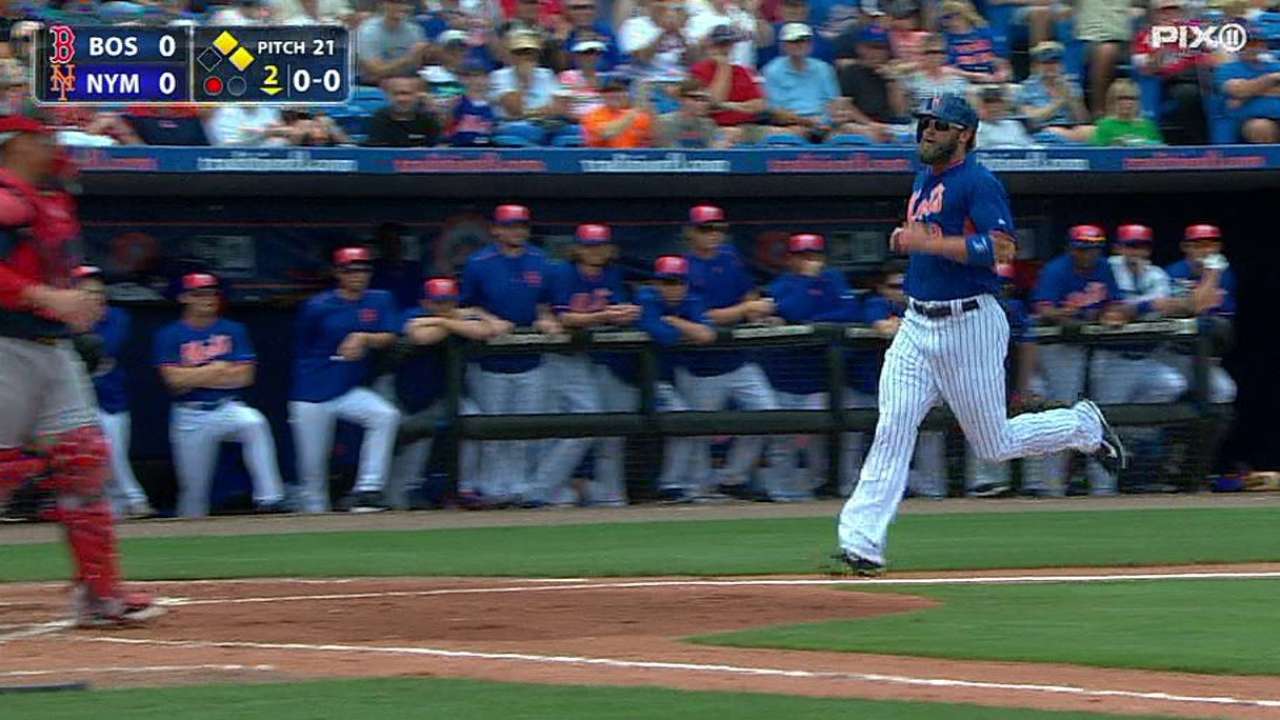 PORT ST. LUCIE, Fla. -- Xander Bogaerts hit a three-run homer in the fifth inning off Hansel Robles to lead the Red Sox to a 6-3 victory against the Mets at Tradition Field on Sunday.
Bogaerts, who also had a run-scoring single in the third inning, finished the day 2-for-3 with four RBIs. He and starting catcher Christian Vazquez were the only two projected starters on the travel roster.
Rick Porcello was sharp in his Grapefruit League debut for the Red Sox. He threw 51 pitches over three innings, allowed four hits and an unearned run to go along with two strikeouts.
"Right now I feel pretty strong," Porcello said. "I feel like I'm ahead of where I was last year, so that's a positive."
Porcello grew up rooting for the Mets, but said they were just another team now and this game carried no extra meaning for him other than a step in his preparation for the season.
Mets right-hander Jon Niese enters this season healthy after battling a series of shoulder issues last season. He retired the first eight batters he saw during his own Grapefruit League debut on Sunday before surrendering two runs on three straight hits in the third that knocked him out of the game.
Niese threw 44 pitches in 2 2/3 innings, and admitted that he ran out of gas near the end of his outing. He struck out one and walked one.
"I haven't thrown that many pitches in a while," Niese said. "It's building up, getting better and better each outing."
Up next: Right-hander Zack Wheeler will make his spring debut for the Mets in their 1:10 p.m. ET game against the Marlins at Tradition Field on Monday. Wheeler was 2-0 with a 1.11 ERA in five starts against Miami last season, striking out 39 in 32 1/3 innings. Jenrry Mejia and Jeurys Familia are also scheduled to pitch.
Jamal Collier is a reporter for MLB.com. Follow him on Twitter at @jamalcollier. This story was not subject to the approval of Major League Baseball or its clubs.