CC throws live BP, says he's feeling 'so good'
Next step for Yankees left-hander could be simulated game
TAMPA, Fla. -- CC Sabathia is still about a week from appearing in a Grapefruit League game, but after tossing live batting practice on Sunday morning at George M. Steinbrenner Field, he said that he has no doubts about being ready for the beginning of the regular season.
With pitching coach Larry Rothschild in attendance, Sabathia threw 29 pitches on a back diamond to Yankees Minor Leaguers Greg Bird and Rob Refsnyder. He said that he threw all of his pitches and has not been affected by his surgically repaired right knee, which limited him to eight starts last year.
"I haven't had a setback and I've been feeling so good," Sabathia said. "I've been able to participate in every drill and haven't had where I've needed a day [off]. I feel good about how we're going and the pace that we're moving at."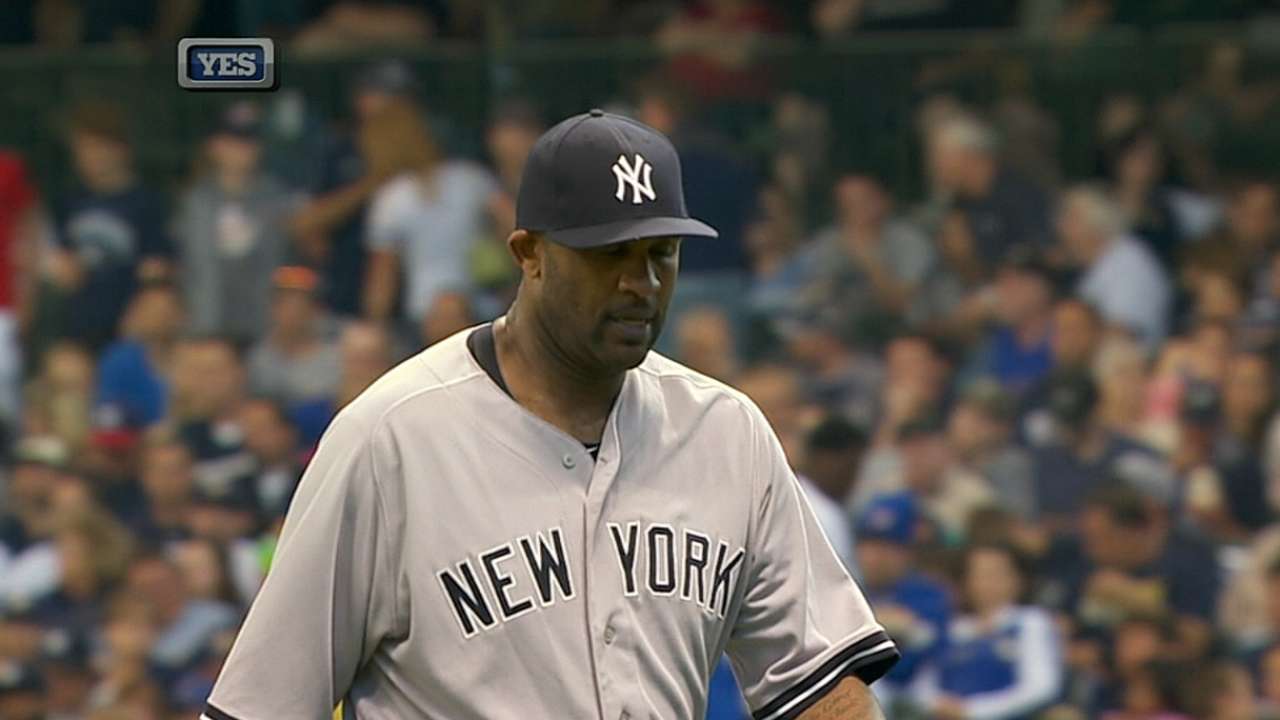 Sabathia's health has him encouraged about the future; he is under contract to earn $23 million this season and $25 million in 2016, with a $25 million vesting option on his contract for the '17 season that includes a $5 million buyout.
Asked how much longer he plans to pitch, Sabathia replied, "I would love to go until I can't throw anymore. We'll have to see how long that is."
Bird and Refsnyder made some loud contact against Sabathia, but the left-hander said that he was pleased with some of the changeups he threw, as well as a pitch that shattered Bird's bat.
Sabathia believes his next step will be a two-inning simulated game, which could then have him ready to appear in a Grapefruit League contest next week.
Sabathia said that in discussions before camp, Rothschild stressed the importance of taking it slow this spring, a concept that Sabathia was on board with. The maintenance program has permitted him to pitch without discomfort, as Sabathia remarked that he has not even needed to ice the knee regularly.
"I've seen enough action that I just want to be healthy and be able to get out there," Sabathia said. "We're just kind of moving at this pace that we set before Spring Training, just one step at a time."
Bryan Hoch is a reporter for MLB.com. Follow him on Twitter @bryanhoch and read his MLBlog, Bombers Beat. This story was not subject to the approval of Major League Baseball or its clubs.