Lee out with renewed left elbow soreness
Phillies southpaw to miss next start; same elbow ended season last July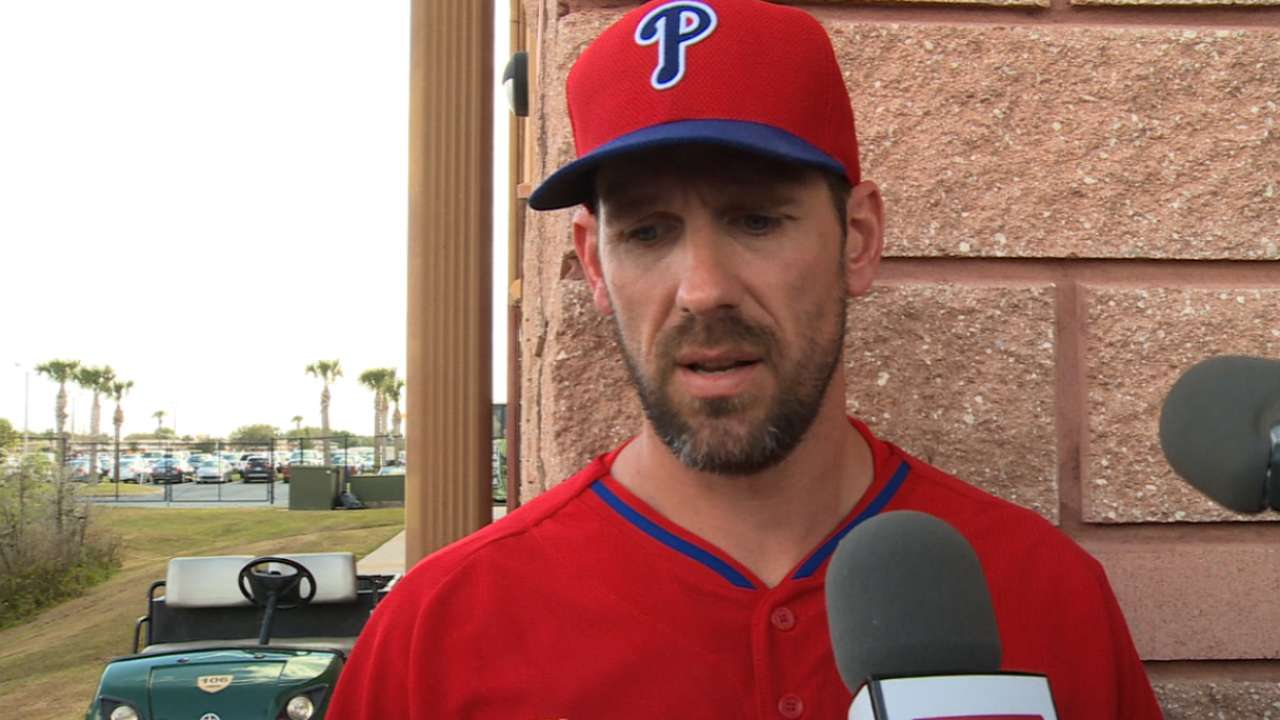 PORT CHARLOTTE, Fla. -- Something has gone wrong for a team that needs a lot to go right this season.
Phillies general manager Ruben Amaro Jr. announced before Sunday's Grapefruit League game against the Rays at Charlotte Sports Park that left-hander Cliff Lee is experiencing discomfort in the same area of his elbow that bothered him last season. That strained flexor tendon ended his season on July 31.
Lee will miss his next scheduled start against the Tigers at Bright House Field.
"I just don't have any idea where we're going to go from there," Amaro said. "Hopefully he'll be able to make his following start, but I'll talk with [pitching coach Bob McClure] and [manager Ryne Sandberg] and with Cliff and we'll see how he feels moving forward to see how altered his schedule will be. But it will depend on how he feels when he starts throwing again."
According to Amaro, Lee felt fine during his first spring outing against the Astros on Thursday in Kissimmee. It was during his workout the following day that he began to feel something.
"Very mild," the general manager said. "But because of what happened last year, we have to be hypersensitive."
Lee was examined by club physician Michael Ciccotti in Clearwater. A static ultrasound and enhanced MRI were ordered. The MRI photos have been forward to renowned orthopedist Dr. James Andrews.
Amaro described the steps as precautionary and said the tests showed no damage to the UCL.
"None of the area that is supposed to be affected has changed. There's no change from the last MRI we did. And he had thrown so much since then without really feeling anything until this last outing. We shouldn't say it's not alarming because it is of concern. It's the same area. But there's no increase in the original affected area," the general manager explained. "It's very, very small, a very pinpointed area. And again there's very little swelling or fluid in that area. But any time it's the elbow you've got to be concerned about it."
Said manager Ryne Sandberg: "First of all, there are still some positive signs. When he does warm up, he feels fine. I'm anxious to watch him play catch and see how he progresses the next few days and see if he makes a start from there. There is concern."
Amaro said all the doctors consulted last season recommended against surgery, but couldn't guess if that's now an option.
"A lot of it will depend on what Dr. Andrews says, but everybody has kind of been on the same page with this," he said. "That if they do have to do a surgery and have to clean away some of the 'bad stuff' in there, it's a real small area. If it ends up having to get repaired it's six to eight months.
"So I don't know. I think ultimately it'll be a decision for Cliff later on. But a lot of it will depend on how he's feeling when he starts throwing again."
In the short run, this is a potential setback on more than one level. If Lee is healthy and pitching well, the Phillies are obviously a better team. And if he pitched well enough to be traded, it could help accelerate the franchise's rebuilding process.
"It could affect the bigger picture," Amaro agreed. "If he can't perform, of course it's going to affect us whether he pitches for us or somebody else."
Paul Hagen is a reporter for MLB.com. This story was not subject to the approval of Major League Baseball or its clubs.