MLB.com Columnist
Richard Justice
Martin's leadership abilities go above and beyond
All-Star catcher returns to his home country looking to lead Blue Jays back to postseason
DUNEDIN, Fla. -- The Toronto Blue Jays know a lot of what they're getting with their new catcher, Russell Martin.
For one thing, plenty of it is easy to measure.
Offensively, he led all Major League catchers in on-base percentage in 2014 (.406) and was fourth in OPS (.843). He was also one of baseball's five best defensive catchers, according to Fangraphs.com.
All good stuff, right?
Yet when the Blue Jays talk about why they signed him to a five-year, $82 million contract, they almost never begin there. They would never have given him that kind of money without expecting the same kind of production, but the Blue Jays also emphasize other things.
They point to intangibles like leadership and presence, to work ethic and preparation, to being a good teammate. Funny thing is, the Pirates used many of the same words in discussing Martin's two years in Pittsburgh. They say he changed their club the moment he walked through the door, that he helped change the results, but he also helped change the expectations.
"He just made us better in so many ways," Pirates center fielder Andrew McCutchen said.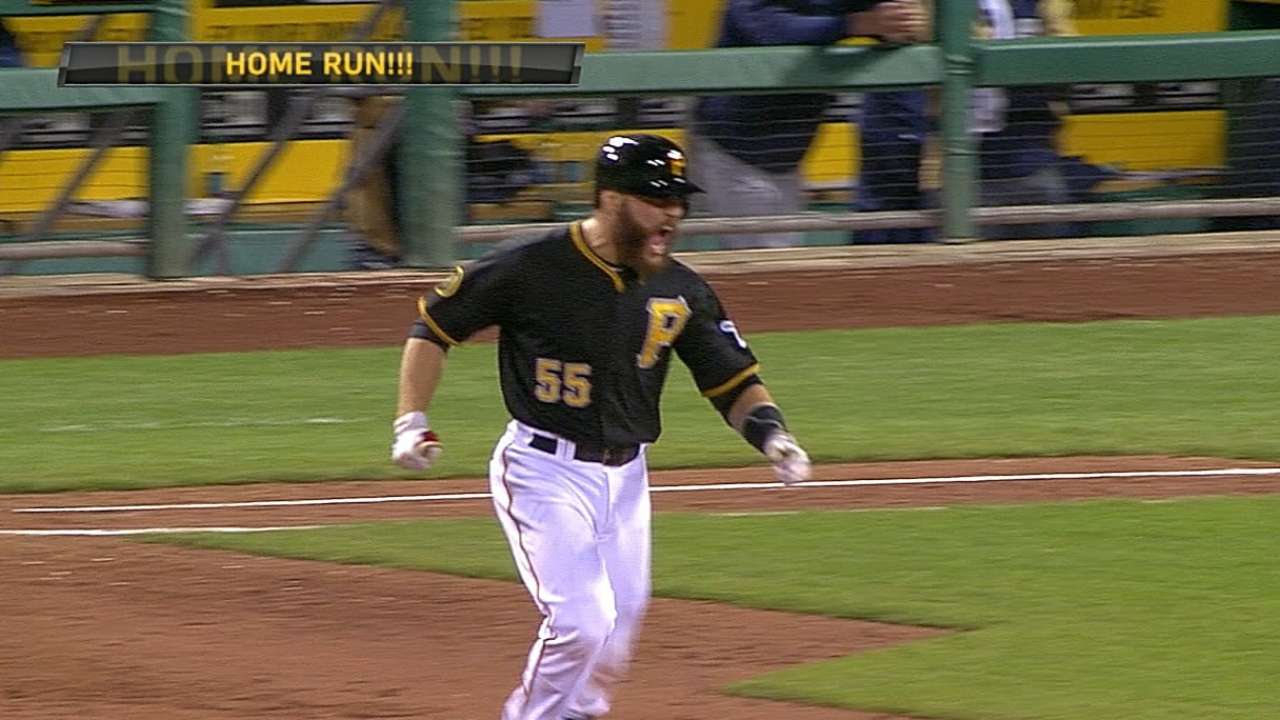 Martin, 32, said that plenty of what he's credited for came naturally. He said some other parts of it came from a teammate during the 2011-12 seasons. That would be Derek Jeter. When Martin arrived in Pittsburgh in 2013, he said he simply practiced some of the things he watched Jeter say and do.
"He gets a lot of recognition for his achievements, but people don't see behind doors," Martin said. "The attitude that he has going into games and the attitude he carries everyday in the clubhouse is something you have to see to understand. I was just impressed with the discipline that it takes and the mental toughness it takes to show up everyday and go to work with a certain attitude. I thought that was pretty special.
"It wasn't something I recognized right away. After a while, I started to realize it's what separates somebody who has talent and someone who uses it completely. That's the difference between good players and great ones-just an attitude."
And when Martin signed with the Pirates, a team that hadn't had a winning season or made a postseason appearance in 20 years, he was willing to try and set an example and a tone .
"I wanted to carry some of that over when I got to Pittsburgh," he said. "I was more in a position of leadership. There were more young guys there. I was considered more of a veteran presence, one of the oldest guys on the team. So it was like, `Okay, this is my opportunity to lead by example and do things I've seen work in the past.'
"It was in the work ethic and the discipline of coming to the field everyday ready to work. Just having a routine and sticking with the routine. It's as simple as that -- having that foundation to build on everyday. If you prepare the right way, there are no excuses. Now it's a matter of going out there and competing. There's no doubt in your mind. You can't really control all the results, but your effort and your preparation are things you can control. That's something I always preach."
The Pirates made back-to-back postseason appearances during Martin's two seasons. And in hosting two NL Wild Card Games, the atmosphere -- spectacularly beautiful PNC Park packed and crazy -- was something Martin will remember for the rest of his life.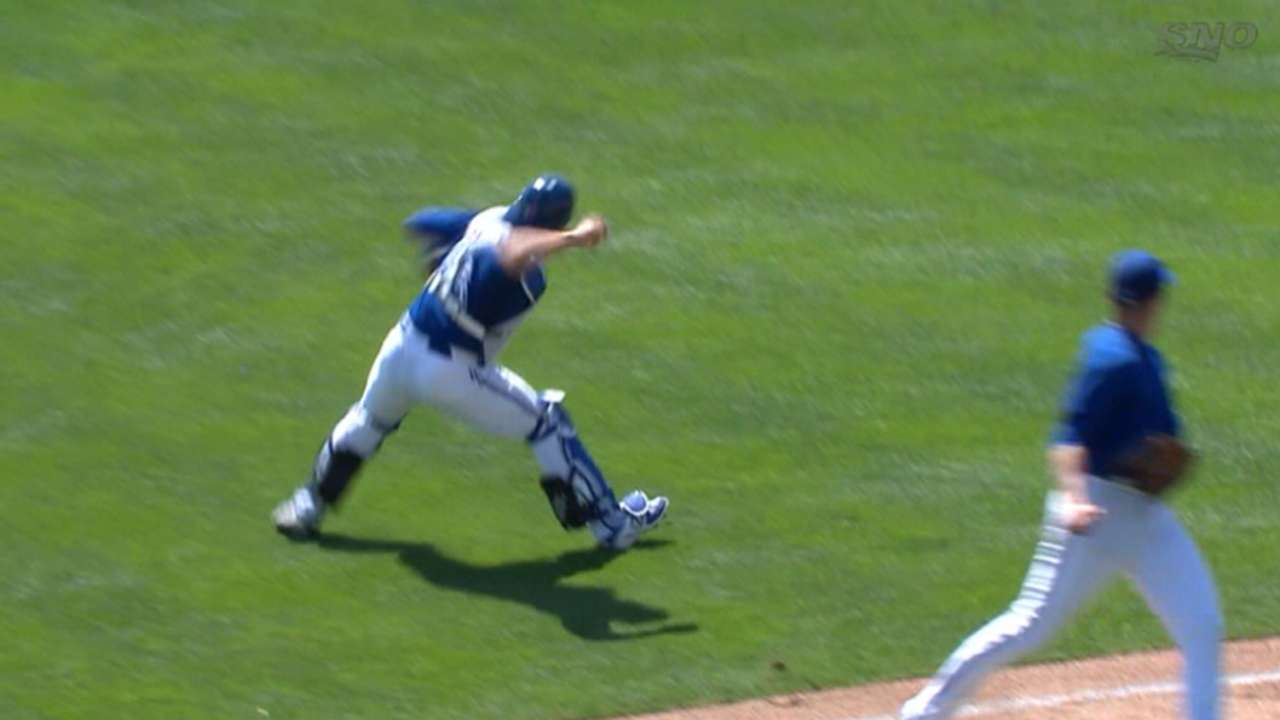 "They've given me a lot of praise over there, but I definitely understand it was a complete team achievement," Martin said. "Really, I just think that team didn't understand how good it was until somebody from the outside came in. The talent that was there was impressive. They just needed somebody with a little bit of experience to let 'em know, especially the pitchers.
"If you're not in a winning environment, you don't understand certain things. It wasn't like I showed up and we were automatically going to win. That first year, 2013, there was a couple of months where we had to grind and claw our way to some wins. Eventually, we started getting that feeling of expecting to win. We started believing we were a good team, and it was team effort."
So fast forward into 2015, and the Blue Jays also are a team with high hopes and a long dry spell. They haven't been to the postseason since 1993, but after an off-season in which they added Martin and arguably baseball's best third baseman, Josh Donaldson, there are reasons to believe.
Offensively, the lineup -- the one that already had Jose Bautista and Edwin Encarnacion and Jose Reyes -- could be as good as any in baseball. If Brett Cecil can handle the closer's role and if one of two of the young starting pitchers behind R.A. Dickey and Mark Buehrle are as good as they're projected to be, the Blue Jays have a chance.
"The road to success has a recipe," Martin said. "One, you have to stay healthy. Two, you have to believe in what you have. Three, you have to compete and get the job done. Obviously, you need the weapons, and I think we do here. I think there's a good mix of young and veteran talent. For me, I've seen that combination be a winning combination throughout my career. If we all do our jobs, we're going to do some special things."
Richard Justice is a columnist for MLB.com. Read his blog, Justice4U. This story was not subject to the approval of Major League Baseball or its clubs.