Smyly dealing with tendinitis in his shoulder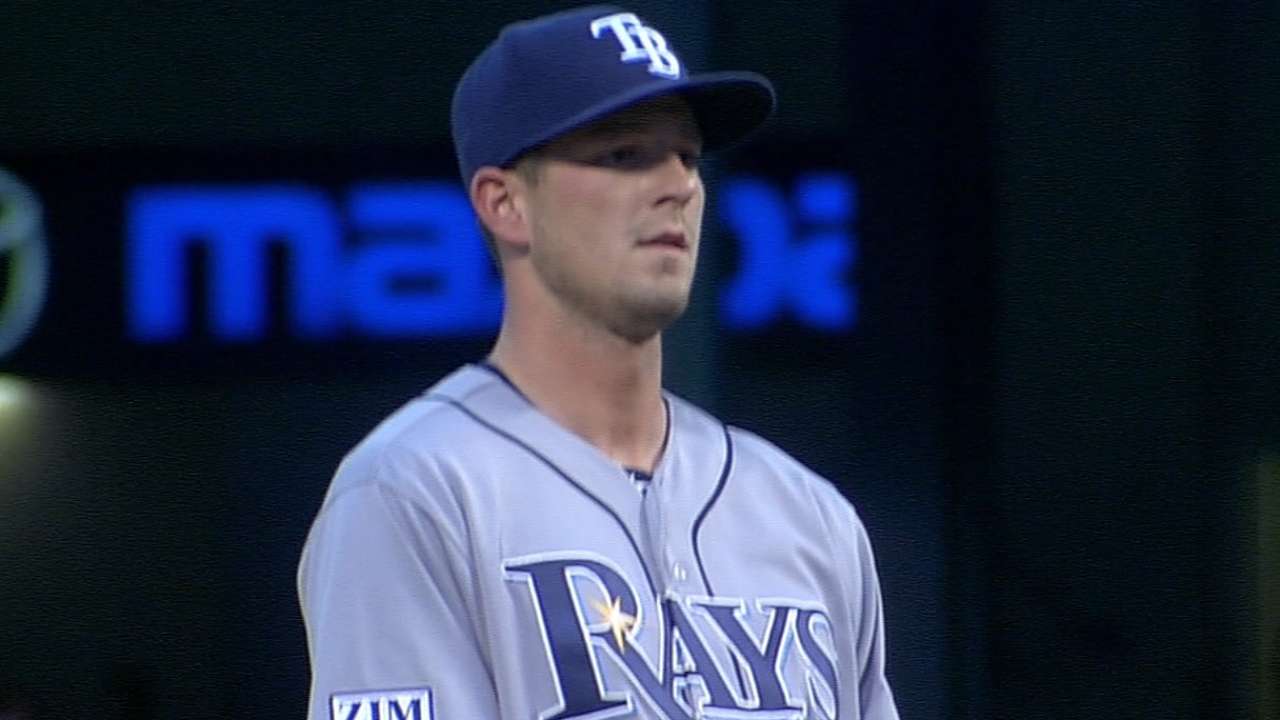 PORT CHARLOTTE, Fla. -- Drew Smyly is being held back due to tendinitis in his left shoulder.
The Rays left-hander's shoulder issue comes after an offseason in which he strained a tendon in his left middle finger that limited his throwing for about a month.
"I think every pitcher kind of goes through it a little bit," Smyly said. "I think I ramped my throwing program up a little too quick to try and catch up to everybody. And it's nothing serious. I'm just taking a couple of days off and then I'll re-evaluate it tomorrow or Tuesday."
Rays manager Kevin Cash said the Rays' current actions in relation to Smyly are precautionary.
"But we're not exactly sure," Cash said. "It's kind of on him and how he feels from this point forward. ... It's just, more or less, we're going to wait and see. He's a big part of what we're doing. So we want to make sure that he's good to go before we ramp it up."
Smyly injured his finger shortly after beginning his offseason throwing program in December. He had to take a month off from throwing due to the finger injury, which he said is now fine.
"It hasn't bothered me since February," said Smyly when asked if his finger injury had affected his shoulder. "The only thing you can relate it to is maybe since it put my offseason throwing program behind schedule I maybe tried to escalate everything too quickly and that can cause shoulder issues.
For the time being, Smyly's status is on hold.
"Yeah, it depends on how he comes in every morning," Cash said. "Working with Port [head athletic trainer Ron Porterfield] and getting his treatment and stuff like that."
Smyly's shoulder began to act up while throwing a bullpen on Friday. He finished his bullpen, but knew he needed to tend to his shoulder.
"It's just tight," Smyly said. "I've got a lot of knots in it. I'm just getting treatment. I'll probably start playing catch again in a couple of days."
Cash could not say whether Smyly will be out for the start of the season.
"We just don't know yet," Cash said. "I think it's fair to say there's a concern. But it's so early, we don't want to get too far ahead of ourselves. The shoulder is improving daily. Like I said, he's a big part of what we're doing, so we want to be precautionary and cautious in how we get him ramped up here."
Meanwhile, Nathan Karns will make his second start of the spring on Monday against the Yankees, rather than Smyly. Cash noted that fifth-starter candidate Alex Colome not being in camp -- coupled with Smyly's setback -- has not put the Rays in a panic mode, which might prompt them to bring another pitcher into camp.
"No, I don't think we're at that point," Cash said. "But you're always concerned about guys getting through Spring Training and stuff. So we're happy with the guys we have competing in camp. We're cautiously optimistic that Colome will be here soon.
"The good thing about Colome, he's coming in and will be ready to go, from all of our reports. So it should be pretty seamless getting here, his transition to getting on the mound."
Cash said the team is "stretching out" about 10 pitchers for starting roles at this point.
Bill Chastain is a reporter for MLB.com. This story was not subject to the approval of Major League Baseball or its clubs.