A-Rod sees first action at third base in Spring Training
Rodriguez makes play on one ball hit his way during five innings at hot corner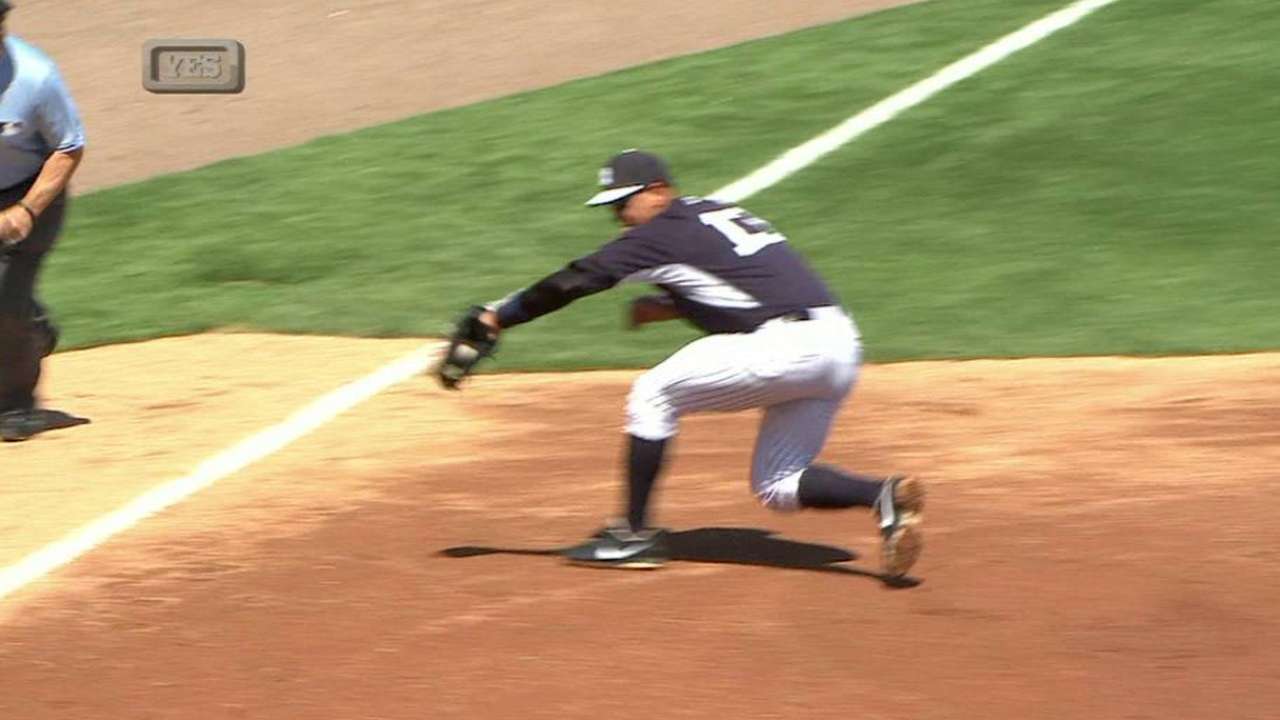 TAMPA, Fla. -- It was a play that Alex Rodriguez has made thousands of times in his career, stabbing a grounder backhanded and tossing a strike across the infield. Seeing action in the field for the first time in 17 months, he did not look out of place.
Rodriguez played five innings at third base in the Yankees' 3-2 Grapefruit League victory over the Nationals on Sunday at George M. Steinbrenner Field. He handled his one chance flawlessly, picking Tyler Moore's third-inning grounder and tossing to first baseman Garrett Jones to retire the side.
"It felt like [it had been] 10 years, at least," Rodriguez said. "I couldn't believe I had to throw the ball that far across the diamond. That's a long ways."
This marked Rodriguez's first appearance at third base since Sept. 10, 2013, a 7-5 victory over the Orioles at Camden Yards. It was the third game of the spring for Rodriguez, who notched a ground-rule double and struck out in his two at-bats against Washington. He is 2-for-6 with two walks.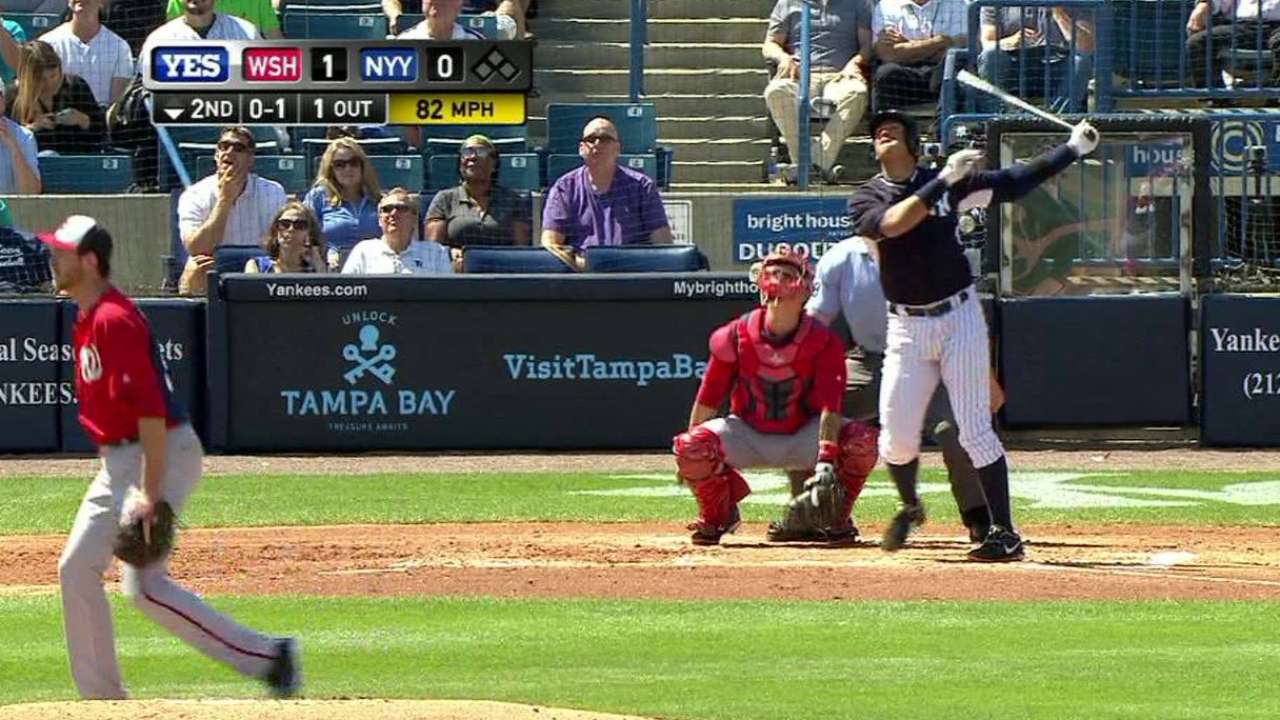 "I thought he looked good; made the play," Yankees pitcher Adam Warren said. "It was normal to me. I didn't even think twice about it."
Rodriguez has been taking grounders at the infield corners during workouts, as the Yankees would like him to be a serviceable backup for third baseman Chase Headley and first baseman Mark Teixeira. Since he is playing on two surgically repaired hips, Rodriguez seems to have realistic expectations of his range.
"I haven't moved around much," Rodriguez said. "I wouldn't expect too much movement, though. My expectation is, if the ball's hit to me, catch it and throw to first. It's not going to be an Ozzie Smith year."
Yankees manager Joe Girardi said that Rodriguez's mobility is "about what we expected," noting that it does not seem to be markedly different from where it was a few years ago.
"We understand he's not 25 years old," Girardi said. "I thought his approach on that ground ball was good; threw it well. We'll get him out there more, but my main focus is the at-bats, and if we put him out there too much, I think it lessens his at-bats."
Girardi said that Rodriguez will be in the Yankees' lineup as the designated hitter on Monday, when they host the Rays at 1:05 p.m. ET (watch on MLB.TV). That will mark Rodriguez's first time playing in back-to-back games this spring.
"The key is, you want to get your body in shape to play every day," Rodriguez said. "For me, one of the things I want to do is I want to get as many repetitions as possible on both sides of the ball, especially offensively like we talked about. Swing at strikes and try to make good contact."
Bryan Hoch is a reporter for MLB.com. Follow him on Twitter @bryanhoch and read his MLBlog, Bombers Beat. This story was not subject to the approval of Major League Baseball or its clubs.