Last call: Segura's swing adjustment looking good
New Brewers reliever Cotts shows off his sense of humor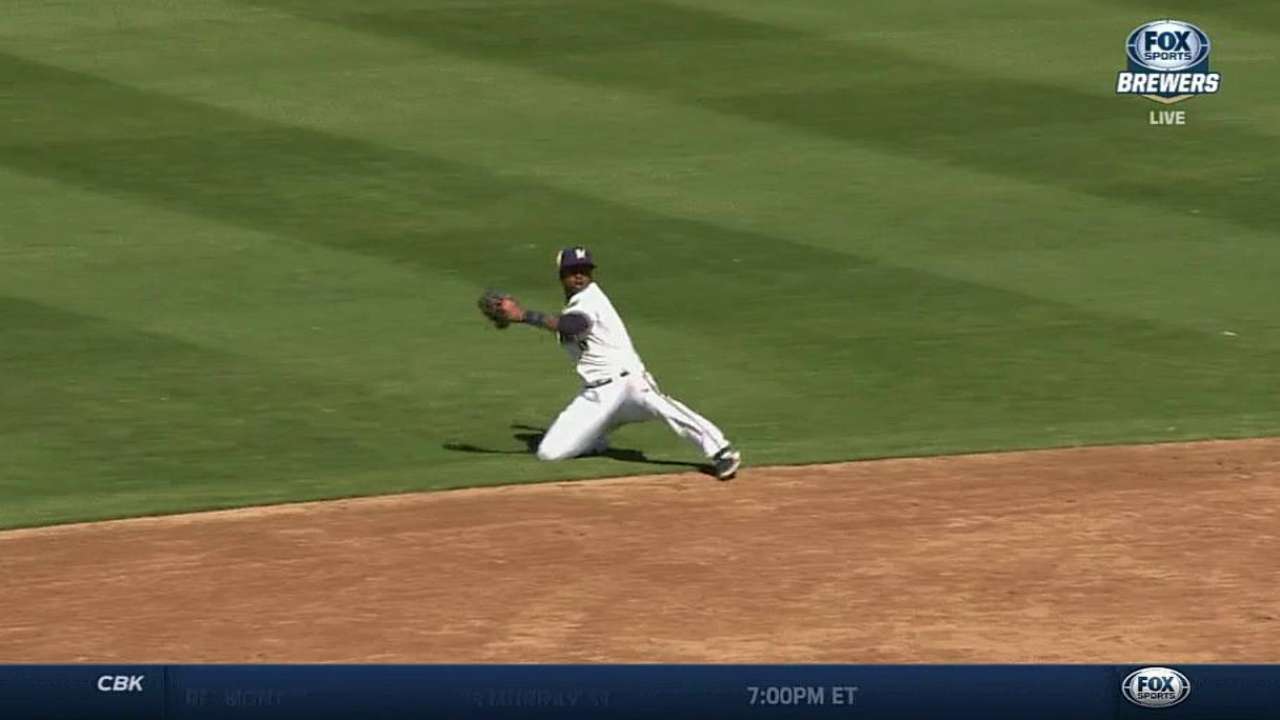 PHOENIX -- Last Call is a spot for all the notes and anecdotes from Brewers camp that didn't find a home elsewhere on the site. Today, good signs from Segura:
• Shortstop Jean Segura made the Brewers' defensive play of the game in the third inning against the Rangers on Saturday, when he dove to his right to stop a ground ball and fired a fastball to first base for an out. But he's also impressed observers of late with his bat. Segura has been working on a subtle mechanical change to make his swing less flat-footed.
"I just like his at-bats and the new mechanics of his swing. I like what he's doing," Brewers manager Ron Roenicke said. "He's [staying] back, which should allow him to see the ball better."
Here's Segura's subtly-altered weight shift. Brief censorship courtesy of @Sgennett2 pic.twitter.com/NsTT0J7wf7

- Adam McCalvy (@AdamMcCalvy) March 7, 2015
• New Milwaukee left-hander Neal Cotts introduced Brewers fans to his sense of humor while discussing Friday's shaky Cactus League debut. Cotts was charged with a run on a hit, three walks and a wild pitch while recording only one out before reaching his pitch limit.
"Of the four strikes I threw, I guess there were some decent-quality ones," Cotts said with a laugh. "You don't take much out of it. I'll go back out there in a couple of days. Forget that one and move on."
He'll get a clean slate Monday against the Royals at Maryvale Baseball Park.
• Rehabbing reliever Jim Henderson was at 89-91 mph with his fastball during a scoreless inning of work against the Rangers on Saturday. That's down from his previous regular-season velocity, but it's early in camp, and the Brewers won't even begin logging radar-gun readings until March 15.
• The Brewers committed two errors Saturday and briefly were charged with another before Scooter Gennett's misplay of a first-inning grounder was changed to a hit. They have made multiple errors in each of three Cactus League games, and Roenicke isn't happy.
"We didn't play very good again, and there's a couple other things that don't show up that we didn't do right," Roenicke said after a 5-4 loss to Texas. "I hate to say that it's early, because it still bothers me, but we'll play better."
• The Brewers will have the first of several "show-and-go days" this week before they play the Giants on Wednesday. Roenicke will pick several spots this spring to cancel the morning workout in an effort to break the monotony of Spring Training.
Adam McCalvy is the Brewers beat reporter for MLB.com. He has been covering the club since 2001.
This story was not subject to the approval of Major League Baseball or its clubs.