Weeks' monster homer clears batter's eye in Peoria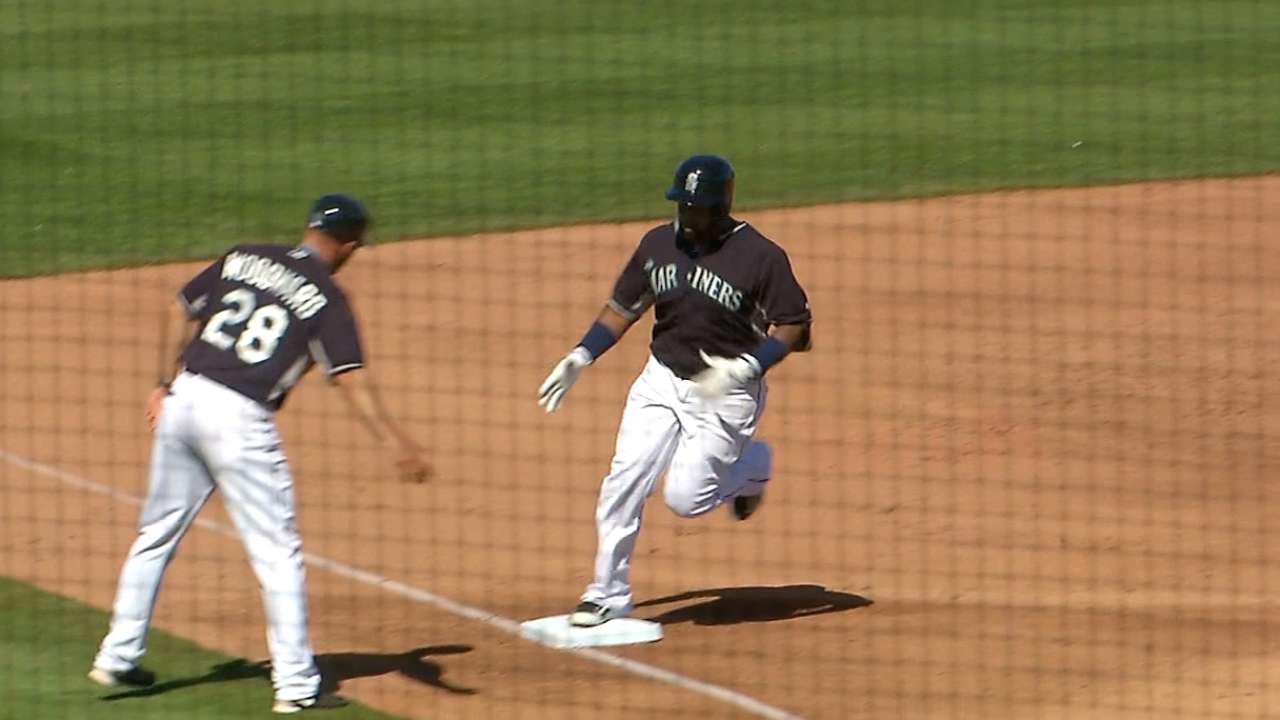 PEORIA, Ariz. -- Mariners skipper Lloyd McClendon has been saying all spring that Rickie Weeks adds an impact right-handed bat to his club, and the former Brewers second baseman backed that up Saturday when he cleared the batter's eye in center field at Peoria Stadium with a prodigious fifth-inning blast in Seattle's 4-3 loss to the D-backs.
Weeks became the first Mariners batter to hit a ball over the 40-foot high blue wall that looms 410 feet away at Peoria since Michael Morse in 2013. Mike Wilson did the same in '07, but very few players have gone where Weeks went in his first game for Seattle at his new spring home.
"You know what, I'm just here to play baseball," said Weeks, who signed a one-year, $2 million deal with Seattle just prior to camp. "I can't worry about how far the ball went. But it was a good swing, put it that way."
The 2011 National League All-Star saw his playing time diminish last season with Milwaukee, but he still hit .274 with an .809 OPS in a part-time role. With Robinson Cano at second base, Weeks is expected to split time with Dustin Ackley in left field and get some backup work at first, second and third base.
McClendon keeps saying the 32-year-old will get his at-bats, and Saturday's blast showed why after he'd gone 0-for-3 in his Friday debut.
"Rickie has been swinging the bat extremely well," McClendon said. "He really hadn't had any results up until now, but he knows what he's doing with the bat. That was a nice AB."
Weeks said he's adjusting well to playing the outfield for the first time since college and also getting his timing down at the plate.
"I'm just trying to get back into the smooth of things," he said. "I played yesterday and my whole thing was trying to slow down. ... I was jumping a lot and missing too many offspeed pitches in the zone that normally I can handle. Today I just told myself to wait a little it and try to react."
He reacted well enough to drive a 1-1 pitch from lefty reliever Andrew Chafin that just kept soaring as it sailed over the big wall.
"It always feels good," he said. "Anytime you hit a home run, period, I don't care if it's a cheap one as some people say. A home run is a home run. It feels good to hit 'em."
Weeks just wants the chance now to show what he can do with his new club at a new position. He's not worrying about what happened in Milwaukee, just what is possible now with the Mariners.
"I'm going to be honest, I don't want to look too far back in the past," he said. "There were times when I felt like, 'I still have it,' but obviously I just didn't play a lot. That's plain and simple. I can still play this game at a high level."
Greg Johns is a reporter for MLB.com. Follow him on Twitter @GregJohnsMLB as well as his Mariners Musings blog. This story was not subject to the approval of Major League Baseball or its clubs.