deGrom does little to curb Mets' enthusiasm
Right-hander efficient over first three innings
PORT ST. LUCIE, Fla. -- The Mets expect their starting rotation to be a major strength this season, and the past two days have solidified that expectation.
A day after ace Matt Harvey drew raves for his first start in 18 months following Tommy John surgery, Jacob deGrom delivered a crisp three-inning outing of his own Saturday in the Mets' 3-1 win against the visiting Braves at Tradition Field.
deGrom, making his first start this spring, allowed only two hits and one earned run. His outing was extended an inning longer than anticipated because he had not reached a desired pitch count. He threw only 27 pitches, and all but five were strikes.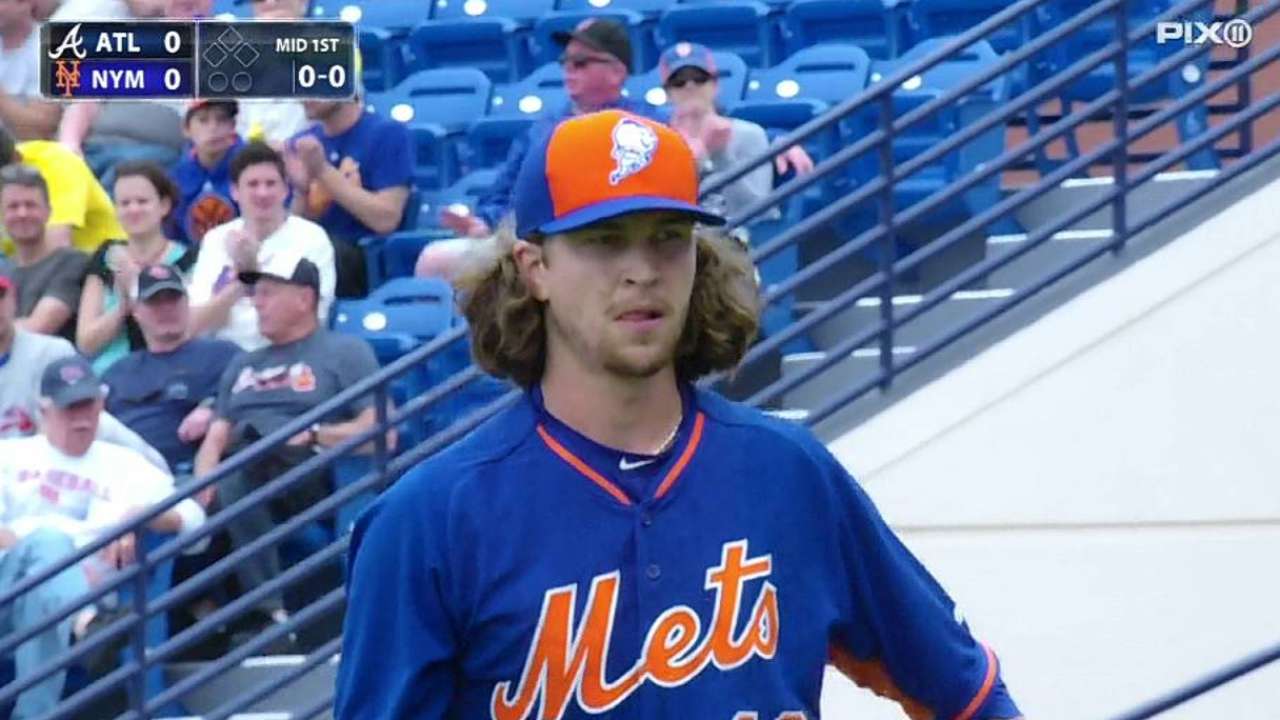 deGrom hinted that his command was on target when he needed only seven pitches to get out of the first inning. He retired the side in order in each of the first two innings.
"I'm really pleased with how it went," said deGrom, who is considered a lock for the Mets' starting rotation. "That's the first time I've been up and down three times. Live BPs we were just up and down twice."
Mets manager Terry Collins said that when deGrom is on his game, his pitches are down in the zone consistently, but he's got the command to also adjust his pitches if needed.
"We only sent him back out there in the third inning because we wanted him to at least throw 30 pitches," Collins said. "That's his game. His game is the command of his stuff. We saw it from the time he got here."
It's only early March, but Collins didn't hide his excitement about the potential of the Mets' starting rotation, particularly the young pitchers like deGrom and Noah Syndergaard.
"We like our pitching a lot," Collins said. "But we also know that it seems like every year you're going to need two or three more starters to get through the summer. We're hoping that the [Steven] Matzes and the Syndergaards are going to get those opportunities because we think they're going to be outstanding pitchers at the Major League level."
Harvey is scheduled to make his next start Wednesday, and Collins said he'd like to see the staff ace pitch three innings.
"We need to get him lengthened out a little bit as far as pitch counts go," Collins said. "That's the only way to build up your arm strength is get out there and throw some pitches."
Steve Dorsey is a contributor to MLB.com. This story was not subject to the approval of Major League Baseball or its clubs.