MLB.com Columnist
Richard Justice
Verlander takes important first step in spring debut
Righty showcases strong curveball in two scoreless innings, hits 94 mph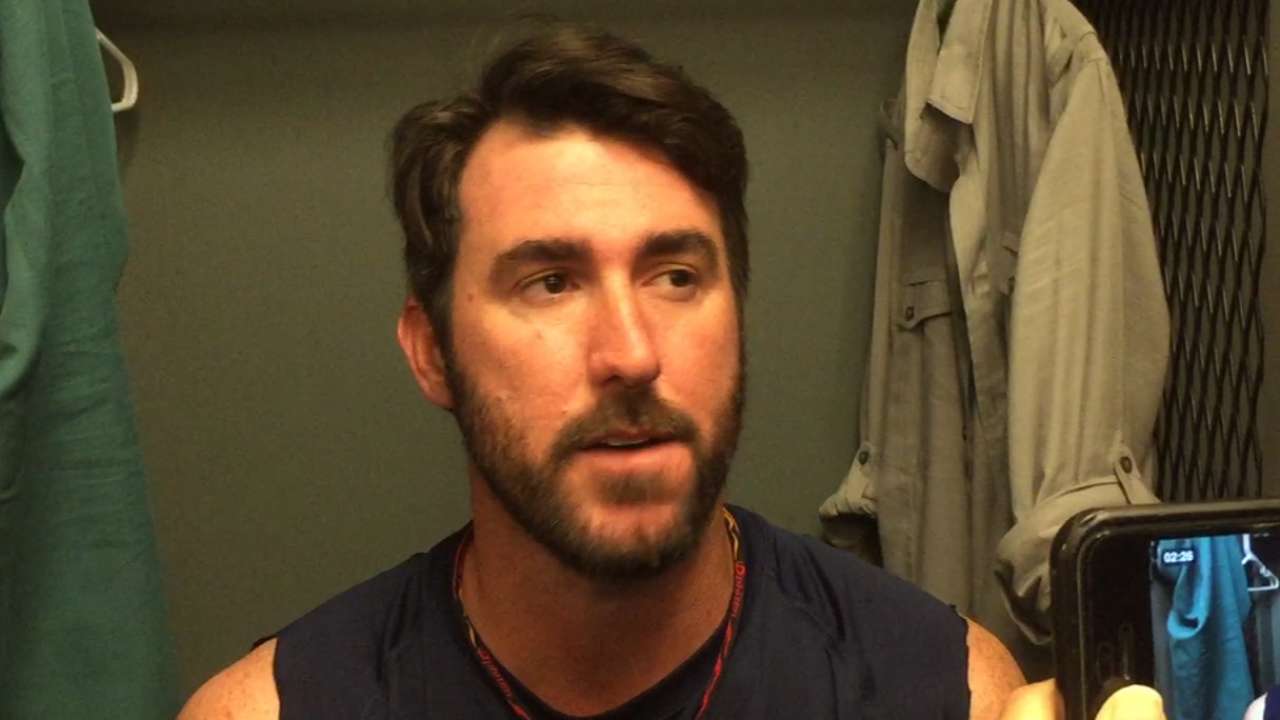 LAKE BUENA VISTA, Fla. -- Justin Verlander ended his afternoon with a hard curveball that froze the hitter, Braves shortstop Daniel Castro.
Unhittable? Close enough. Strike three.
As finishing touches go, this was close to perfect. What's that they say about a journey of a thousand miles beginning with a single step?
Verlander took that single step Saturday afternoon with two scoreless innings in his spring debut. He threw 42 pitches in all, including a mixture of curves, sliders and changeups. Three months from now -- or perhaps five days from now -- this game will be a distant memory. Still, it mattered because of who it was and what he's attempting to prove about himself.
"Yeah, obviously, I want to get back to pitching the way I'm capable of," he said. "Obviously, you've got a will to be good. I wasn't last year, but that kind of motivated me this offseason. I'm excited to go into this year."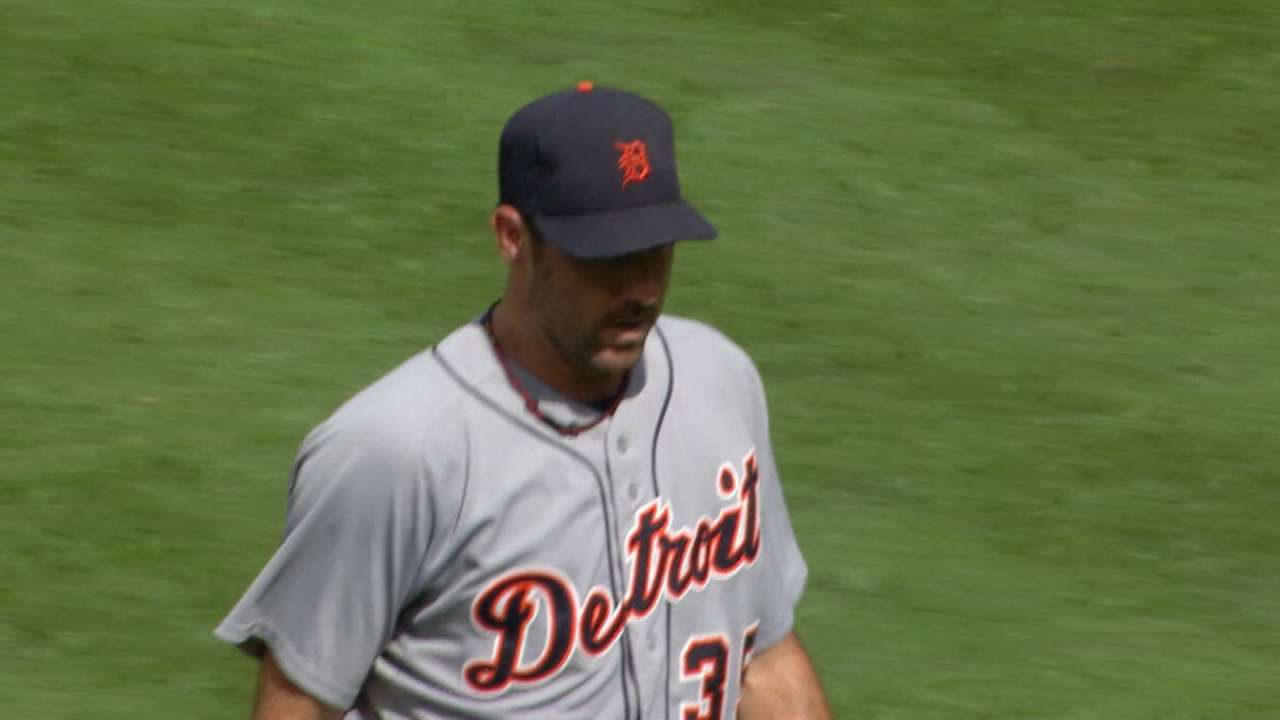 First things first. Verlander's fastball was clocked consistently at 91-92 mph, with one touching 94. Afterward, he said he was satisfied.
Velocity is irrelevant at this point in Spring Training as long as a pitcher is healthy. Verlander has always started slowly, both in games and in seasons, in terms of throwing hard.
But it's a point of interest, because he's coming off a season in which his fastball faded significantly to an average of 92.3 mph, the lowest of his 10-year career. Combine that loss of velocity with a career-high 4.54 ERA, and Verlander appears to be at a significant crossroads.
Can he still throw 98 mph, something he once prided himself on doing late in games? Or have all those innings -- 1,978 and counting -- taken a toll?
Tigers President Dave Dombrowski has spoken to Verlander about a different sequencing of his pitches. In other words, at 32, Verlander may be forced to make the middle-aged adjustment every pitcher ultimately has to make.
Rather than bullying his way through the late innings with 100-mph fastballs, he may need to focus more on location, movement and changing speeds. That he still has the pure stuff to be a No. 1 starter is questioned by no one.
For his part, Verlander believes last season was an aberration. He underwent core muscle surgery that limited his offseason work and had him playing catch-up the entire season.
In compensating for the weakness in his upper body, Verlander came up with a sore right shoulder that made things worse.
"I would say it's a battle to keep my confidence up," he said. "But like I said, the way you do that is to say, `OK, the next one is going to click. We're going to take off from here, no matter how the previous one or previous two or whatever went.' You stay confident in yourself. It wasn't easy. But you gotta do that."
Verlander arrived at Spring Training with a full offseason of work and his normal throwing routine. He also added around 25 pounds in hopes of better withstanding the wear and tear of a long season.
And so, in this first spring start, he worked to polish his curveball, which was once one of the best pitches in the game. He threw 13 of them in all, some of them terrific and others a work in progress.
"I thought his curveball was outstanding," Tigers manager Brad Ausmus said. "It's tighter. It's harder. I thought it was a very good first outing. It proved to us, and to him, that it was what it was in the bullpen and live [batting practice]."
Verlander began the second inning by throwing four curveballs in a row to Braves left fielder Jonny Gomes. He dotted others throughout the afternoon and finished with the big one to Castro.
"I've been pleased with it so far," Verlander said, "and I was pleased with it today."
To say he's critical to the Tigers' hopes of winning a fifth straight American League Central title is an understatement.
Offense is no problem. The Tigers have added outfielder Yoenis Cespedes to a lineup that was second in the Majors in runs in 2015. Their bullpen may be a work in progress, but it's the rotation that is a focus.
With Max Scherzer having departed via free agency and Rick Porcello traded to the Red Sox in the Cespedes deal, the Tigers may go as far as their big three -- David Price, Anibal Sanchez and Verlander -- take them.
Verlander took a step in the right direction on Saturday, and while there are many more to go, it was a day for optimism.
Richard Justice is a columnist for MLB.com. Read his blog, Justice4U. This story was not subject to the approval of Major League Baseball or its clubs.