Newcomer Bassitt takes advantage of A's debut
Right-hander strikes out two in start, aims to earn spot in rotation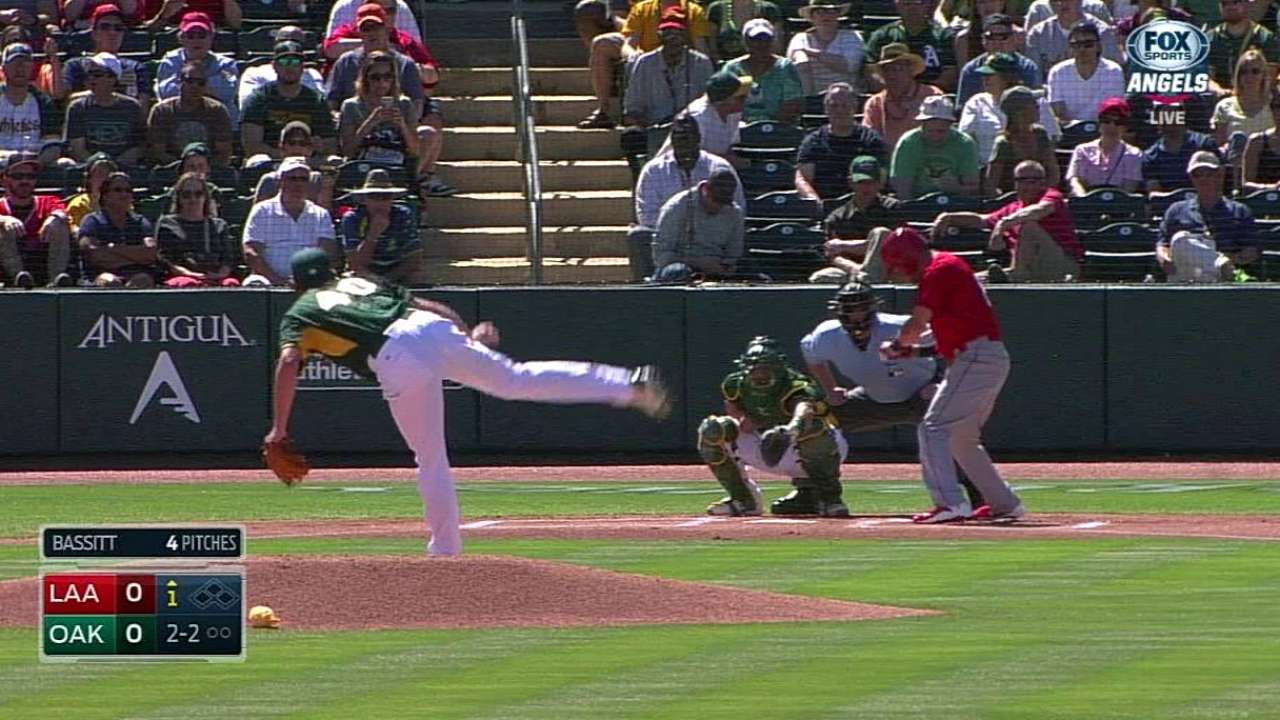 MESA, Ariz. -- Right-hander Chris Bassitt barely broke a sweat in his A's debut, boarding just one baserunner in two scoreless innings of work in a home start against the Angels on Saturday.
Bassitt, one of several rotation candidates in the mix for three open spots, made quick work of the Angels. He retired each of his first five batters -- the first two by strikeout -- before allowing a base hit to Efren Navarro, who was promptly caught stealing on a bullet of a throw by catcher Josh Phegley to end the second inning.
Bassitt said he's been taught to work quicker over the years, having moved slow out of the bullpen, and has come to realize, "No one wants to sit there 3 1/2 hours anyway." He was also fueled by plenty of adrenaline Saturday.
"I haven't had that in a long time," Bassitt said. "It was nerve-wracking, exciting, whatever you want to call it, because you want to put your best foot forward. No one really knows you yet, and this is when it starts counting in games."
The 26-year-old righty, acquired in the Jeff Samardzija deal, said "the fastball was there, everything else was not," but he came away pleased with the results.
"I'm really making a conscious effort this year, and I've been preached about it a long time. Just don't beat yourself. No walks," Bassitt said. "I don't really care about the score. If I don't walk anyone, I really feel like I like the odds."
Bassitt and teammates were treated to a guest appearance by manager Bob Melvin's good friend, Michigan football head coach Jim Harbaugh, on Saturday. The pitcher, born in Toledo, Ohio, wasn't afraid to voice his allegiances.
"I'm an Ohio State fan," Bassitt said. "Let's start with that."
Jane Lee is a reporter for MLB.com. This story was not subject to the approval of Major League Baseball or its clubs.