Jaso, Franklin leave game, not seriously injured
Both starters not concerned after walking off field vs. Bucs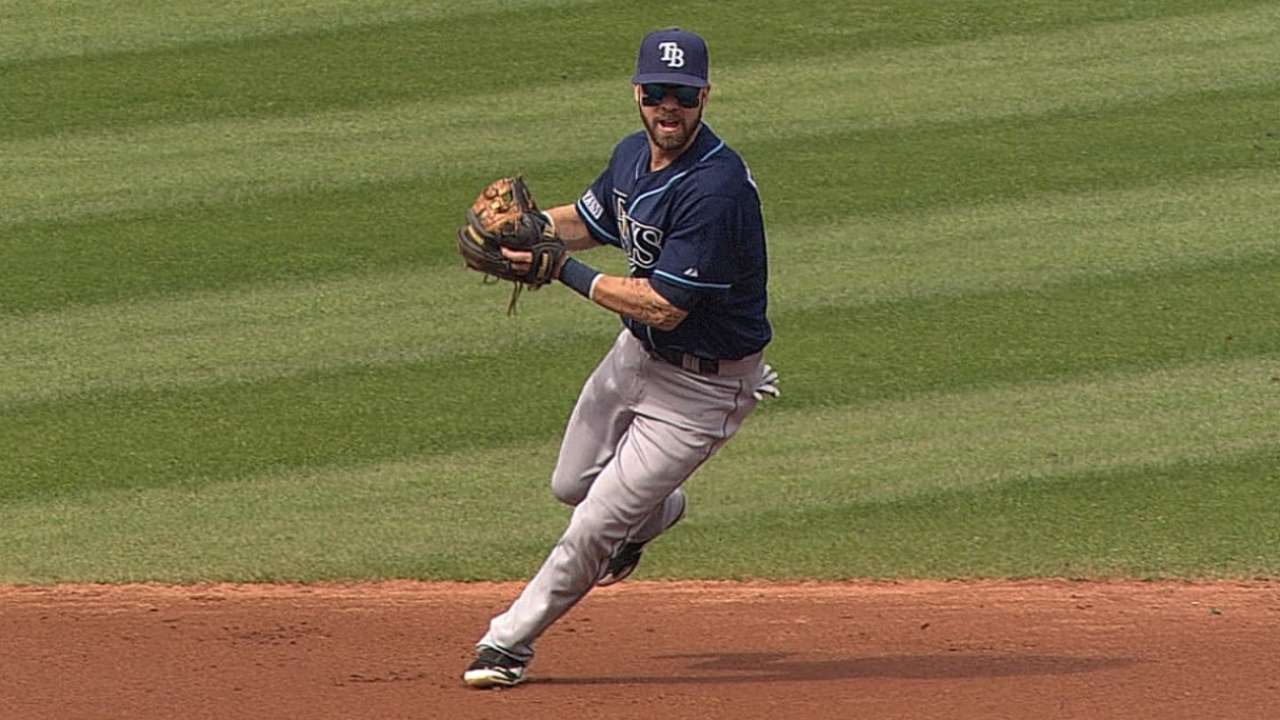 BRADENTON, Fla. -- The Rays saw two starters walk off the field Saturday afternoon due to injuries, but neither John Jaso nor Nick Franklin left McKechnie Field believing they were seriously injured.
Jaso, the designated hitter, suffered a lower right leg bruise after being hit by an A.J. Burnett pitch in the first inning of Saturday's 1-1 tie with the Pirates. He said he felt his leg tighten up when he got to second base, so he walked to the visiting clubhouse with head athletic trainer Ron Porterfield during the second inning.
"Basically [Burnett] was throwing a front-door two-seamer that stayed true. It didn't two-seam," said Jaso, with his right leg wrapped up just below the knee. "I'll be fine. It's all right. It started tightening up while I was out there on second base. Precautionary this early is probably smart."
Jaso's transition to the outfield likely will be pushed back a few days, as he had been slated to enter Sunday's game as a backup in left field.
"We're going to have to see," Jaso said. "I was excited, but we'll have to see what happens."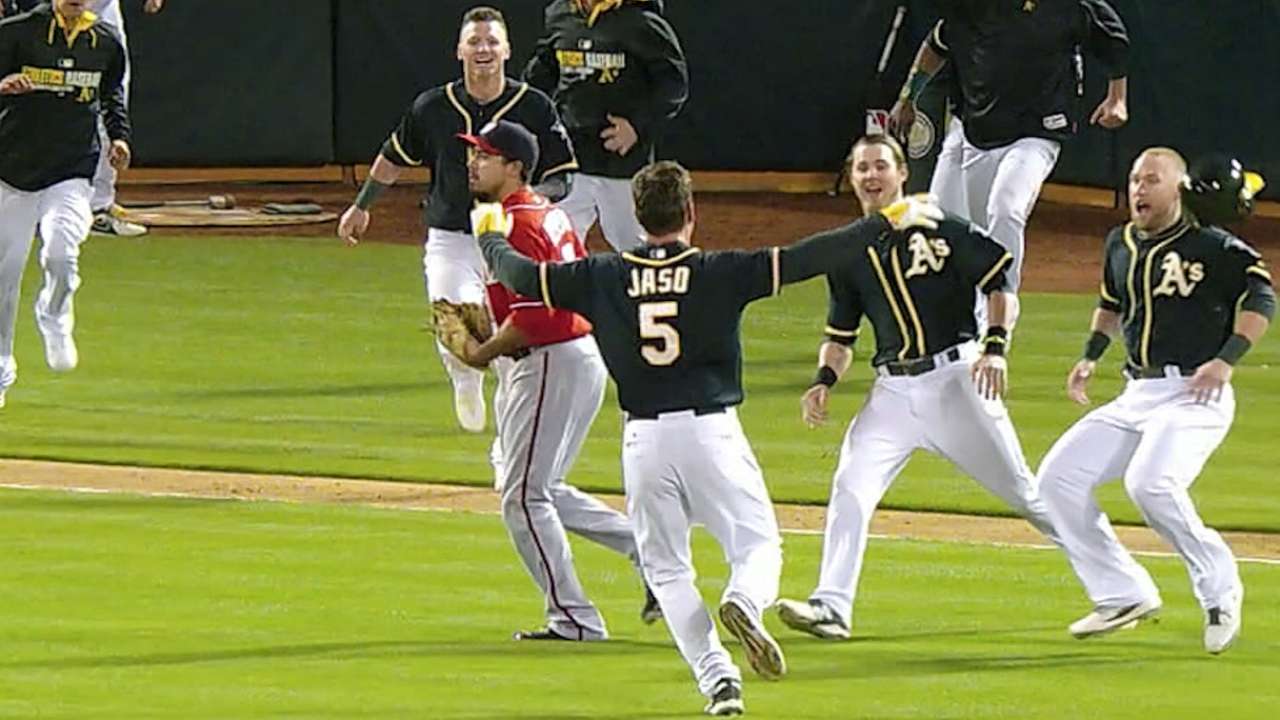 Franklin left the game during the fourth inning with a mild left hip strain. Franklin said he took "a little half-check swing" against right-hander Nick Kingham, after which he felt a tweak in his side. He stepped out of the box during the at-bat, drawing manager Kevin Cash and a trainer out of the dugout to look at him.
Franklin remained in the game and struck out. He was replaced at second base by Ryan Brett in the bottom of the fourth.
"I guess I just did it a little too fast and aggravated it a little bit," Franklin said. "I feel fine. It's not bothering me standing or walking or anything. It's just a little tweak, nothing serious."
Around the Horn
• Cash owned up to his first managerial "mistake" -- the term must be used lightly in this situation -- in the sixth inning Saturday. Third baseman Evan Longoria hit a double off reliever Jared Hughes. After one pitch to first baseman James Loney, infielder Alexi Casilla came out of the dugout to pinch-run for a confused Longoria.
"That was 100 percent my fault. I should have communicated beforehand with Casilla," Cash said. "Casilla was ready to go, and I kind of disrupted Loney, Longo. It won't happen again."
• Non-roster outfielder Corey Brown, a Tampa native and Plant High School graduate, hit his first home run of the spring in the eighth inning off Pirates reliever Brad Lincoln for the Rays' only run of the game.
Brown, 29, now has two hits in three at-bats this spring: a triple and a homer.
"Definitely feels good to kind of get off to a good start like that. I'm just trying to go out there, put up some good at-bats and just kind of enjoy it for what it is," Brown said. "I'm just trying to go out there and have fun."
Adam Berry is a reporter for MLB.com. Follow him on Twitter at @adamdberry. This story was not subject to the approval of Major League Baseball or its clubs.