Detwiler impresses as Rangers could face season without Darvish
Candidate for rotation allows a run in 2 2/3 innings in win over Brewers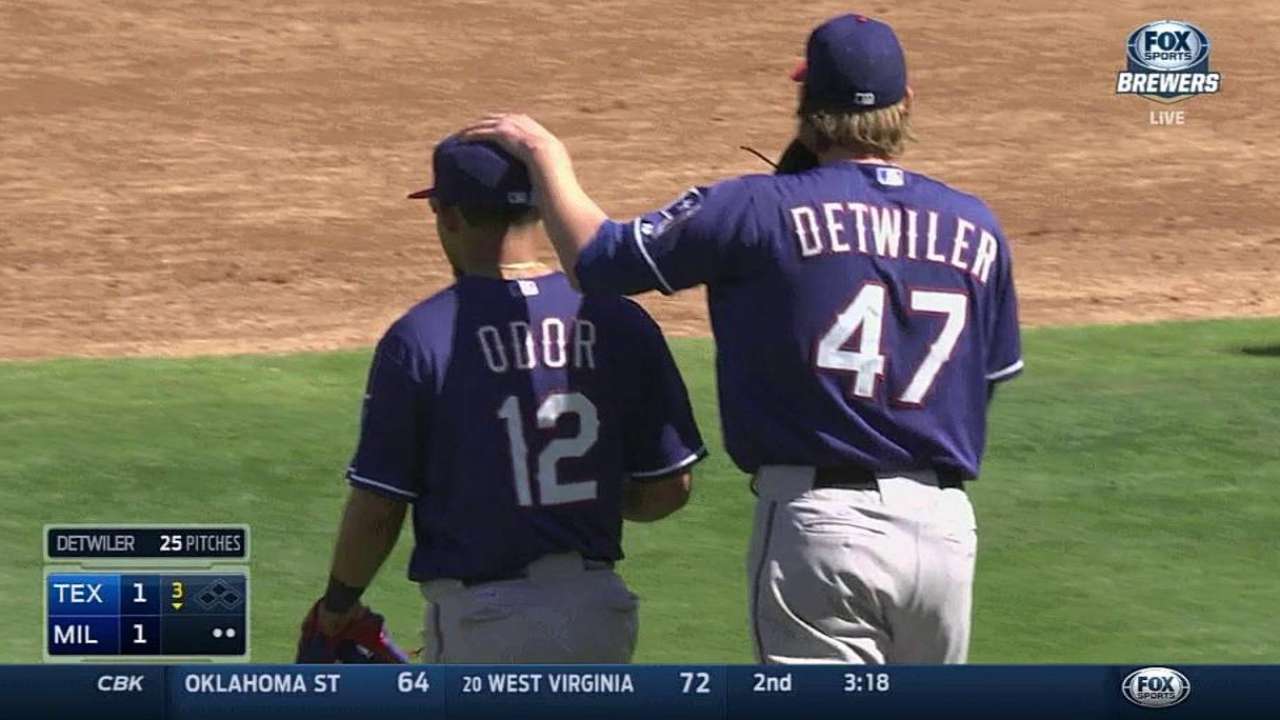 PHOENIX -- Considering the morning's tough news about Yu Darvish, left-hander Ross Detwiler's respectable outing came as a welcome development for the Rangers, who rallied past the Brewers, 5-4, on Saturday afternoon.
Detwiler, a candidate for a Texas rotation that could be without Darvish all season, scattered four hits and limited the damage to one run over 2 2/3 innings against the Brewers at Maryvale Baseball Park. Detwiler struck out two batters, walked none and reported being pleasantly surprised with the quality of his command for such an early date.
Does Darvish's elbow injury change the dynamics of his role?
"I don't know," Detwiler said. "You have to ask the manager."
He had some help from second baseman Rougned Odor, who started a slick double play in the third inning. Odor came across the middle of the diamond to field a Scooter Gennett grounder and glove-flipped the baseball behind his back to a covering shortstop Hanser Alberto.
"To see 'Rougy' run in there is just incredible," Detwiler said. "Coming over here, I didn't know much about the team or the American League, but everybody was telling me 'Wait until you see the defense.' Something like that happens and you are like 'Wow.'"
The teams traded leads as the game continued. Most of Milwaukee's offense came from Brewers bench hopeful Hector Gomez, who singled home a fifth-inning run for a 2-1 lead, and added a two-out, two-run home run in the seventh that made it 4-1. The homer was the first by a Brewers batter in four games this spring.
But Texas came up with four runs charged to Brewers pitching prospect Taylor Williams in the eighth inning to reclaim the lead. Tomas Telis singled home the tying run against Williams and Jared Hoying greeted reliever David Goforth with another single for a 5-4 lead.
The Brewers were once again shaky in the field, committing multiple errors for the third time in as many Cactus League contests. Manager Ron Roenicke addressed sloppy play in his morning meeting with players.
"I mean, you're never happy when that's going on," Roenicke said. "It's hard to watch. Those aren't the fun times when you're coaching and you have to sit there and watch that. But I told them, 'that's part of this game. I don't care how good you are, everyone's going to have a game like that. Everyone. Bounce back and play well.'"
Up next: Rangers shortstop Elvis Andrus, who has been slowed by a sore left knee, will make his Cactus League debut against the Indians on Sunday. Anthony Bass, Spencer Patton, Kyuji Fujikawa, Jerad Eickhoff, Phil Klein, Alex Claudio, Juan Carlos Oviedo will pitch against the Indians in Surprise. Ross Ohlendorf, Ross Wolf, David Martinez and Jon Edwards are scheduled to pitch against the Cubs in Mesa.
Adam McCalvy is a reporter for MLB.com. Read his blog, Brew Beat, and follow him on Twitter at @AdamMcCalvy. This story was not subject to the approval of Major League Baseball or its clubs.