And the Oscar goes to ... Alex Cobb
Rays pitcher and fiancee adopt stray dog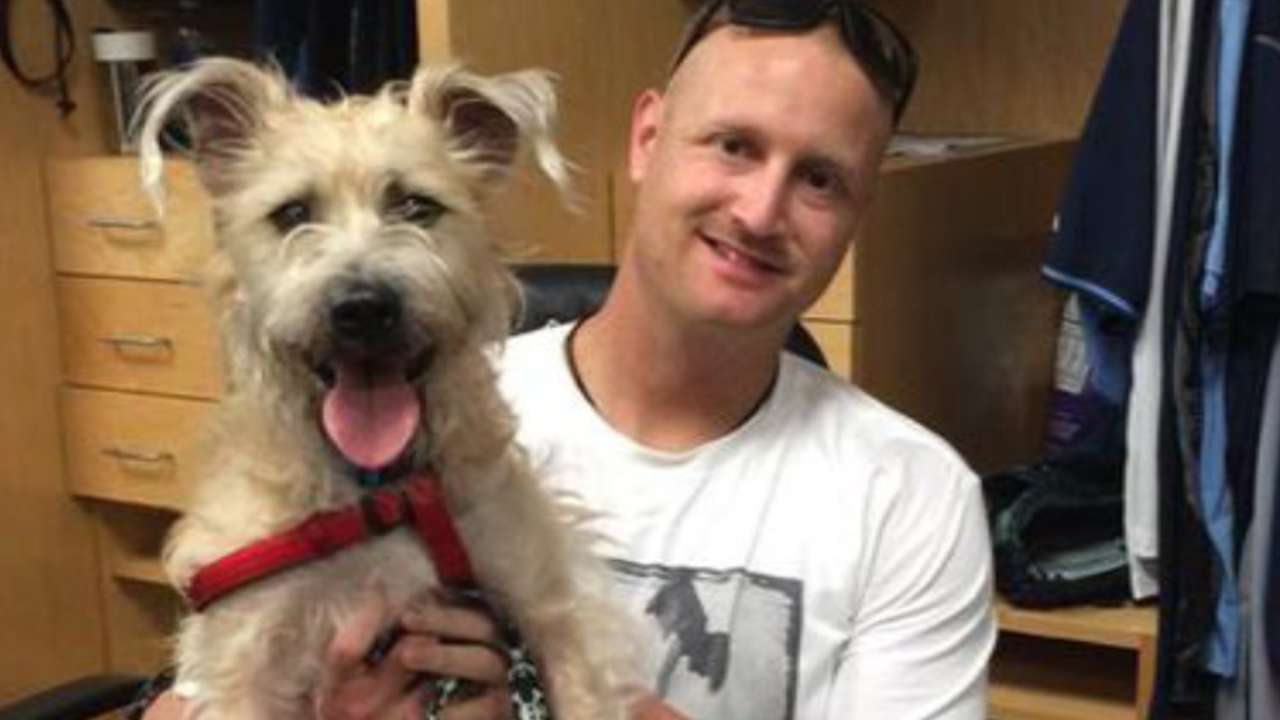 BRADENTON, Fla. -- Rays starter Alex Cobb added a new member to his family Saturday. He weighs about 20 pounds and goes by the name of Oscar.
Cobb spotted Oscar, a stray dog without a collar, after leaving the Rays' workout at Charlotte Sports Park on Monday. Oscar was wandering near a busy street in Port Charlotte, Fla., so Cobb decided to chase after him on foot. About 20 minutes later, he rescued Oscar and took him home. The Rays tried to find his rightful owner, to no avail.
Less than a week later, Cobb and his fiancee, Kelly Reynolds, officially adopted Oscar. Cobb was quick to show Saturday how well Oscar is getting along with Axel, his American Bulldog, by pulling up a picture on his phone of Oscar using Axel as a pillow.
"We gave it some time," Cobb said Saturday. "We tried to find the original owner. We took it to a kennel and found a chip in it and traced back the original owner. Didn't sound like the original owner intended on keeping it. Whatever the case was, we don't really know. But it seemed to have been that Oscar was a stray dog and didn't have a home.
So @Acobb53 has decided to adopt Oscar, the pup he found Monday. Oscar & Axel are already inseparable. #BaxtersTwin pic.twitter.com/eJBIlrwZ5U

- Tampa Bay Rays (@RaysBaseball) March 7, 2015
"So me and my fiancee decided to keep it. The rule is, I guess, I just learned, if you have the dog for over 72 hours, it becomes your dog. You have the right to decide whether you want to give it back to the original owner. I don't know. That's what I was told.
"So over the 72 hours, you become attached to the personality that that dog sheds onto you. We fell in love with it. Axel loves it. They play all day. Just felt like the right thing for us."
It's been noted to Cobb that Oscar bears a resemblance to Baxter, the Border Terrier of "Anchorman" fame, enough to even warrant a name change. That's not going to happen, Cobb said.
"He's got a lot of changes going on right now, and he knows his name's Oscar. I think changing his name on him would not be beneficial to him," Cobb added. "He's trying to figure out what's going on right now. We're going to keep at least his name the same."
Adam Berry is a reporter for MLB.com. Follow him on Twitter at @adamdberry. This story was not subject to the approval of Major League Baseball or its clubs.