MLB.com Columnist
Barry M. Bloom
Hinch ready to make most of 'second act' as manager
Former catcher in his first season as Astros' skipper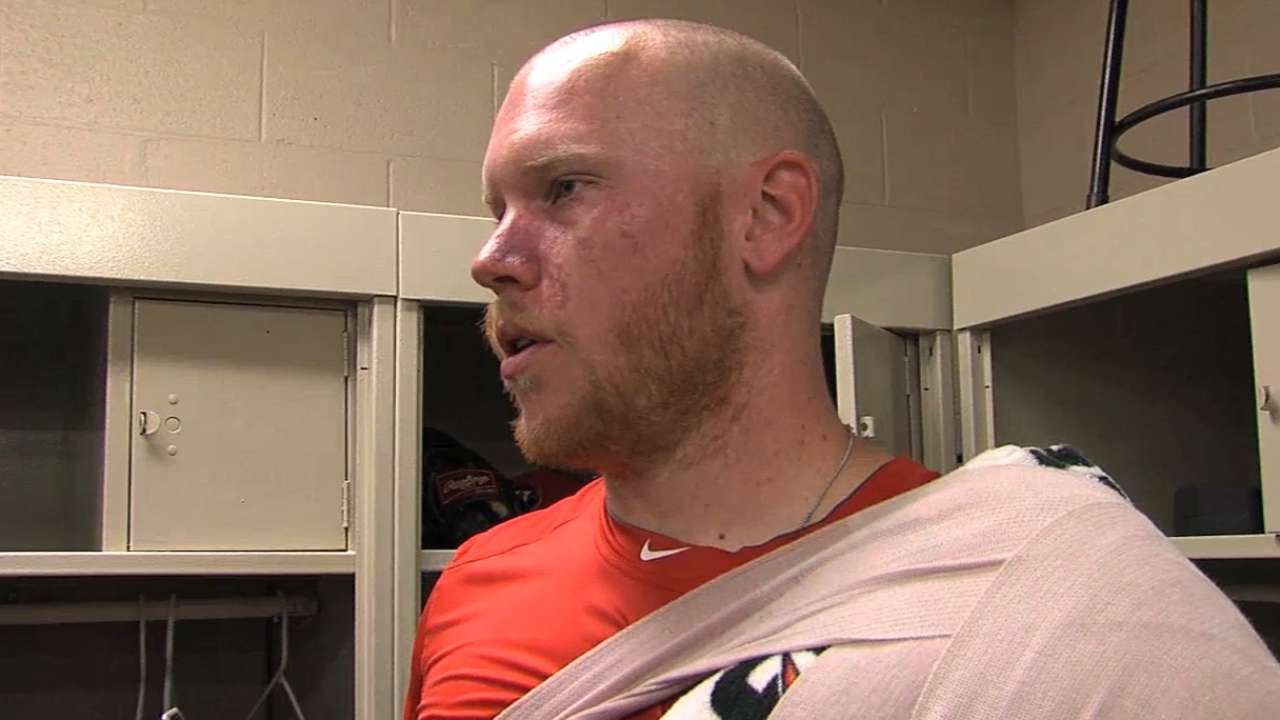 KISSIMMEE, Fla. -- There are no second acts in American lives, F. Scott Fitzgerald once wrote in "The Last Tycoon," his final novel. But there are plenty of second acts if you're a manager in Major League Baseball. Sometimes even third and fourth acts.
A.J. Hinch is trying to make the most of his second act with the Astros. In his first one with the D-backs he never really had a chance.
His appointment on May 8, 2009, happened under the strangest of circumstances. Then-general manager Josh Byrnes dismissed Bob Melvin and Hinch was brought down from the front office to replace him with absolutely no on-field managerial experience. The move was widely panned and never accepted.
"The game part of the job I felt very comfortable with," said Hinch on Saturday in his office before the Astros played the Yankees at Osceola Stadium. "There was certainly a lot of attention around the job, a swirl around a very popular and excellent manager in Bob Melvin exiting and an unexpected 34-year-old entering. It certainly created a very difficult situation. And then we didn't win enough."
No kidding. Events just seemed to conspire. Injuries to former Cy Young Award winner Brandon Webb and closer Chad Qualls didn't help. A veteran team never seemed to adjust to their novice skipper. Under Hinch, the D-backs were 89-123, a .420 winning percentage. And by July 1, 2010, both Hinch and Byrnes were gone, only to resurface very shortly in the Padres' front office.
The D-backs are now on their third manager since Melvin and their third GM since Byrnes.
The Padres' front office hasn't been any more stable. Byrnes was dispatched as GM of the Padres this past June 23 and Hinch, his assistant, decided to leave after the work was done at the Trade Deadline. Hinch traded Huston Street to the Angels, Chase Headley to the Yankees and Chris Denorfia to the Mariners. Fini! A.J. Preller is the third Padres GM since Kevin Towers had the job from 1995-2009.
For Hinch, it was time to reassess, to decide whether to pursue a job back on the field or the front office. It didn't take him long to determine his own fate.
"I had decided in August when I left the Padres that I wanted to go back on the field," Hinch said. "My heart and soul is on the field. I didn't know what was ahead of me when I left San Diego. But I knew there were going to be opportunities somewhere."
With his immediate future in flux, Hinch decided to make a pilgrimage to Yankee Stadium.
The reason was twofold: He'd never been to the new edifice that opened in the Bronx in 2008 and he wanted to say goodbye to Derek Jeter, playing the last games of his illustrious 20-year career. He had an affinity for Jeter because of a relationship between their fathers -- Charles Jeter and Dennis Hinch -- that was born when their sons were young amateur players. Hinch's dad passed away at 39 in 1993 from a heart attack.
Hinch was a catcher of not much repute, whose Major League career began in 1998 and petered out after 350 games with four teams in 2004. Jeter, of course, came up for good in late 1995. The two didn't see each other again until Hinch came up to the Majors with the A's. Five years after his father's death, Hinch said Jeter sought him out to offer condolences. Hinch never forgot that effort.
"Jeter and I were in the same Draft [as high school players in 1992] and we had drastically different careers. But I wanted to see him play," Hinch said. "We're the same age, but I don't know him that well. Just our fathers knew each other. His father was so great to my dad and I have a lot of respect for Derek just based on how his family handled the death of my father."
Hinch made that pilgrimage only a few days after Jeter Day on Sept. 7. When Hinch arrived back in San Diego from that trip, he received a call from Astros GM Jeff Luhnow. Bo Porter had been dismissed. Was Hinch interested? He had already made up his mind. It was the second time Luhnow interviewed Hinch to manage the Astros, but in 2013 Porter was given the job. This time, the job went to Hinch.
He thought of Joe Torre, Joe Girardi, Tony La Russa, Terry Collins, Lloyd McClendon and so many others. All were fired only to be hired again. Hinch is 40 now and his short, brown hair is graying a little around the temples. He is no longer a fresh face. Those Arizona days are long gone. His second act is about to begin.
"A lot of the experiences I had in Arizona are exactly why this job is so attractive," Hinch said. "The ability to take some of those lessons forward that I learned at a high speed in Arizona is essential.
"I mean, let's be honest. Jeff made it clear that he wanted somebody with some experience. If I hadn't gone through that I wouldn't have qualified for this job. So I'm very grateful for the job I had in Arizona even though it was frustrating at times."
Barry M. Bloom is a national reporter for MLB.com and writes an MLBlog, Boomskie on Baseball. Follow @boomskie on Twitter. This story was not subject to the approval of Major League Baseball or its clubs.