Cubs University? Maddon aims to reach young audience
Manager sees untapped potential for big leaguers to make impact on students
SCOTTSDALE, Ariz. -- Joe Maddon said he feels as if he's the head baseball coach at The Cubs University. Imagine having the personable Maddon talk to your class about baseball. He's eager to do it.
As a way to get a younger generation more interested in baseball, Maddon suggested having himself or a player talk to a class via Skype at least once a month. Maddon did that with a New Jersey high school journalism class.
"I promise you, they were all Rays fans after that for 30 minutes," Maddon said.
Major League Baseball has tried to get kids more interested in the game. Maddon has plenty of ideas.
"I'm saying, if every player Skyped for 20 minutes a month, one guy every day, assuming you have 25 guys, you'd have 25 guys on a monthly basis connecting with one class -- [think of] the impact that makes on one group," Maddon said.
He thought players should be involved because of a question asked during his session. One of the students asked what the Rays were doing regarding technology and connecting with young people and fans.
"I said, 'Well, I tweet a little bit,'" Maddon said. "I thought, we don't utilize all this ability to [connect].
"Just imagine if every team did [a video-conference session] and every player did once a month," he said. "I think the impact would be tremendous, and then you multiply it over several years."
Another option might be introducing fantasy baseball to students to help them learn math and analytical skills. A general manager could talk to the students about what to look for in players.
"It's limitless what you can do," Maddon said.
Because of the schedules and travel, Maddon realizes it's difficult to meet with a class in person. Technology makes connecting much easier.
"I think there's something there to be developed," Maddon said. "We don't use technology to connect with kids the way they want to be connected to."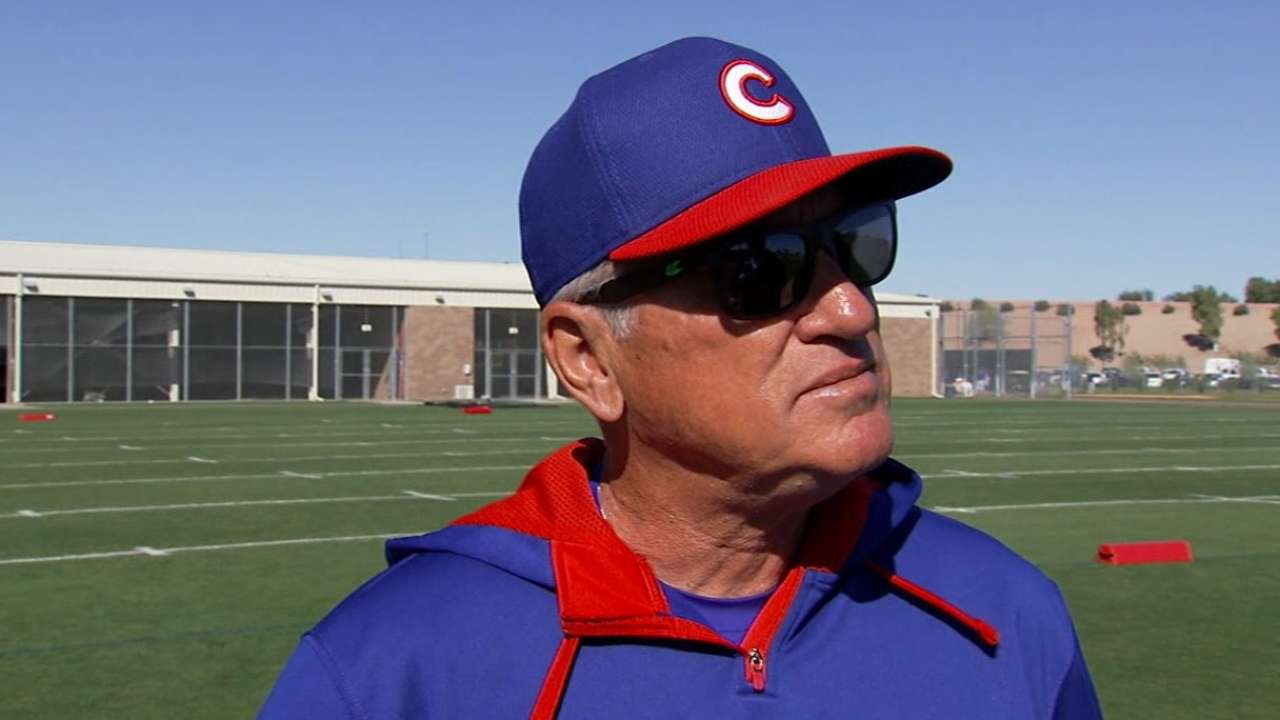 Maddon has other ideas. He wants to bring some of the charity events he did in Tampa Bay to Chicago. Last season, he wore a different T-shirt during his postgame news conferences to promote causes.
"If it strikes me, it'll happen," he said.
Right now, Maddon is focused on the Cubs, and praised the effort by the players and coaches Saturday.
"It's like running a collegiate baseball team," he said. "It's like running almost an amateur group that's trying to become professionals. It made me think the other day, it's almost like Cub University, or 'The Cub University.' That's what we're building right now.
"I love it, and I complimented the coaches about that this morning. It's all of that, and I mean it in the most complimentary way. I feel like I'm the head coach at a really good baseball university, and it's really kind of neat."
What's the curriculum?
"We really promote liberal arts, a liberal arts education in baseball," he said.
"I hope he's not comparing us to a college team," Cubs pitcher Jason Hammel said when told of Maddon's assessment. "That's Joe -- he's funny. He's going to go about it the right way and he does it differently. It's fun to be a part of."
So, is "The Cubs University" an Ivy League school?
"It's got to be," Hammel said.
Carrie Muskat is a reporter for MLB.com. She writes a blog, Muskat Ramblings, and you can follow her on Twitter @CarrieMuskat. This story was not subject to the approval of Major League Baseball or its clubs.