Votto 'so glad to be back' after spring debut
Reds' veteran first baseman goes 1-for-2 in first game since July 5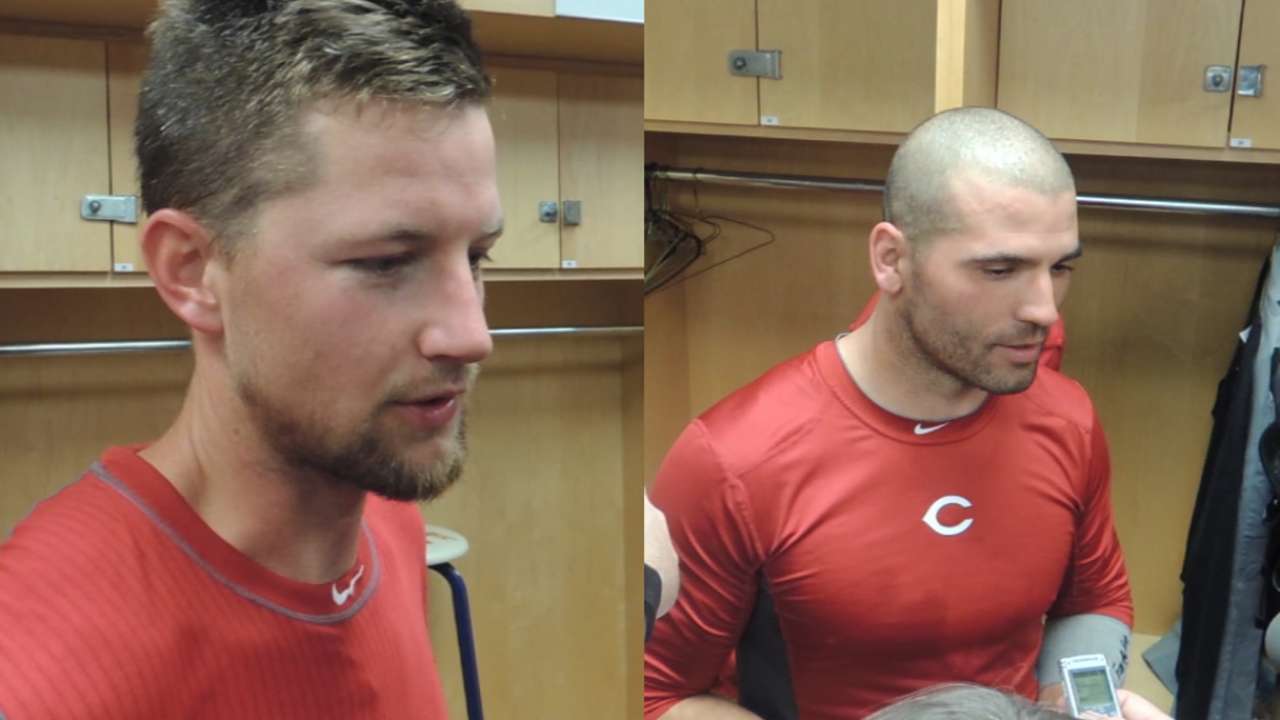 SURPRISE, Ariz. -- After all the anticipation for Joey Votto's return to the Reds' lineup, the first baseman had just what he hoped for on Saturday -- a rather routine first game back.
Votto played three innings in the field and had two at-bats vs. the Royals, going 1-for-2 with a single. Expected to get only two at-bats, he was replaced in the bottom of the fourth by Neftali Soto.
"I felt very good," Votto said. "It was nice to be back out there. It's been such a long time since I played on a consistent basis. It felt good to get back out there, get back to work and play with my teammates."
Votto last played for Cincinnati on July 5, and missed 100 games overall last season because of a distal strain of his left quadriceps. He missed the first four spring games because he was still working to get into baseball shape following an offseason of rehabilitation. He passed all tests during workouts on Thursday and Friday.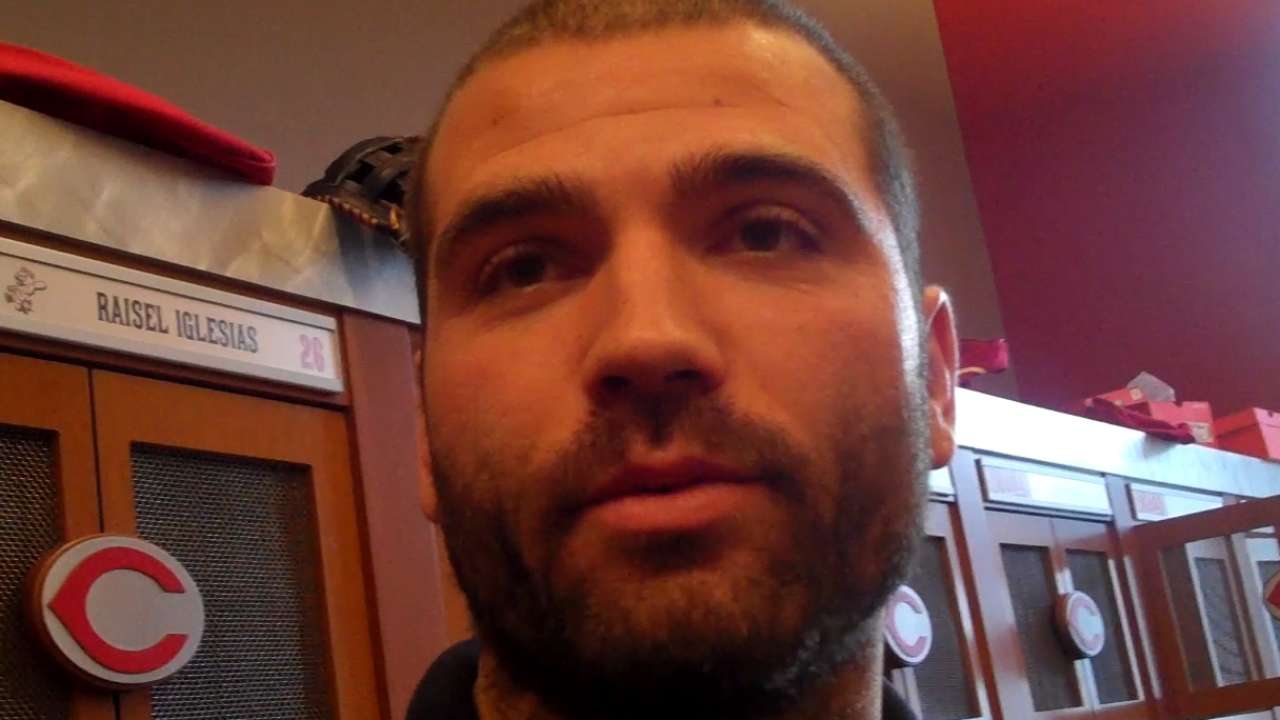 Cincinnati is counting heavily on the 2010 National League Most Valuable Player to return healthy in order to contend in 2015.
In his first at-bat in the first inning against Kansas City lefty starter Danny Duffy, Votto opened with a 2-0 count before flying out to left field on a 2-2 pitch. Against power right-handed reliever Wade Davis in the top of the fourth inning, Votto saw five more pitches.
"Less than my average, right?" Votto joked.
Following four-straight fastballs, including a 1-2, 95-mph pitch that was fouled off, Votto hit a 82 mph off-speed pitch from Davis for a single through the left side. It got by third baseman Mike Moustakas, who made a diving attempt to his left.
"It was good to get some swings off. I'm behind most guys right now," Votto said. "I'm typically a slow [to] get-it-going sort of guy so I'll have to be sure to play hurry-up offense."
In the field, Votto had nothing hit to him at first base, but he was challenged to snag a throw from second baseman Kristopher Negron after a ground ball from Kendrys Morales.
"Man, I made it look good. It was not a good play," Votto said. "Sometimes you turn really everyday plays into good plays. That was one of those occasions. Kris made the good play. I'm the one who almost messed up."
Votto also did some running, going from first to third base on a Marlon Byrd liner to right field that ended up going foul. On the next pitch, Votto slid into second base as Byrd grounded into an inning-ending 6-4-3 double play.
"All of it was great. All of it was fine," Votto said when asked about running the bases. "I think we're about done with these sorts of questions. I'm so glad to be back and play with the team and to just fit in and focus on a winning 2015 season. The extra time it took to get to this point was just extra time. Now I'm mixing in with Jay Bruce and Brandon Phillips and Devin Mesoraco and Todd Frazier and I could keep going, obviously."
Reds manager Bryan Price was pleased with what he saw.
"I thought that the base hit was nice, simply because it gave him the opportunity to run the bases," Price said. "He had to extend a little bit on a couple of throws, defensively. It was good to see him back out there. It's been a long time since we've seen him on the field and playing where he's feeling really good."
Price didn't expect the rest of Votto's camp to be too out of the ordinary going forward.
"Just because we've come this far, we'll ask more questions of Joey on how he's feeling," Price said. "We hope it looks like a normal preparation from this point out where there's an increased workload, albeit fairly minimal from one game to the next, and certainly culminating with playing nine innings towards the end of Spring Training and playing regularly as we do most of our regulars."
Mark Sheldon is a reporter for MLB.com. Read his blog, Mark My Word, and follow him on Twitter @m_sheldon. This story was not subject to the approval of Major League Baseball or its clubs.