MLB.com Columnist
Tracy Ringolsby
Rangers won't let Darvish's injury derail another season
Coming off an injury-riddled campaign, club being tested early in spring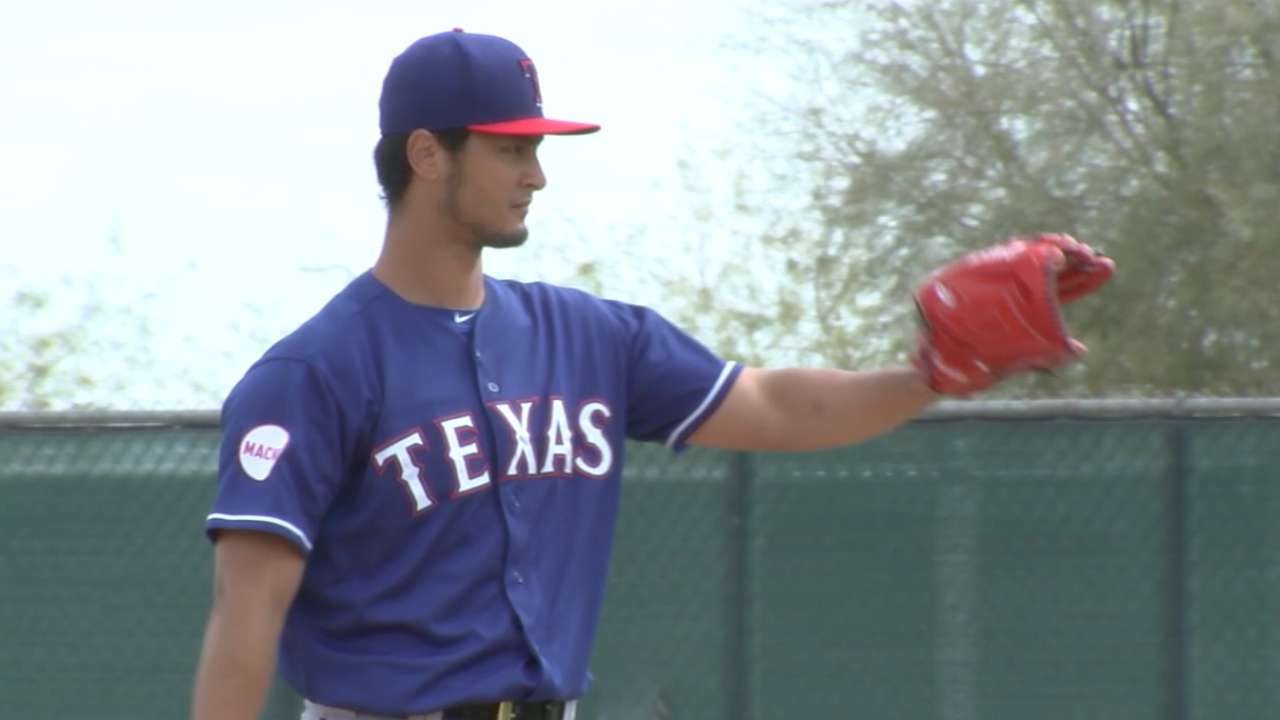 SURPRISE, Ariz. -- Two years removed from back-to-back appearances in the World Series, the Rangers were blindsided last season by, arguably, more injuries than any team in history. They lost more games, 95, than any team in the AL.
With new manager Jeff Banister, they arrived in Spring Training ready to put all that woe-is-me mentality to rest. The focus was on looking at the positive.
"Adversity can either destroy us or it can galvanize us all and make us better, make us stronger," Banister said.
The Rangers are getting a test early this spring.
Ace Yu Darvish exited after one inning of his spring debut Thursday with what was described as triceps tightness, but after being examined Friday, the Rangers announced Saturday that the problem is a sprained ligament in the right elbow.
Tommy John surgery is likely, which would sideline him until sometime next season. The alternative would be to rest and rehab, with an anticipated return at midseason. Darvish will get a second opinion before he makes a decision.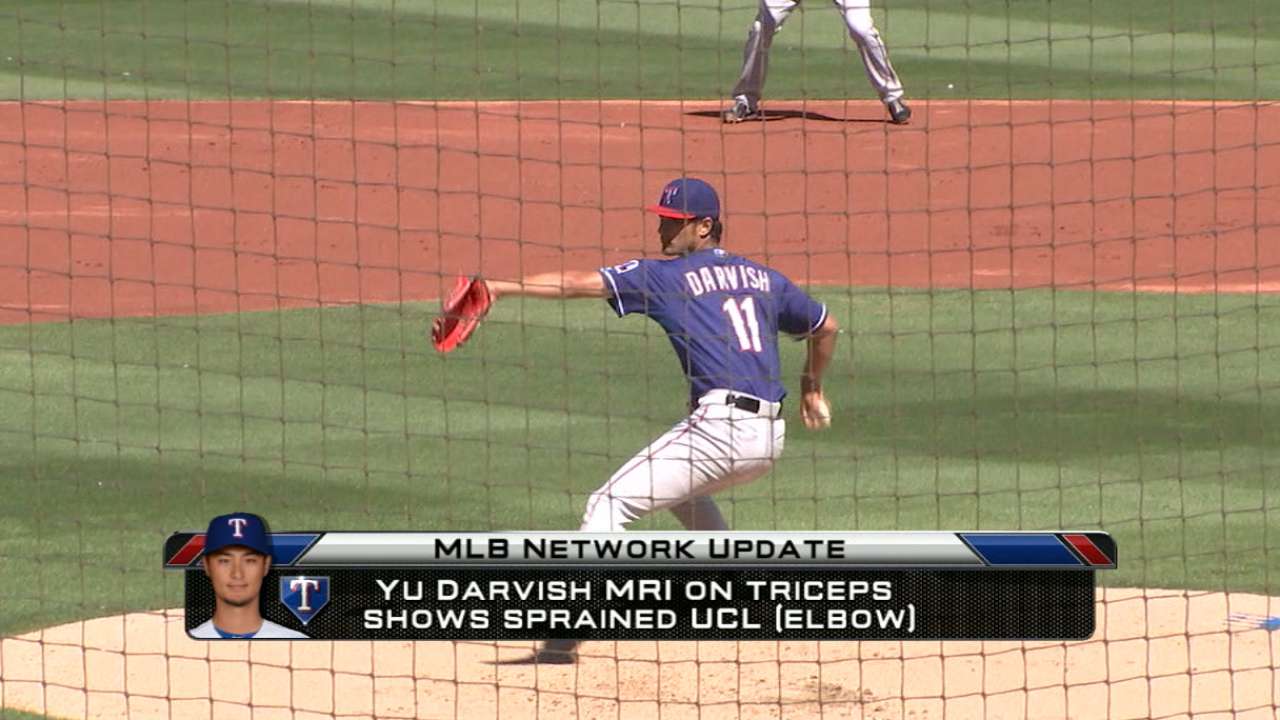 What has to enter into the decision-making is that Darvish missed the last seven weeks of 2014 with right elbow inflammation. He was given a clean bill of health early in the offseason and then was committed enough to his rehab program to spend the bulk of the offseason in Texas, instead of his native Japan.
Two weeks -- and 12 pitches in one inning of an exhibition game -- into spring and the problem has resurfaced. Can four more months of rest really solve the problem?
Darvish has been the bell cow of the Rangers rotation in the three seasons since leaving Japan to give the big leagues a shot. And the Rangers felt a key part of a quick rebound from last season's disappointment was the acquisition of Yovani Gallardo to provide a one-two domination at the top of the rotation.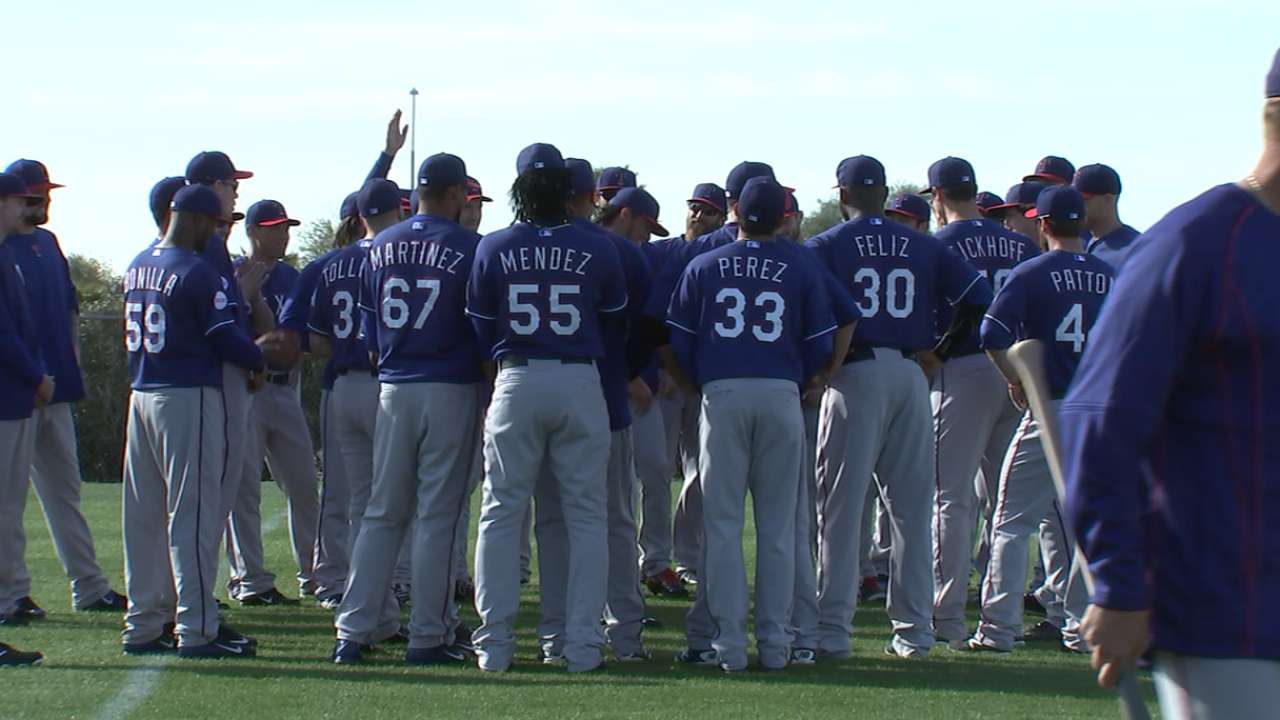 "It's obviously a bad hop, but also through every obstacle there's an opportunity," Banister said. "Never lose sight of that. … There's a group of players that need to look at this as an opportunity to become a stronger unit, a group of guys who can come together and push forward, move forward. Be a better unit."
It comes on the heels of Derek Holland already having had his spring slowed because of shoulder soreness, although he is still expected to be in a rotation that now figures to include Gallardo, Colby Lewis, Ross Detwiler and someone from the competition of Nick Martinez, Nick Tepesch and Anthony Ranaudo.
It should be noted that in light of the nightmares of last summer, general manger Jon Daniels put a focus on adding rotation depth in the offseason, which already is paying off in Gallardo, Detwiler, who came from the Nationals, and Ranaudo.
He also kicked the tires on trade possibilities with the Phillies about lefty Cole Hamels, although the $96 million that Hamels is guaranteed the next four years is a bit much for the Rangers' current budget. And Daniels might check in with the Mets about Dillion Gee, a product of the University of Texas at Arlington.
For the here and now, however, the focus is as much on the mental health of the rest of the roster as it is figuring out a season-opening five-man rotation.
As much as they may want to forget last year, it's not that easy to clear the memory of those 2,281 days that Rangers players spent on the disabled list last year. It wasn't merely the most time lost to injuries in the majors. It was 833 days more than the D-backs, who ranked second to the Rangers
Banister admits there is going to be some woe-is-me mentality.
"Not only this team and the organization, but the fanbase as well," said Banister. "Everybody needs to feel what they're going to feel. Let's get that out front.
"Feel what you need to feel with all of this and then there comes a time and a point that once that's done and over with, that the fanbase, organization and players have to focus back inwards and come together. We can either crumble and give in, which I promise you is not in my DNA, or we can come together, galvanize and become stronger."
There is a month left in Spring Training to deal with those issues and get the focus back on what it takes to win.
Tracy Ringolsby is a columnist for MLB.com. This story was not subject to the approval of Major League Baseball or its clubs.