Verlander gives his curveball a heavy workout
LAKE BUENA VISTA, Fla. -- With coaches, teammates, his general manager and opposing scouts watching, Justin Verlander threw a curve in his first outing of the spring. Then, he threw more of them.
"I threw more breaking balls than normal," Verlander said in his first words evaluating his start against the Braves, "just to see how it was, and I had pretty good results with it."
Jonny Gomes saw five curveballs -- including the first four pitches of the second inning. Old nemesis A.J. Pierzynski saw a few, too. John Buck shrugged off a couple to load the bases in the second inning before Verlander spotted a couple against Minor Leaguer Daniel Castro to wrap up his day.
As he discussed his two innings, it was the curveball that sent him out reasonably satisfied. Verlander hit 94 miles per hour on the Champion Stadium radar gun on a full-count pitch that Buck fouled off, but was he generally in the 91-92 range. It was "all right," he said, for his first start of the spring, but not much more.
"Not since my rookie year did I come out throwing 98 in the first game," Verlander said. "I've always been somebody that starts slower and starts to build things up. Hopefully, the curve is trending up."
If the curve is breaking into the dirt, his fortunes should be looking up.
"He's working on trying to keep the curveball from popping up out of his hand, because that's when hitters recognize it," manager Brad Ausmus said. "If you keep it low out of your hand, you're more likely to fool the hitter -- get the hitter to bite if he thinks it's a fastball and then it breaks."
Unlike the breaking ball David Price threw on Friday, it's not a new grip for Verlander, just a new focus -- at least for Saturday. He wants more deceptiveness, and more command of it, both in and out of the strike zone.
"It's a comfort-level thing," pitching coach Jeff Jones said. "He's trying to really make sure he gets it out front and gets really good extension with it. He threw some pretty good ones today. He threw a lot of them, but he wanted to get a feel for it."
This was not Matt Harvey in a triumphant return from surgery. For Verlander, this was a building block in a comeback from a frustrating season. He walked two batters, struck out two and allowed one swing for solid contact in Detroit's 12-6 win. He threw 24 of 42 pitches for strikes, according to an unofficial count -- and more than a dozen of his pitches were breaking balls.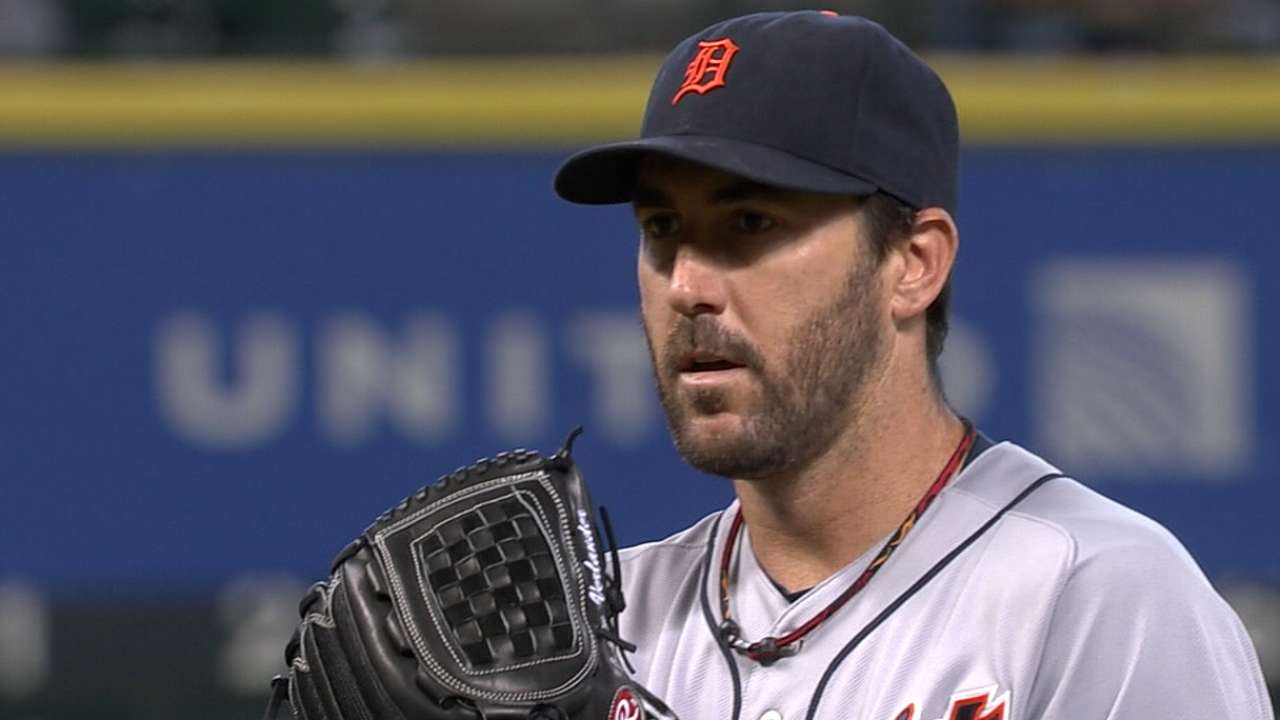 Verlander wasn't giddy over his outing, but wasn't outwardly flustered, either. For a first outing, he'll take it.
"You don't want to look at Game 1 as Opening Day ready," he said. "It's obviously Game 1 for a reason, and there's some kinks and rust that need to be knocked off."
Jason Beck has been MLB.com's Tigers beat reporter since 2002. He covered 119 losses in 2003 and an AL pennant in 2006.
This story was not subject to the approval of Major League Baseball or its clubs.