Grandal has big day at the dish against Tribe
Catcher goes 3-for-3 with homer, three RBIs; Bolsinger solid in tie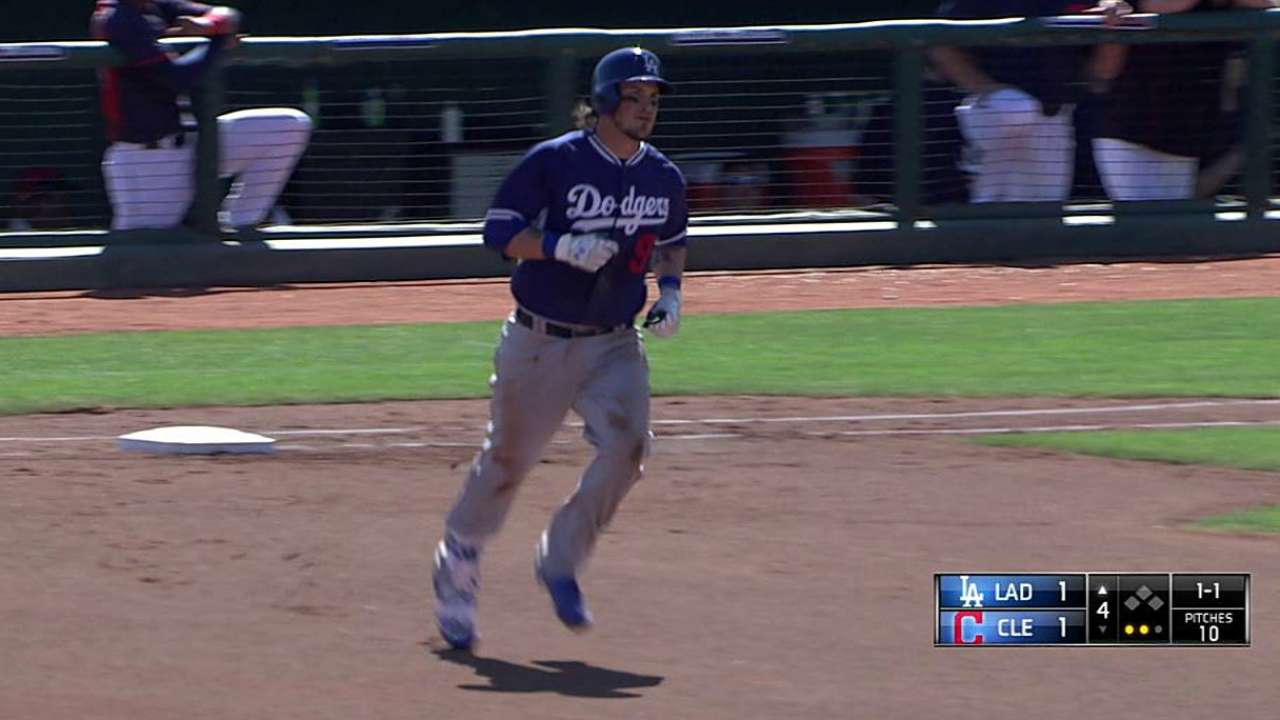 GOODYEAR, Ariz. -- Reigning American League Cy Young Award winner Corey Kluber made his first start of the spring, but it was Yasmani Grandal who stole the show.
Grandal, whom the Dodgers acquired in an offseason trade with the Padres, went 3-for-3 with a home run and a trio of RBIs, but the Dodgers and Indians tied 5-5 on Saturday.
Kluber, who left with the game tied at one, allowed one run on three hits in three innings of work.
"It's different every year," Kluber said of his command. "Some days it's there, some days it's not. That's kind of what Spring Training is for, to get a feel for the stuff and find that consistency for when the season starts."
However, once Kluber left the game and Zach McAllister took over, the Dodgers offense came to life.
Grandal got off to a hot start with a RBI single in the first and was also in the middle of everything as the Dodgers scored one in the fourth, one in the fifth and two in the sixth.
Grandal hit a solo home run to left in the fourth and an RBI single in his final at-bat.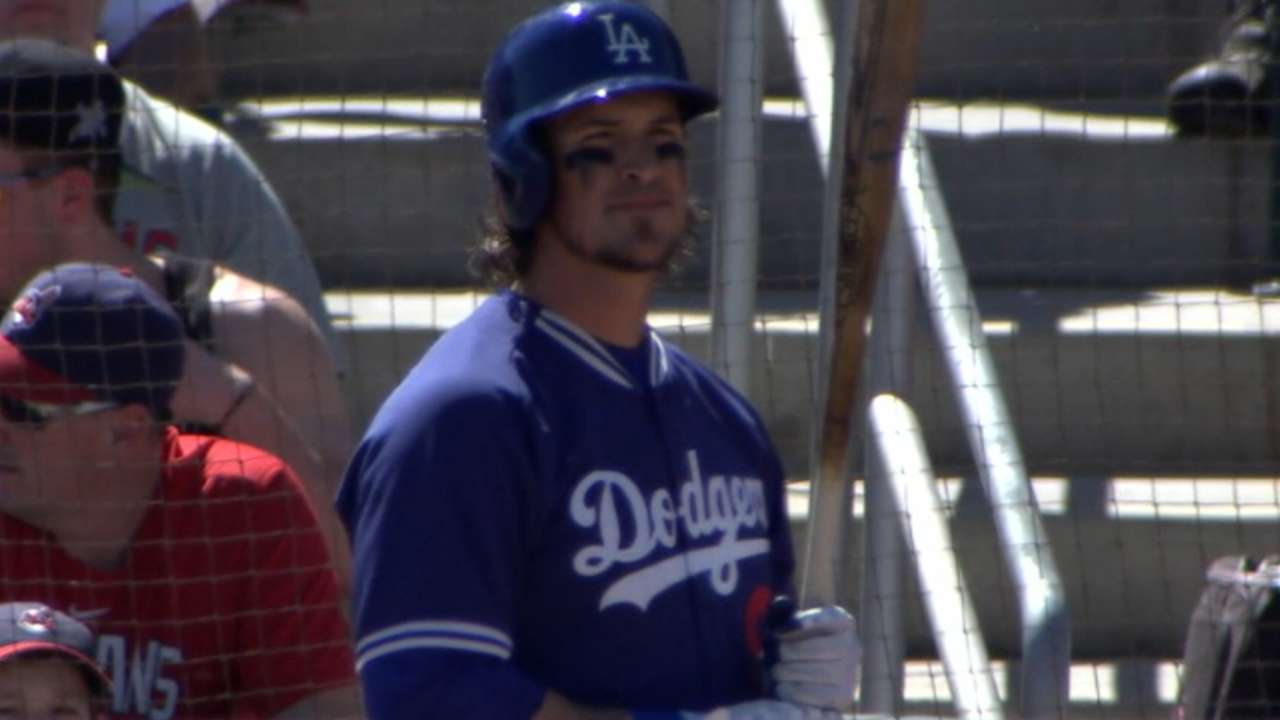 McAllister, fighting for the fifth spot in the Indians rotation, gave up six hits and four runs in three innings.
"I thought the same of [Kluber] and Zach, the balls came out of their hand, both of them, really good," Indians manager Terry Francona said. "Zach wandered over the plate a little bit, Klubes didn't quite command like he will, but I thought the ball came out of his hand really well."
The Dodgers entered the ninth with a 5-1 lead, but were unable to hold on as the Indians struck for four in the bottom of the frame.
Ryan Rholinger jumpstarted the scoring with a three-run homer to left and Brett Hayes made it back-to-back shots with a solo homer of his own.
"I'm glad we did [come back,]" Francona said. "I liked seeing Hayes hit a home run."
David Murphy's RBI single in the second gave the Indians their first run against a Dodgers staff that started Mike Bolsinger.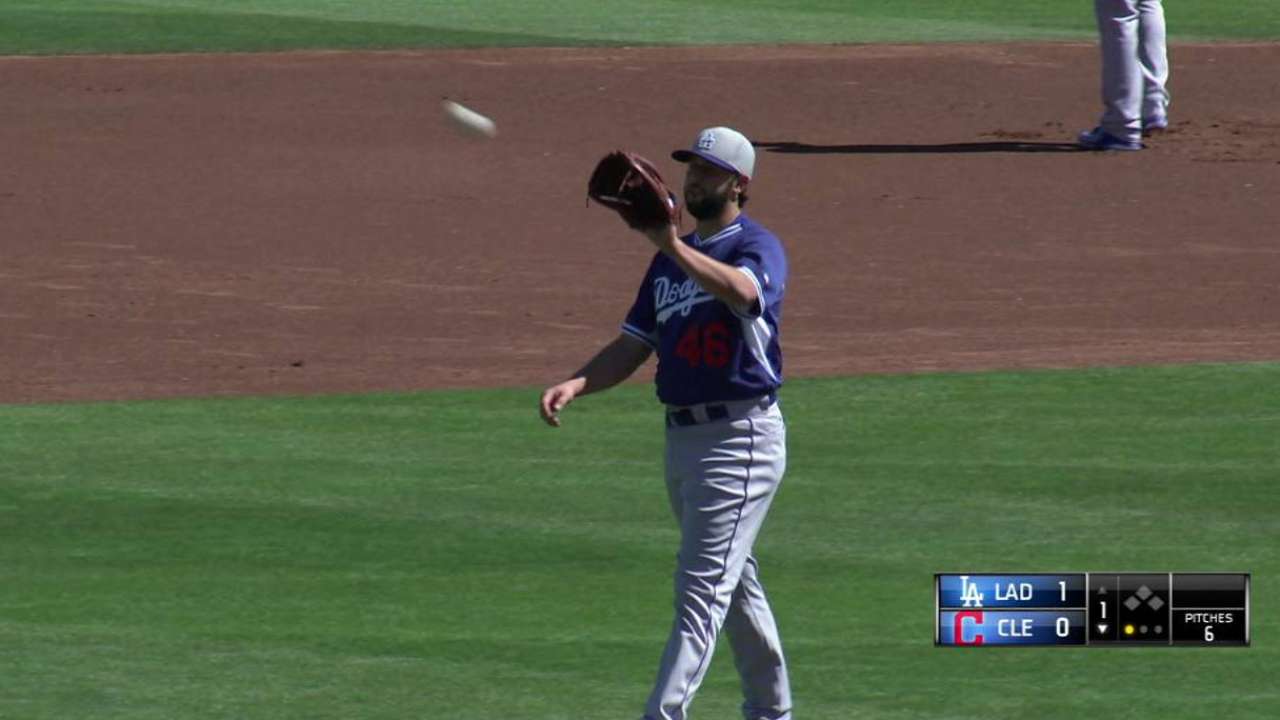 "I'm not the kind of guy that blows it past you," said Bolsinger, who gave up one run in two innings of work. "My movement was there, but I have to work on better location in the bullpen."
Up next: New fourth starter Brandon McCarthy makes his Dodgers Spring Training debut Sunday at 1:05 p.m. PT, starting against Milwaukee at Camelback Ranch-Glendale on MLB.TV. McCarthy was signed to a four-year, $48 million free-agent contract.
Ken Gurnick is a reporter for MLB.com. This story was not subject to the approval of Major League Baseball or its clubs.