Sale progressing, but not there yet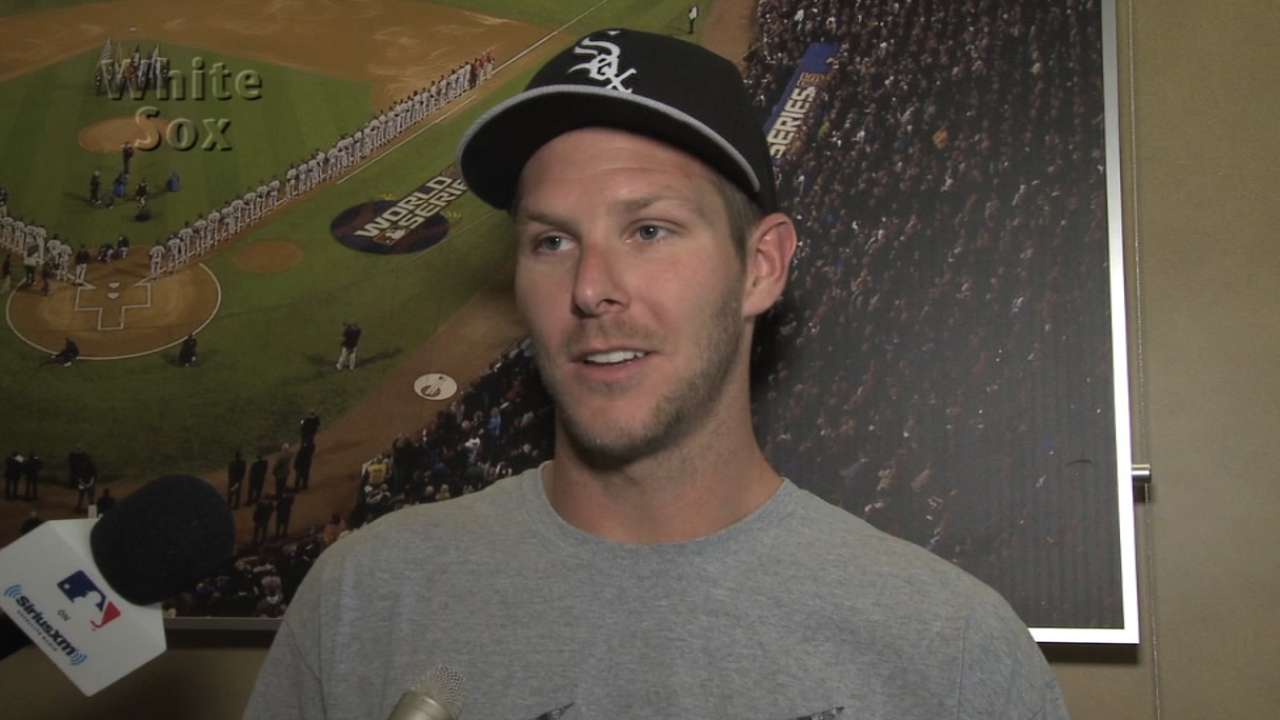 GLENDALE, Ariz. -- Chris Sale opened his injury update with the media Saturday by making a joke centered on his five-year plan, adding he doesn't know how to answer that question because he doesn't have "20-20 vision."
But there was no pun intended by the White Sox ace southpaw when stating that he's making a step in the right direction regarding the avulsion fracture in his right foot and the sprained right ankle he sustained last Friday during an accident at his Arizona home.
"It's progressing. Most of the swelling is out of there. The bruising is coming up to the surface, but we're right on track, I guess," said Sale, standing outside the White Sox trainer's room at Camelback Ranch. "I'm just doing what I'm told, and they keep saying it's getting better and looking better."
Sale was given a three-week timetable away from baseball activities following the problem that came as he was unloading his truck. He has been able to maintain arm and shoulder work during the rehab process, doing as much as he possibly can without jeopardizing the recovery.
"I've been running through a shoulder program," Sale said. "Standing table stuff, wall throws, throwing against a wall to keep my arm loose. Working on upper body. I'm doing some underwater treadmill stuff, bike, like an arm bike."
Throwing for Sale involves keeping his left foot down and his right foot out in front. He essentially goes through a mini wind-up but from the kneecap down instead of at the legs.
As far as projections for a return, Sale is staying with what he was originally told. He's doing everything possible not to miss any regular-season time, with his third straight Opening Day start scheduled for April 6 in Kansas City.
"I'm doing everything I can. It's gonna react how its gonna react, and we're gonna plan accordingly," Sale said. "My arm is fine. I can get my arm ready in a week or two. I don't think that's an issue. It's mainly the body.
"I feel like I have a pretty good feel for my mechanics and things like that, so it shouldn't take too long. I've been throwing every day on my knee, so I'm keeping it loose. I can't play long toss or throw bullpens or anything, but we'll figure that out along the way."
A normal day for Sale consists of extensive time spent with White Sox head athletic trainer Herm Schneider, so Sale joked that he had to reintroduce himself to teammates when he stepped foot in the clubhouse Saturday. His attitude remains upbeat, even if that three-week absence extends into the regular season.
"We're treating it as best as we can and doing everything we can to get ready. I just know it's sore when I put pressure on it," Sale said. "I mean, my biggest worry is a bum foot. It is what it is. I'm not gonna lose any sleep over it.
"Like I said, it's still here. It's not cut off. We're not dealing with any major issues. It's a minor foot injury. We're gonna deal with it and it will be better eventually. When that is, I don't know. But we're doing everything we can to make that as soon as possible."
Scott Merkin is a reporter for MLB.com. Read his blog, Merk's Works, and follow him on Twitter @scottmerkin. This story was not subject to the approval of Major League Baseball or its clubs.