D-backs' catching competition has many variables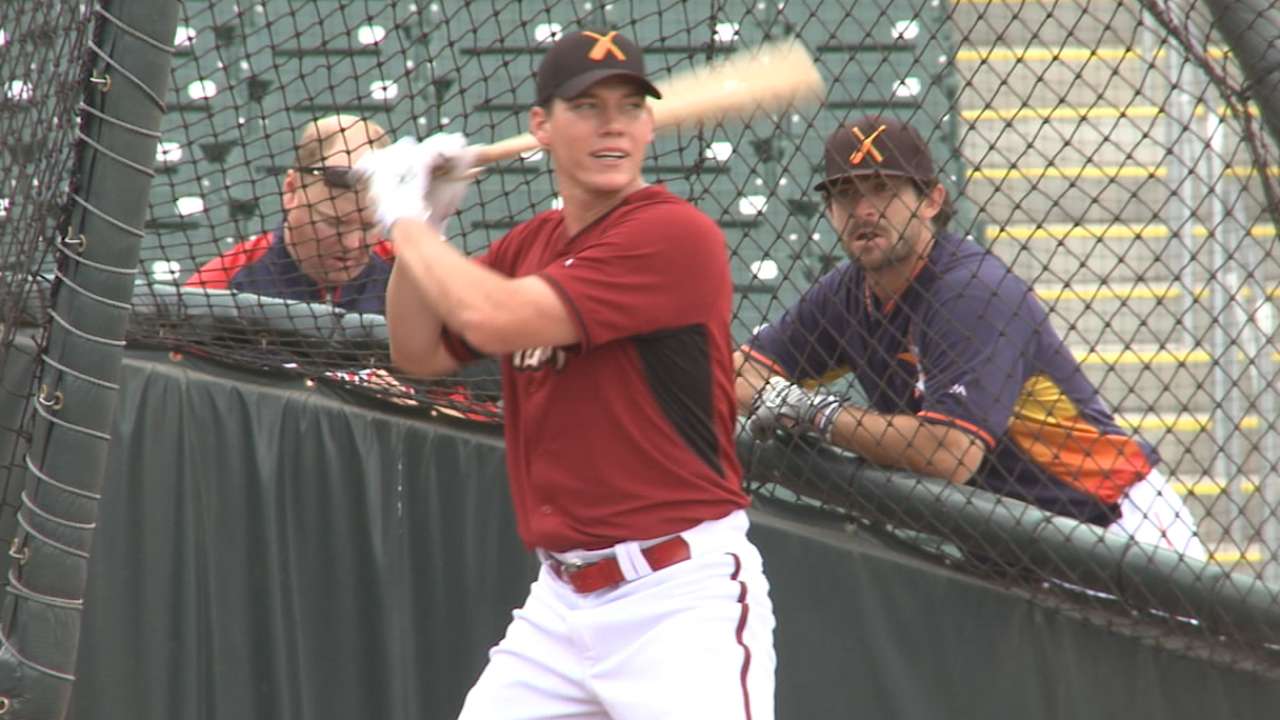 PEORIA, Ariz. -- D-backs manager Chip Hale is on record saying that any of the eight catchers in camp could make the Opening Day roster, but in reality some scenarios are more likely than others.
For the record, the eight catchers are: Tuffy Gosewisch, Oscar Hernandez, Gerald Laird, Blake Lalli, Peter O'Brien, Jordan Pacheco, Matt Pagnozzi and Mark Thomas.
How the final puzzle comes together depends on which pieces are involved. For instance, if veteran non-roster invitee Laird makes the team, it would like be in a backup role.
At age 35, it would be unrealistic to expect him to be able to catch every day, but his age and 12 years of big league experience would make him extremely valuable.
"We know what Gerald can do," Hale said. "We just need to make sure that he's ready. If and when he makes the team, he'll have to catch. How much can he catch for us? We'll have to figure that out."
O'Brien, on the other hand, is a top prospect and the team is not going to want him to be on the roster unless he gets quite a bit of playing time. Otherwise it would make more sense to send him to the Minors to make sure he gets regular at-bats and continues to develop his skills behind the plate.
Gosewisch is well liked by the coaching staff and front office for the way he handled the pitching staff during his playing time last year. He could wind up as the starter or be just as valuable as a backup, depending on how the others do.
Hernandez, a Rule 5 Draft pick out of the Rays organization this winter, will need to be kept on the big league roster all season or be offered back to Tampa Bay, which would almost certainly take him. Hernandez has not played above the Class A level, and there is a question of whether his bat is ready for the big leagues. His defense is outstanding.
"He's really looked good behind the plate," Hale said. "He kind of makes it hard on the coaches and the manager because every ball he catches looks like a strike. We're kind of yelling at the umpire and we have to look at the video to see if they really were strikes. He's got great hands back there and he blocks it."
The team could carry Hernandez as a backup, though ideally he would get some regular at-bats to help him develop.
Thomas, Pagnozzi and Lalli all could be used as backups or insurance in the Minor Leagues.
Pacheco's versatility makes him intriguing. He can also play first base, second and third and probably could be put in the outfield as well. While the team would prefer not to carry three catchers, Pacheco might be an exception.
Steve Gilbert is a reporter for MLB.com. Read his blog, Inside the D-backs, and follow him on Twitter @SteveGilbertMLB. This story was not subject to the approval of Major League Baseball or its clubs.