MLB.com Columnist
Lyle Spencer
Gomez embodies all-out mindset of Brewers
Speedy center fielder one of the leaders on a club that is aggressive on the basepaths
PHOENIX -- Carlos Gomez plays baseball like a man running from a burning house. The electric center fielder sets the tone and pace for the Brewers, who, at their best, are the Golden State Warriors of Major League Baseball, born to run. When they abandon the fast break for a half-court game, as in the second half of 2014, they lose their edge.
"It's not only me -- we play like that," Gomez said. "We're aggressive on the bases. If two or three times in a season you can force mistakes that win a game for you, at the end of the year it's big. It can be the difference in your season, making the playoffs."
Over the past three seasons, Gomez is tied for third in the Majors with Ben Revere in steals (111). Gomez's 81.6 success rate is higher than the two leaders, Rajai Davis and Jose Altuve.
Brewers manager Ron Roenicke grew up as a player in a Dodgers organization that practically invented the running game in the modern era with Jackie Robinson, followed by the incomparable Maury Wills.
Before coming to Milwaukee in 2011, Roenicke coached on an Angels staff with Joe Maddon and Bud Black, who also took their beliefs in the running game to managerial roles. Mike Scioscia, who managed those Angels teams, grew up with Roenicke as Dodgers. All four preach going first to third and taking every available base.
"Ron changed my career when he turned me loose," Gomez said. "He likes us to play like that 162 games. These guys run. If you are consistent with it, guys in the field feel the pressure. They'll try to be too quick sometimes and make errors.
"For me, it's the way I do things. I can't slow down. It's me -- in the outfield, on the bases, at the plate. My kid [Yandel] is only 5 years old, and he's already just like me."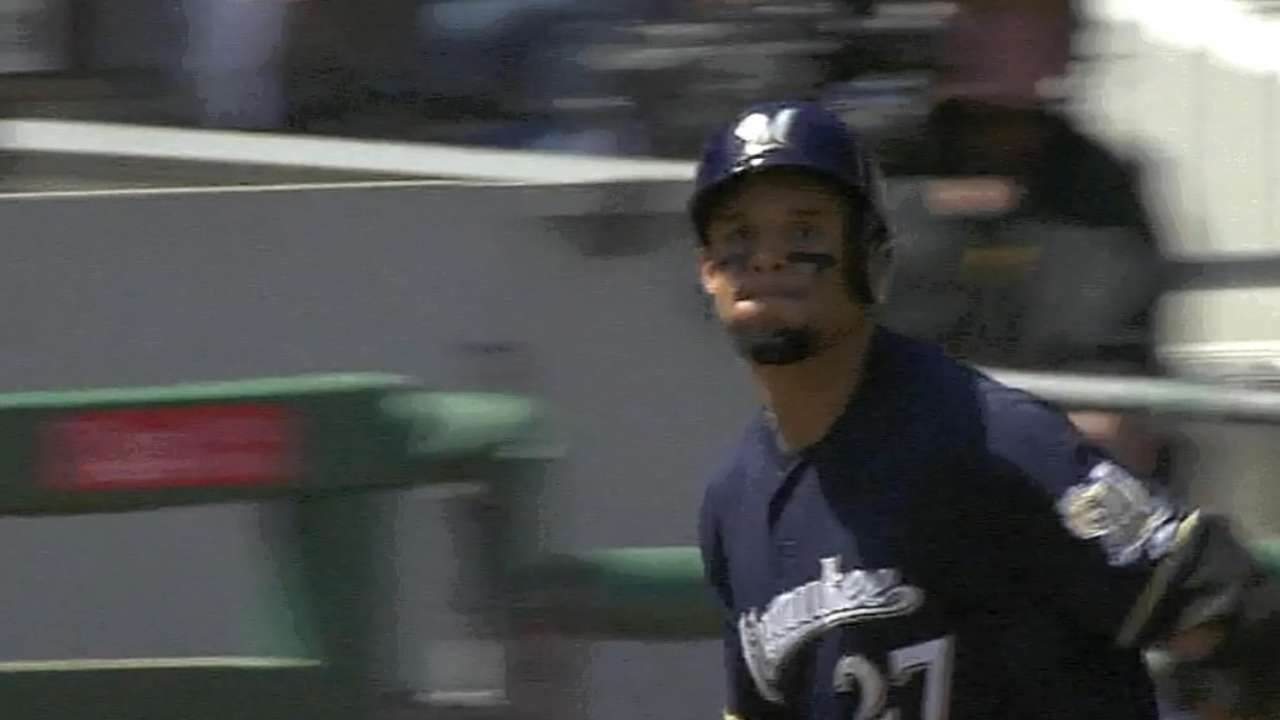 Stolen bases are only part of the running game, but they reflect an all-out mindset Gomez embodies and stresses with teammates. The Brewers over the past three years are second in the Majors in steals behind the Royals. Third overall and second in the National League are Black's Padres.
In 2012, with Gomez (37) and Ryan Braun (30) leading the way, the Brewers led the Majors with 158 steals. They led the NL again in 2013 with 142 steals -- Jean Segura swiping 44 bags, Gomez 40.
Gomez had 34 steals last season, but the Brewers fell to fifth in the NL with 102. On the heels of a 20-8 opening month, Milwaukee came to the All-Star break leading the NL Central with a 53-43 record, but the Crew dropped out of the postseason race with a 29-37 second half. The wheels fell off the offense, with action on the basepaths stagnant.
Gomez did his part with 17 second-half steals, but his production fell. He hit .253 with a .427 slugging percentage after starting the All-Star Game, compared to .304 and .510, respectively, before the break. If he was running on empty, it was understandable given the passion he brings to every game.
"Carlos plays hard and has learned to play for his teammates," Roenicke said. "He's become a dangerous hitter with power to go with his speed, and he can go get 'em in center field. He's crazy out there, running into walls, stealing bases. And he can throw.
"He's one of the leaders on this team. It's a joy watching him play the game and interact with his teammates."
Backup outfielder Logan Schafer credits Roenicke with freeing his players to attack the game without fear of failure -- as long as they learn their limits.
"We'll get that extra bag," Schafer said, "and Gomez will steal a base just to say, `Don't mess with us -- I'll make you miserable.' To be able to play with the freedom Ron allows you lets everyone shine."
Segura, a dynamic tablesetter when right, endured a difficult 2014 on personal and professional levels after making the All-Star team at shortstop in 2013.
"When he first came up," Roenicke said of the former Angel, "he was doing things instinctively we didn't have -- range, great arm, speed. It's energy and also the mental part. Last year both suffered: His defense wasn't as good and his offense wasn't as good."
Segura is working on a slight leg kick, hoping to lift his average back in the .294 range of 2013 after slipping to .246 and stealing just 20 bases last year.
"It's important for me to get on base and make things happen," Segura said.
Gomez -- the fastest player on the team, Segura maintains -- will be there with him every step of the way.
"He's one of those guys we have to get going," Gomez said. "When we both get on base, they don't know what to do on the other team."
Lyle Spencer is a national reporter and columnist for MLB.com. Follow him on Twitter @LyleMSpencer. This story was not subject to the approval of Major League Baseball or its clubs.