Papelbon finds it 'interesting' spring debut was vs. Toronto
All-Star closer has already stated he is open to trade to Blue Jays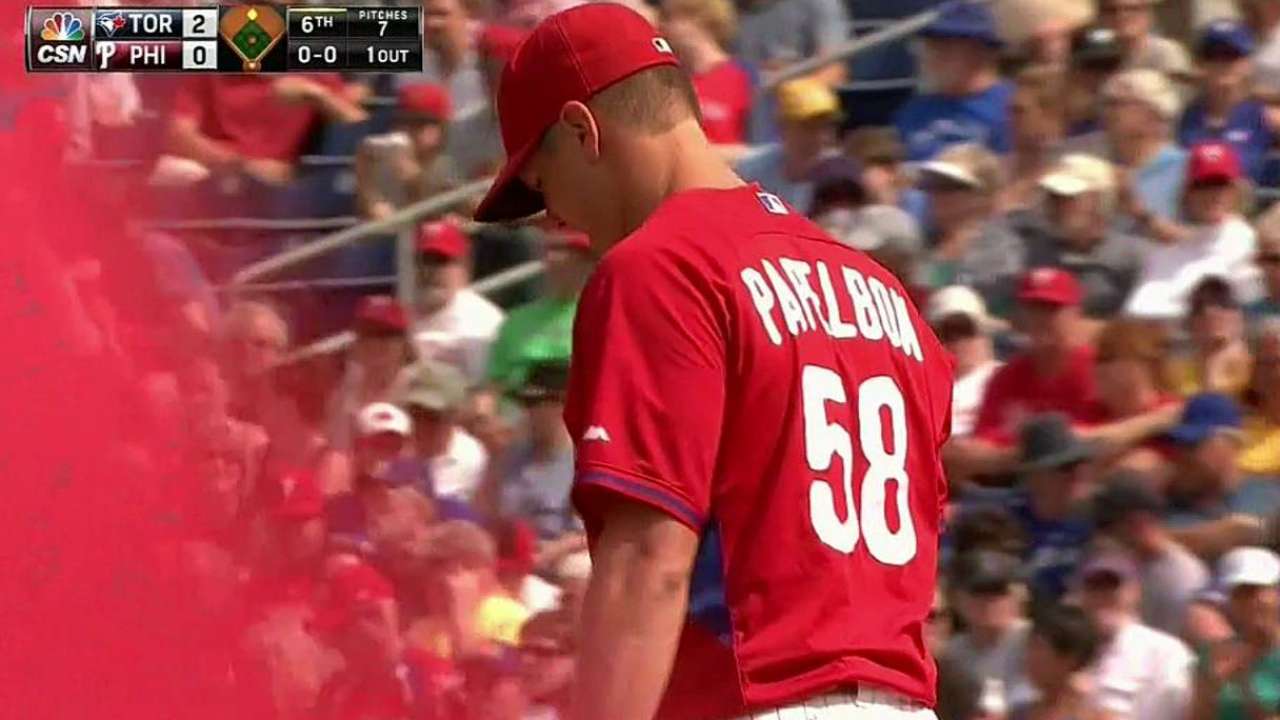 CLEARWATER, Fla. -- Just the facts: The Phillies have let it be known that closer Jonathan Papelbon is available. The Blue Jays announced Saturday that Brett Cecil, who could be their closer, has shoulder inflammation.
So did Papelbon think it was just a coincidence that he made his first Grapefruit League appearance in Saturday's 4-2 loss to Toronto at Bright House Field?
"Huh, interesting," he said with a sly grin after giving up a leadoff single to Russell Martin in the sixth then quickly ending the inning by striking out Danny Valencia and Justin Smoak and getting Dalton Pompey to fly out to right.
Told that the scoreboard radar showed his fastball hitting 93 miles per hour -- PITCHf/x had him averaging 91.2 -- he deadpanned, "Huh, interesting."
Asked if he was aware that Cecil had been sidelined, Papelbon again played it for laughs. "No, I'm not. Wait, can I take that back? Can I recant?" he said.
When told he could, he smirked. His revised answer: "Huh, interesting."
He has made it plain in the past that he wants to play for a winner. When camp opened, he even told CSNPhilly.com that he'd strongly consider waiving his no-trade clause to open the door for a deal to the Blue Jays.
But when asked Friday if this spring felt different because of the speculation surrounding his future, he reverted to what has been his standard appraisal of the situation.
"It feels different because I feel like we've got a pretty good vibe going in this clubhouse, the best I've seen since I've been here. It's exciting. A little bit of a different feel. That's the only thing. You know me. I come to work," he said.
He was asked if he finds it odd considering that management has made it clear that the franchise is trying to re-arm for the future.
"Yeah, I find it odd," he said. "I feel like [we are] going to contend, there's no doubt about that. I don't think anybody in this clubhouse, especially the veterans, doesn't think we're going to contend.
"It's like I said earlier, I don't think it's been a total rebuilding thing where they're going to let everybody go. I think we're still in it to win it and we're going to see what happens until it's dictated otherwise."
Papelbon said he's added some weight this year. Manager Ryne Sandberg remarked, "I thought he threw well. He just looks strong from working out over the winter and having a fresh year and a fresh start. He had a good fastball and a good split-finger, his change-up was going down. He looked real sharp."
Paul Hagen is a reporter for MLB.com. This story was not subject to the approval of Major League Baseball or its clubs.