Speedy Gordon crafting bunt strategy with Butler
Marlins' leadoff man learning from MLB's all-time leader in bunt singles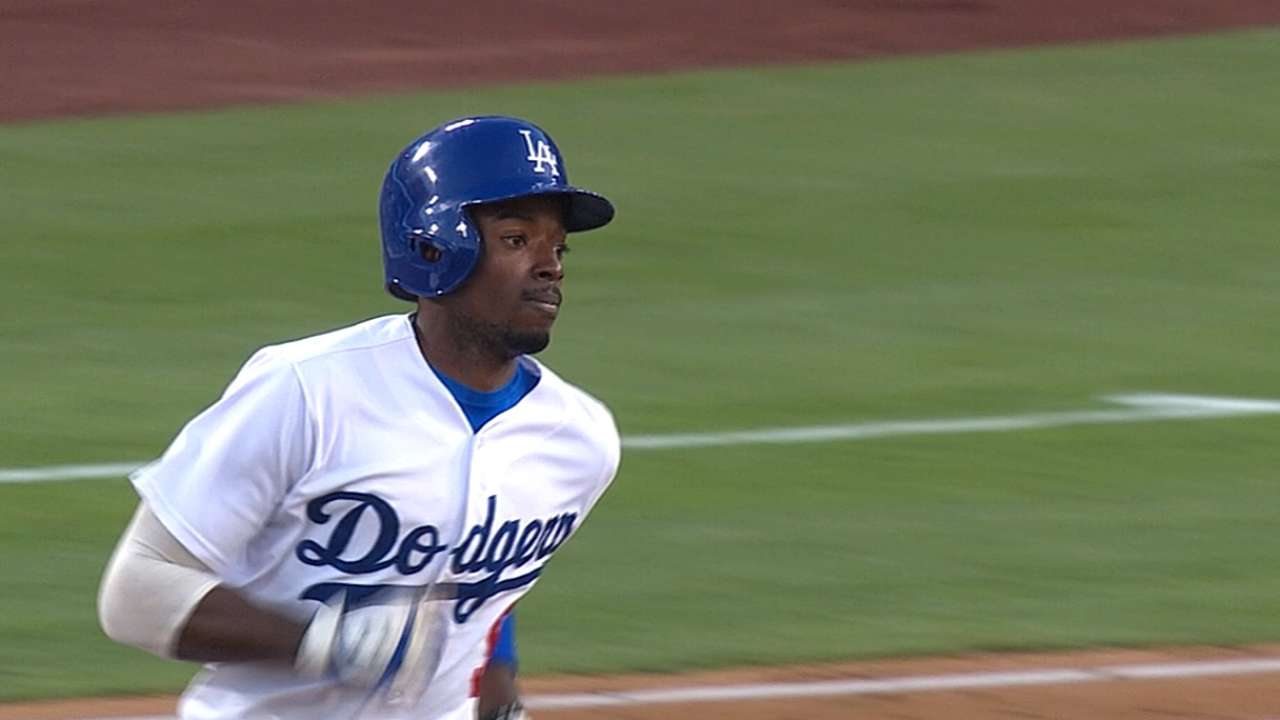 JUPITER, Fla. -- With Dee Gordon, the secret is already out that he's going to bunt. It's not something he tries to hide, and everyone knows it will happen.
The advantage Gordon has is he controls precisely where and when to try to leg out hits.
"It's part of my game," Gordon said. "I'm used to doing it. I'm not a guy who is going to say, 'Nah, I don't want to bunt.' I need to bunt. That's what I've got to do to help us win."
bunting w/ @FlashGJr at #Marlins camp pic.twitter.com/48yrtxr67U

- Joe Frisaro (@JoeFrisaro) February 23, 2015
In his All-Star 2014 season with the Dodgers, Gordon paced the Majors in bunt singles (20) and infield hits (55). In Miami, he will look to build on those numbers, and he's gaining pointers from MLB's all-time leader in bunt singles.
Outfield/third-base coach Brett Butler had 245 bunt singles in his 17-year career, which ended in 1997. That total is the most since 1900, recognized as the start of MLB's modern era.
"They know you're going to bunt," Butler said. "They just don't know when. Only you do. And they don't know which way you're going to go."
In his playing days, Butler received some advice from Hall of Famer Rod Carew, who sits 10th all-time with 106 bunt singles.
"When I first started, I got this from Rod Carew, and it's probably the best advice I ever had," Butler said. "Carew said, 'You're faster than I am.' And Dee's faster than I was. The key is not getting out of the box. The key is getting the ball on the ground -- seeing the ball in fair territory."
If the bunt can roll around five feet onto the grass in front of the dirt around home plate, Gordon has a good chance of legging out a single.
In Miami's first Grapefruit League game, against the Cardinals on Thursday, Gordon had a drag-bunt single.
"Learning is always fun for me," the second baseman said. "I love learning, getting more knowledge. I try to use it to the best of my ability. Get it on the ground, and pretty much see what happens after that."
The Marlins acquired Gordon from the Dodgers in December to add game-changing speed at the top of their order.
Gordon posted a .289 batting average with a .326 on-base percentage and 92 runs scored.
The aim is for Gordon to boost his on-base percentage to .350 or higher.
"This will put him over .300 [batting average] and over 100 runs, if in fact he's able to get on base," Butler said. "That's the key, get on base a little more."
Joe Frisaro is a reporter for MLB.com. He writes a blog, called The Fish Pond. Follow him on Twitter @JoeFrisaro. This story was not subject to the approval of Major League Baseball or its clubs.