Markakis two weeks away from playing
Veteran outfielder not worried about being ready for the regular season
LAKE BUENA VISTA, Fla. -- Nick Markakis appears to be approximately two weeks away from playing in his first Grapefruit League game. But with the start of the regular season nearly a month away, the Braves still believe Markakis will have enough time to prepare to be in the Opening Day lineup.
"I've still got some time left, so there is no rush," Markakis said. "I'll be fine with a week's worth of at-bats."
Like most veteran position players, Markakis has long realized that the length of Spring Training is designed to prepare pitchers for the regular season. Most experienced hitters will tell you that they need somewhere between 25-35 plate appearances in Spring Training games to deem themselves ready.
Thus, Markakis does not seem to be concerned about the fact that he's still at least a week away from the Braves clearing him to fully participate in all baseball activities. The club admits it is taking an overly cautious approach with the veteran outfielder, who underwent neck surgery on Dec. 17 to repair a herniated disc.
Markakis began hitting off a tee and throwing on Friday, and repeated these same exercises on Saturday morning at Champion Stadium.
"I didn't feel any discomfort," Markakis said. "I felt normal. There were no issues. I actually felt normal hitting."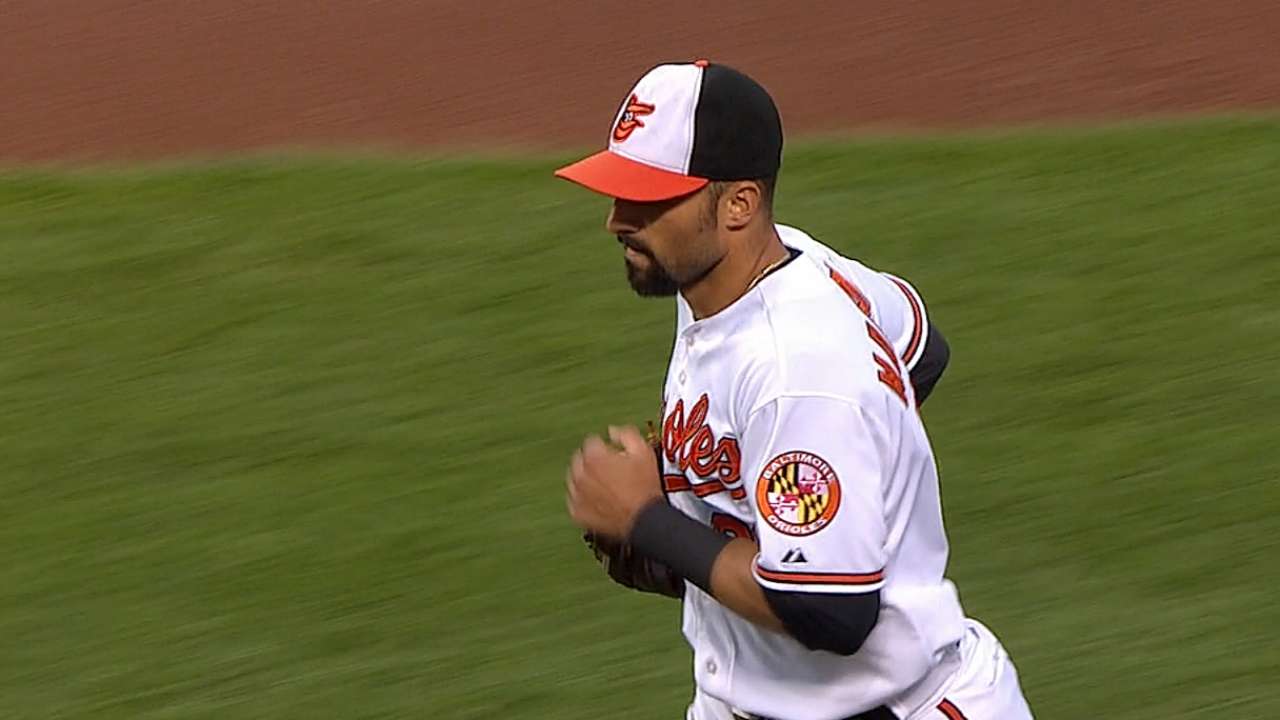 When Markakis underwent the surgical procedure, he was told he would need to wait 12 weeks before being cleared to resume all activities. Though the 12-week anniversary of the surgery will be Wednesday, the Braves seem content to remain patient in an attempt to prevent him from suffering a setback while sliding into a base or diving for a ball in the outfield.
"There's no timetable here," Markakis said. "When I'm ready, I'm ready. I've been through the process before -- not with my neck, but just trying to come back [from an injury]. The biggest thing is, you want to be right. You don't want to go out there and tweak something and then you're out longer. You want to make sure you're good."
While maintaining a patient approach and feeling good about the progress he has made, Markakis has spent the past couple of weeks getting acquainted to his new environment. Before signing a four-year, $44 million contract in December, the Gold Glove outfielder had played his entire professional career with the Orioles.
"We've got a good group of guys," Markakis said. "It's still early. We're still in that sponge stage, kind of soaking up everything. Everybody seems cool. Everybody is good and seems to be doing the right things. I'm excited and everybody else is excited to get started."
Mark Bowman is the Braves beat reporter for MLB.com. He has been covering the club since 2001.
This story was not subject to the approval of Major League Baseball or its clubs.