Decker transforms into 'frontline player'
After working hard in offseason, outfielder adds to club's talent-filled camp
BRADENTON, Fla. -- This isn't the first spring Clint Hurdle will have a challenging time assembling his 25-man roster. But whereas in the past the Pirates manager might have felt challenged to gather enough truly Major League calibre players, he now faces the opposite problem: Camp is deep in talent.
A perfect example of an unexpected "good problem to have" is Jaff Decker. A year ago, he was your basic "gamer," a hustler who brought a lot of energy, a good glove and a little bat. Decker showed up this time determined to morph from "backyard player," as Hurdle described him, to "frontline player."
"I changed my workout routine, started earlier and revamped my swing," said Decker, whom the Bucs acquired in a November 2013 deal with the Padres. "I spent a lot of time thinking about what I needed to do to make myself better. I kinda figured it out, and it's a good feeling to know that hard work does pay off."
A week into exhibition play, Decker has hit loudly. He pierced the gap for a two-run double on Tuesday and hit a long homer Friday. That's two more extra-base hits and already twice as many RBIs (four) in seven at-bats as he had in 36 at-bats last spring.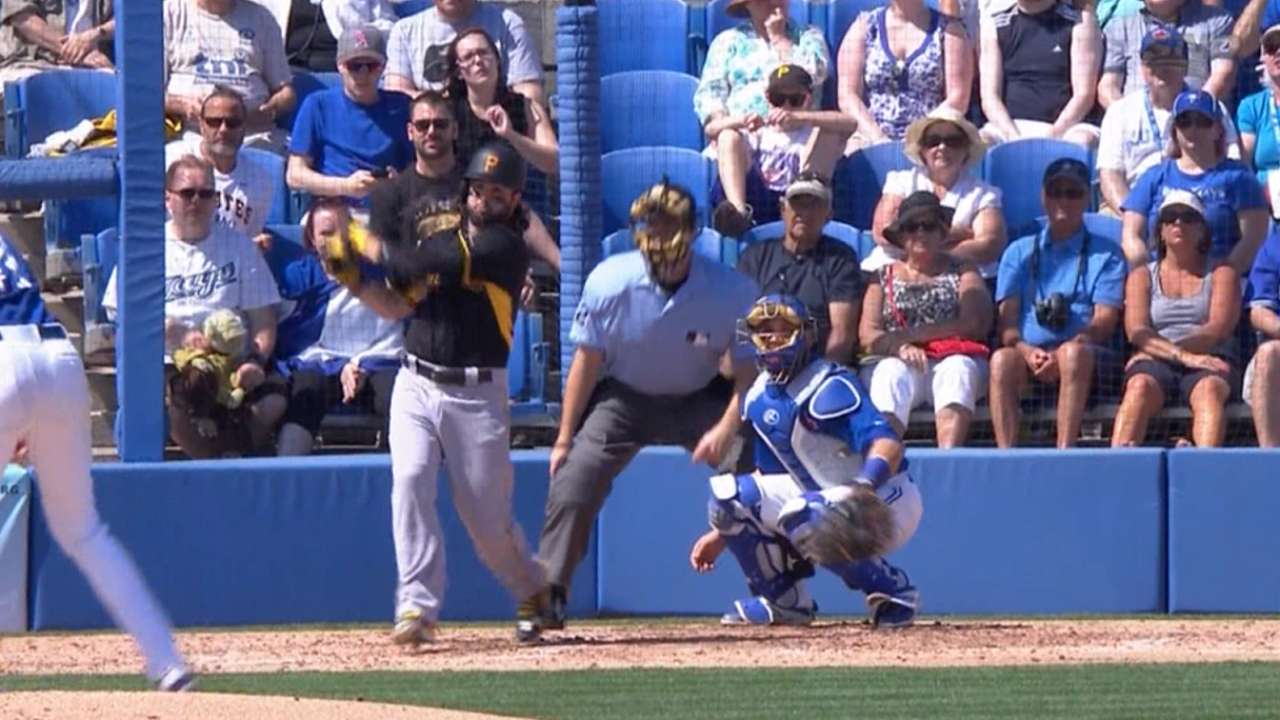 Decker is defensively superior, by far, to the two No. 4 outfielder candidates conceded the inside track -- Corey Hart and Andrew Lambo. With today's 12-man pitching staffs, a team can't afford to sit a glove man on its bench. Put a strong bat in his hands, however, and Decker becomes a valuable weapon, and an intriguing possibility.
After sitting out Saturday's game in Hurdle's play-every-other-day scheme, Decker will be back in center field for Sunday's game in Dunedin, Fla., against the Blue Jays.
He can't help but be conscious of the talent lode in this camp.
"Yeah, yeah," Decker nodded, "but you just gotta compete every day at your best. And whatever the outcome is ... all the hard work hopefully pays off, and so far it has.
"I worked so hard this offseason ... two-a-days in the gym, hitting who knows how many buckets [of balls] a day ... just to take a ride and go make an impression on this team. I always had it inside, just had to figure out who I am and what I needed to do to be a successful big league player."
He has added to, not overhauled, his reputation.
"I got typecast for defense, and that is just as important as offense," Decker said. "If you go 0-for-4 but make a play on defense that saves a run, to make it easier for the pitcher to do his job, that's as important as driving one in. I still want to do everything well, so you don't have that pinch-hitter for you late in the game.
"Besides," he added, as if discussing a new discovery, "hitting is fun."
Tom Singer is a reporter for MLB.com and writes an MLBlog Change for a Nickel. Follow him on Twitter @Tom_Singer. This story was not subject to the approval of Major League Baseball or its clubs.