Conger's 'framing' abilities to come in handy for Astros
Backup catcher brings strong defense, offensive potential to team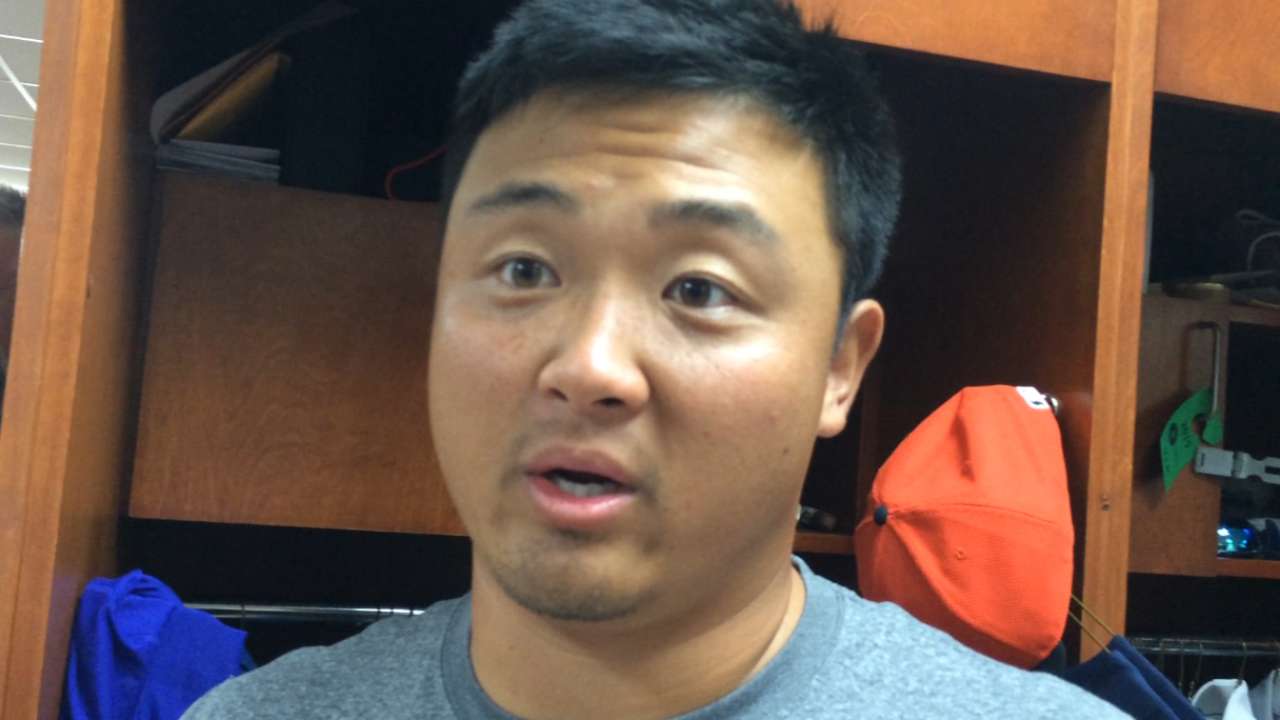 KISSIMMEE, Fla. -- Hank Conger doesn't like the term "framing," because he believes it carries a somewhat negative connotation about trying to deceive an umpire into calling a pitch that was outside of the strikezone as a strike.
Whatever you call it, Conger is regarded as one of the best pitch "framers" in baseball, which was one of the reasons the Astros acquired him in a trade with the Angels in November. They also liked his makeup and his potential for offense, but receiving the ball is his calling card.
"I want to try to give the best presentation to at least see the ball and not try to deceive [the umpires] and not try to trick them," Conger said. "I'm trying to stay as quiet as possible and just really catch the ball where it's at. That's probably the best way I could really describe it as far as my receiving."
Conger, 27, is a switch-hitter who will serve as the backup to veteran Jason Castro. A former first-round pick, he spent his entire career in the Angels' organization and has appeared in 251 Major League games since 2010, hitting .224 with 17 homers and 71 RBIs.
"I like his bat," general manager Jeff Luhnow said. "He did some damage against us last year. I like the way he has soft hands and he does a nice job getting calls for the pitchers and helping them be successful. He's a good guy in the clubhouse. There's a lot that went into [acquiring Conger], but certainly the defense was a big part for us."
Conger said that while making sure the umpires can see where the ball is caught is important, having the pitchers have confidence in his catching abilities is crucial.
"You want to make sure the pitchers feel comfortable throwing to you and you give a good target to the pitchers," he said. "I think I did a good job when I was younger receiving the ball, but now seeing all the numbers [analytics] and kind of understanding how your body needs to set up, whether you get wide or thinner as far as your stance. A lot of things come into play."
The myth behind framing is that catchers pull close pitches into the strike zone to get calls. That's not what it's about, says Conger.
"I don't want to drag the baseball back into the zone," he said. "I want to catch it where it's caught, if that makes sense. The biggest thing for me is having very little movement as soon as you catch the ball, as soon as it impacts your glove and not having your glove move around everywhere."
Astros manager A.J. Hinch, a former catcher, says good receiving starts with the setup and giving a good target.
"He has great action with his hands," he said of Conger. "And one thing I noticed about Conger is he works on every pitch. He doesn't assume the pitch is going to be anywhere. You can see a real focus in him during bullpens. You can see him during live batting practice, you're going to see him [in games]. He takes great pride in catching a clean game."
Brian McTaggart is a reporter for MLB.com and writes an MLBlog, Tag's Lines. Follow @brianmctaggart on Twitter. This story was not subject to the approval of Major League Baseball or its clubs.