Walk-off caps comeback after Bassitt's strong start
Nunez provides A's winning infield single with bases loaded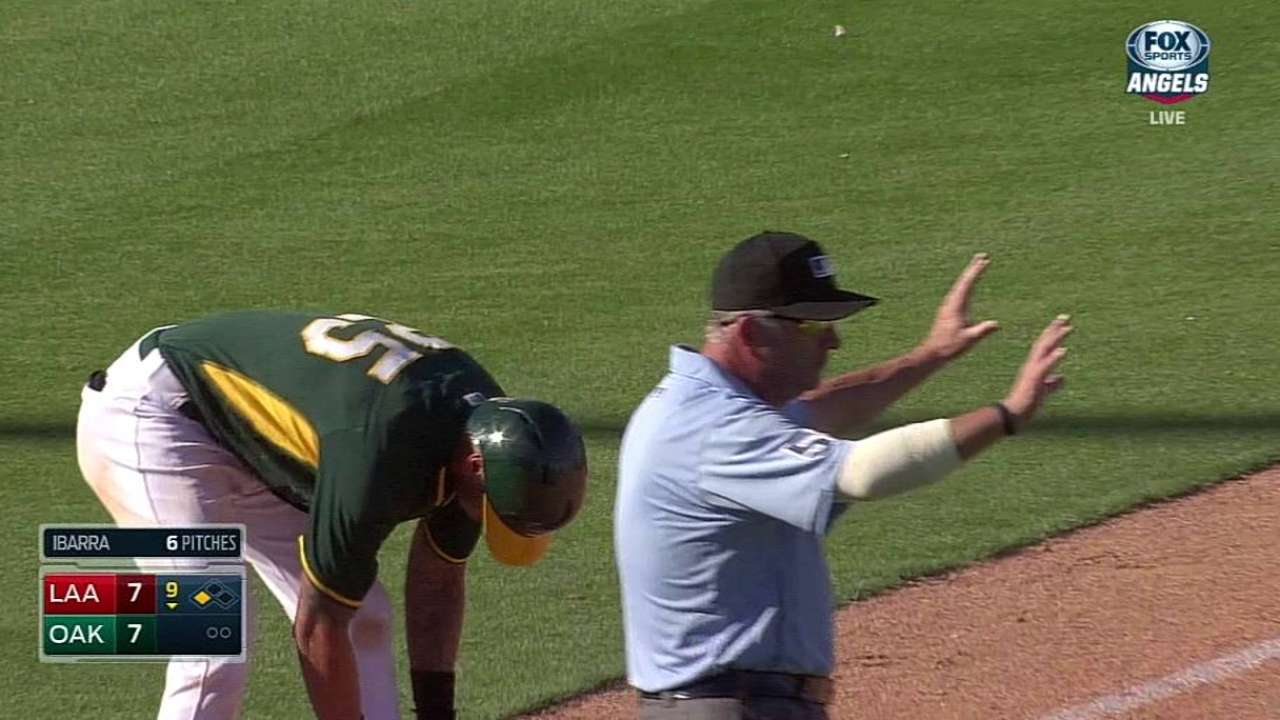 MESA, Ariz. -- Angels left-hander C.J. Wilson was touched for just one unearned run over three strong innings of work in his Cactus League debut against the A's at Hohokam Stadium on Saturday afternoon, but the A's launched a furious comeback to grab an 8-7 victory on a walk-off infield single by Renato Nunez.
Wilson surrendered only two hits in that span, striking out two -- A's regulars Coco Crisp and Billy Butler -- with no walks in the American League West division battle.
A's starter Chris Bassitt impressed in his spring debut, too, posting two scoreless innings in his bid for a rotation spot. The right-hander struck out two and didn't walk a batter in front of a sellout crowd.
"I thought he was really good," said manager Bob Melvin. "He was down in the zone, ball's moving all over the place, and he was mixing in his breaking ball enough to keep guys off balance."
Luke Carlin, Alden Carrithers and Tyler Ladendorf began Oakland's comeback with an RBI each in the seventh, and Max Muncy hit a two-run double to climb within one in the eighth. Ladendorf tied the game with triple in the ninth and, after loading the bases, Nunez came through to give the A's the win.
Angels infielder Taylor Featherston was responsible for the first run of the day, driving home Daniel Robertson with an RBI single in the third inning. Teammate Efren Navarro added an RBI base hit in the fourth off reliever Ryan Cook, and Featherston again found himself in the middle of the action in the fifth, when he successfully executed a safety squeeze bunt.
Navarro recorded his second RBI of the day in the sixth on a double.
A's up next: It's Drew Pomeranz's turn to impress Sunday. The A's lefty, one of at least six candidates for three open rotation spots, will make his spring debut against the White Sox, with the first pitch scheduled for 1:05 p.m. PT at Hohokam Stadium. Pomeranz compiled a 2.35 ERA in 20 games, including 10 starts, for Oakland last year.
Jane Lee is a reporter for MLB.com. This story was not subject to the approval of Major League Baseball or its clubs.