Darvish has UCL sprain, could need surgery
Right-hander, Rangers to consult with surgeons before deciding next step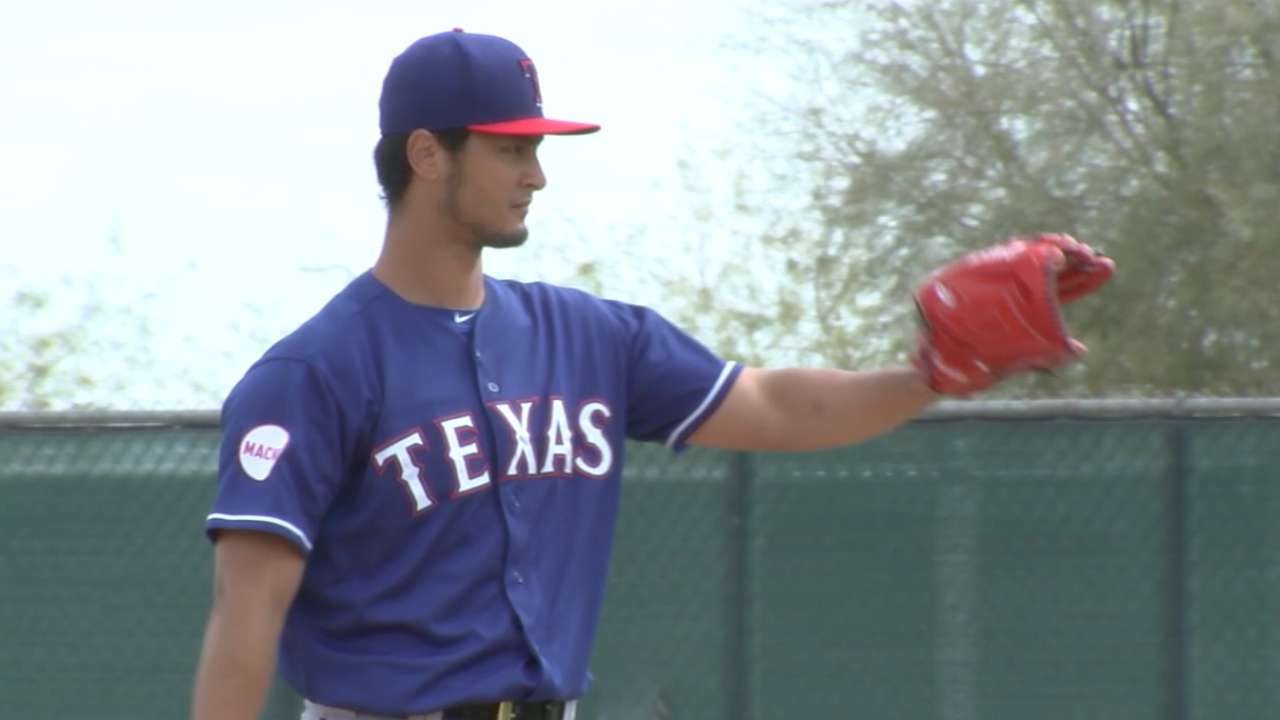 SURPRISE, Ariz. -- Rangers staff ace Yu Darvish has a tear in the ulnar collateral ligament in his right elbow and could be heading to season-ending Tommy John surgery.
Darvish underwent an MRI on Friday, which revealed the sprain in the ligament. The right-hander has discussed potential options with team orthopedist Dr. Keith Meister and is expected to consult other surgeons in the coming days before making a decision.
"We got the MRI results yesterday evening. Dr. Meister met with Yu at that time and we just all got together this morning and talked through the options, effectively, that there are three options for Yu at this point," Rangers general manager Jon Daniels said. "One is to attempt to pitch through it, which is not a great option. Two, would be an effort for rest and rehab. I think the sentiment is that is effectively what we did in the fall and in the winter and up until two days ago, we had very good results with it. He looked very good but obviously that did not pan out as desired. The third option would be Tommy John surgery."
Darvish, who missed the final seven weeks last season due to mild inflammation in his right elbow, exited his spring debut on Thursday after just one inning. He felt some tightness in the arm while warming up in the bullpen before Thursday's game.
"I will be disappointed if I have to miss the season, but I want to look at all options, including getting a second opinion, before I make a final decision," Darvish said in a statement. "In the meantime, my heart is with my teammates, and our focus remains on accomplishing our goals for the season."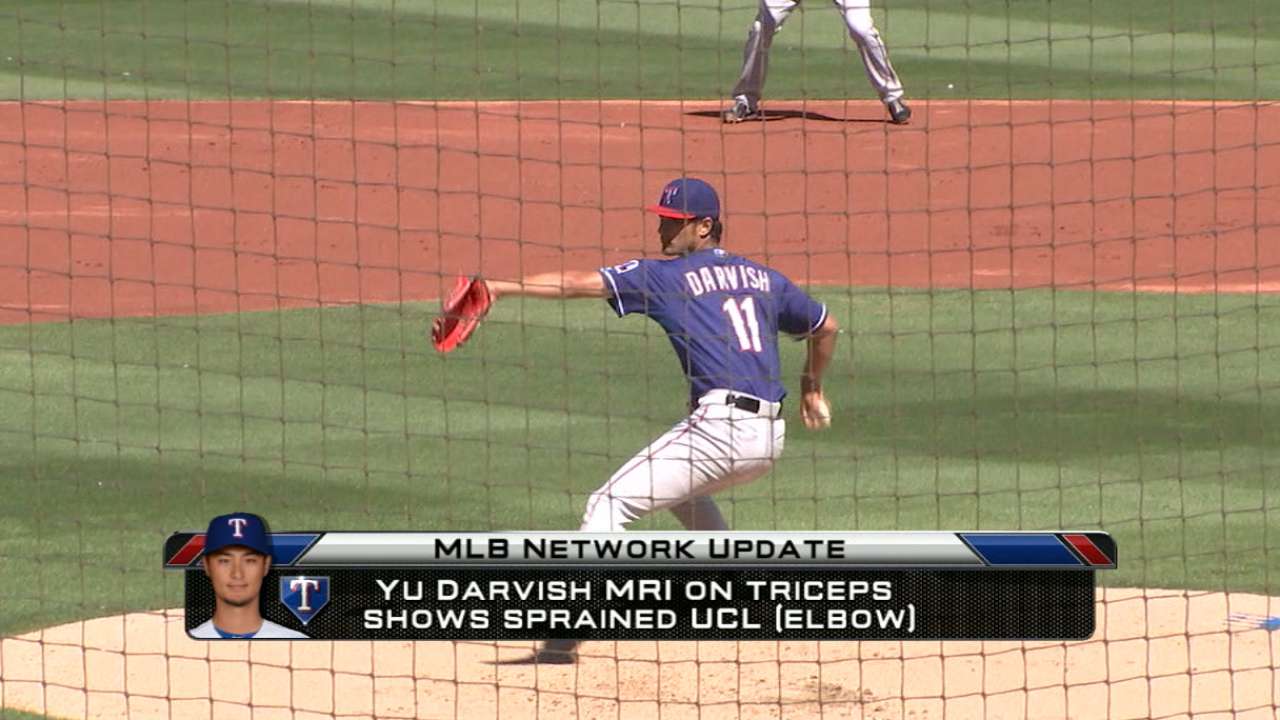 Daniels said MRIs on Darvish's elbow in November and January came back clean, but Friday's MRI revealed "damage to the fibers." The general manager estimated it would be four months before Darvish pitches in a game and six weeks without throwing if the pitcher chose to rest his arm. Darvish could be ready "at the beginning of next year," if he chooses to have Tommy John surgery, the general manager said.
Daniels expressed concern about "delaying the inevitable" if the pitcher chose to rest and rehab his elbow instead of surgery.
"That's where we are as far as the process and making that call, which is ultimately Yu's to make," Daniels said. "We'll discuss it. First things first, you hurt for the guy. He's worked so hard to come back. He looked as good as he as ever looked early on in bullpens, live BPs, intrasquad game. Just yesterday, it didn't feel right for him. We feel for him on a personal level."
The Rangers will look to Nick Tepesch, Nick Martinez, Lisalverto Bonilla and Alex Gonzalez to replace the hole vacated by Darvish. The club could also look outside the organization.
"We're not going to sugar coat it," Daniels said. "It's not the news we wanted. That being said, we are not the only club that is going to have an injured player this year and you have two choices. You can hang your head and dwell on it or do everything you can to get him the right care and get him back to where he needs to be and get the other 25 guys ready to roll. That's the response and attitude we are going to take with this thing."
The Rangers were hit hard by injuries last season, losing pitchers Matt Harrison, Tanner Scheppers and Martin Perez during the first two months of the 2014 campaign. Prince Fielder, Mitch Moreland, Shin-Soo Choo and Darvish also spent significant time on the disabled list.
"You never feel good about any athlete anywhere in any sport that has some issues, some obstacles to overcome," Rangers manager Jeff Banister said. "But on the bigger picture, I have 62 other players in that clubhouse that I need to lead also, so I allow our medical staff and our trainers to do their job and make the decisions. Today, I sat down with Yu, shook his hand, listened to him and told him however this goes, whatever direction this goes, he has a group of teammates who care about him and are ready to open their arms and wrap their arms around him and take care of him."
Jesse Sanchez is a national reporter for MLB.com. Follow him on Twitter @JesseSanchezMLB. This story was not subject to the approval of Major League Baseball or its clubs.