Hardy is a role model for young Orioles
Star shortstop is quiet leader whose work ethic is an example for all to follow
SARASOTA, Fla. -- Earlier this week, Orioles manager Buck Showalter observed that Gold Glove Award-winning shortstop J.J. Hardy was setting a powerful example for the younger players in camp with his performance on the field -- and with his demeanor off of it.
"You should hear our younger players when they talk about him," said Showalter. "They speak with reverence, absolute reverence. That gives you an idea of his standing in the game right now."
Hardy appreciates the compliment, as being a team player is something that he takes very seriously.
"That's good to hear," Hardy said. "I try to help the young guys. I always have -- the guys in this clubhouse [and] in previous clubhouses I've been in. … It pushes me to be the best that I can.
"If I'm helping them become the best that they can be and potentially they could take my job, then so be it. Helping out younger guys makes me push myself more to be the best that I can be and not be content."
The level of respect that Hardy receives throughout the Orioles' farm system requires much more that elite talent. It takes approachability as well.
"I think, first and foremost, that we're friends," he said. "It's not like I look at these guys as someone who's eventually going to take my job. I like them. We're a team. We're teammates, and if I can help them in any way, then great."
When asked if there was a player who exerted a similar influence on his approach to the game when he was making his way to Major League stardom, Hardy didn't hesitate to respond.
"If there's one guy that I like talking about, that I really looked up to, it would be Craig Counsell," says Hardy of his former Milwaukee Brewers teammate. "He didn't speak a whole lot. But when he did, everybody in the clubhouse would listen.
"He won two World Series rings -- a great guy and consistently great player."
As much as any shortstop in the game, Hardy understands that his is a position where quality defensive play is paramount, and he takes great pride in the fact that he's won the American League Gold Glove Award each of the past three seasons.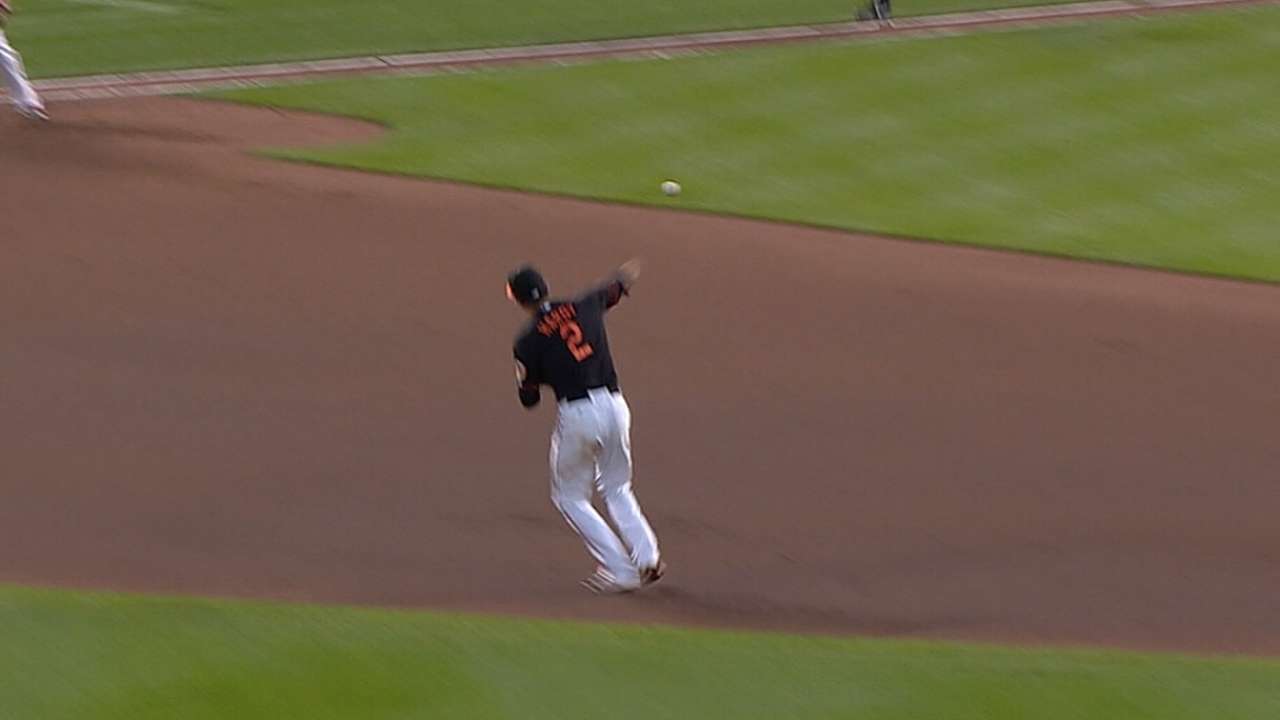 "In my opinion, as an individual award, I think it's the best one to win," he said. "I've always taken pride in defense, and I've worked really hard at it, so it's nice that the coaches in this league have noticed."
Ultimately, however, Hardy sees his role as that of a quiet leader, an approach that seems to be speaking volumes throughout Orioles camp.
"I'm leading by example, definitely not vocally," Hardy said. "I like to believe I'm a little bit like Counsell that way -- not talking a whole lot, but going out there and giving 100 percent to whatever I'm doing.
"If the younger guys are watching, then great."
Michael Kolligian is a contributor to MLB.com. This story was not subject to the approval of Major League Baseball or its clubs.