Caminero earns raves in first relief stint for Pirates
Big right-hander displays power to escape jam vs. Yanks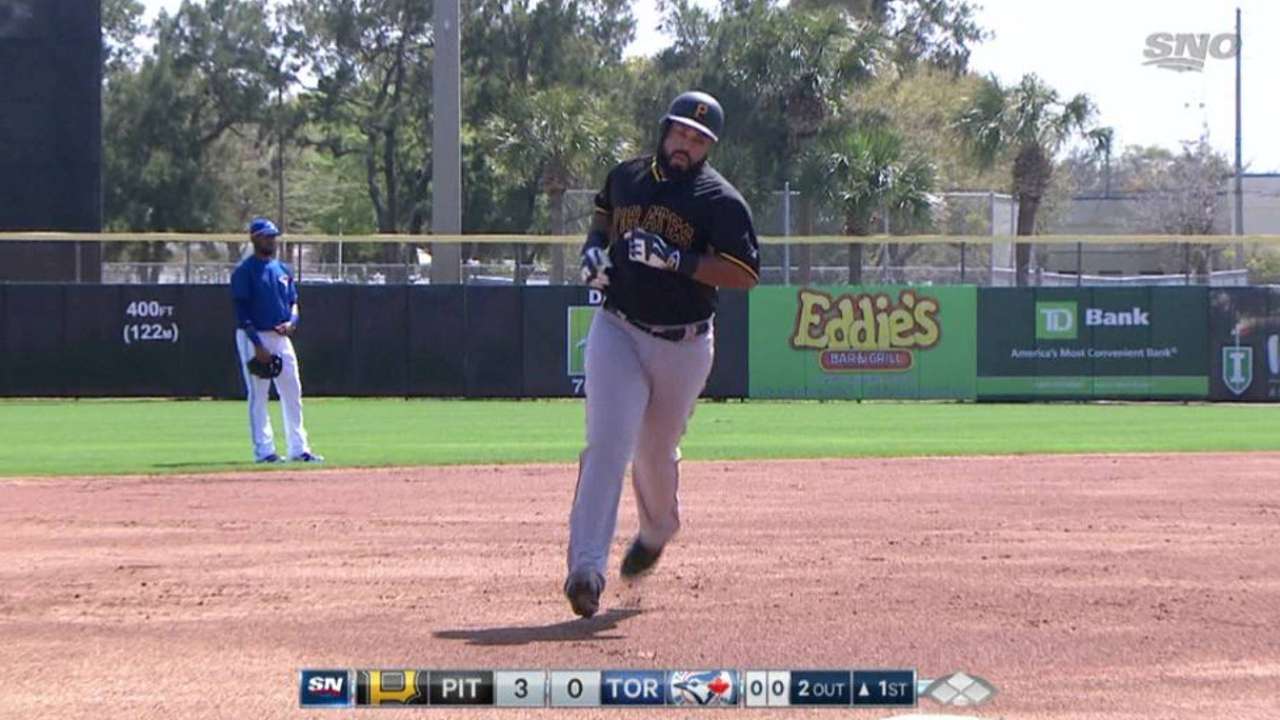 TAMPA, Fla. -- Reliever Arquimedes Caminero showed Friday night why the Pirates acquired him from the Marlins last month, putting his big right arm on full display in the third inning against the Yankees at George M. Steinbrenner Field.
For manager Clint Hurdle, Caminero's three-strikeout performance brought to mind the impressive debut of another big right-handed reliever.
"It kind of reminded me of when Holdzkom came up," Hurdle said.
Hurdle was of course referring to right-hander John Holdzkom, who struck out the side in his debut on Sept. 2 and went on to fan 14 batters in nine innings of work last September.
That kind of outing in the regular season, particularly during a playoff race, is entirely different from what Caminero did in the Pirates' fourth game of the spring Friday night. But Caminero still caught the Pirates' attention.
He struck out the first two batters he faced before giving up a single to Yankees center fielder Jacoby Ellsbury. He finished a nine-pitch at-bat against Brett Gardner with another swing-and-miss, his fourth strikeout in two innings this spring.
"We like him. He's shown the big arm, and he knows as well as anybody that he's got to have command on his side," Hurdle said. "He was aggressive within the strike zone."
Caminero, 27, has ramped his fastball up to 100 mph in the past. Pitching for the Marlins the last two seasons, the 6-foot-4 righty struck out 20 batters in 19 2/3 innings. He would seem to have a leg up in the competition for bullpen jobs, if only because he's on the 40-man roster and out of Minor League options.
More appearances like Friday night wouldn't hurt his chances, either.
"He came in, pounded the zone with strikes, aggressive with his fastball. The velocity was firm," Hurdle said. "And then to win a nine-pitch at-bat against Gardner late like that, that also showed he stayed in the count and didn't give in. It was fun to watch him pitch tonight."
Around the Horn
• While Caminero impressed the Pirates, non-roster right-hander Blake Wood drew rave reviews from Alex Rodriguez. Wood, 29, threw three pitches right by A-Rod for a strikeout in the seventh inning.
"I don't think I saw one of those pitches. I was hoping one of them was a ball. It had nothing to do with the lights," Rodriguez said. "They were strikes. They were 97 [mph]. They were firm."
• First baseman Pedro Alvarez lined a single to left field in the second inning Friday night. Alvarez has four hits so far this spring, all of them to the opposite field. He drew a walk in his second plate appearance of the night.
"He's given us good, clean at-bats," Hurdle said. "He's been working really hard since he got into camp to become a more complete hitter."
• Tony Sanchez hit his first homer of the spring, an opposite-field, two-run shot off lefty Chris Capuano in the second inning.
"That ball was absolutely well struck the opposite way," Hurdle said. "He's shown that power to right-center field before. That's a really good swing he put on that ball."
Adam Berry is a reporter for MLB.com. Follow him on Twitter at @adamdberry. This story was not subject to the approval of Major League Baseball or its clubs.