Locke finds comfort zone in spring debut vs. Yanks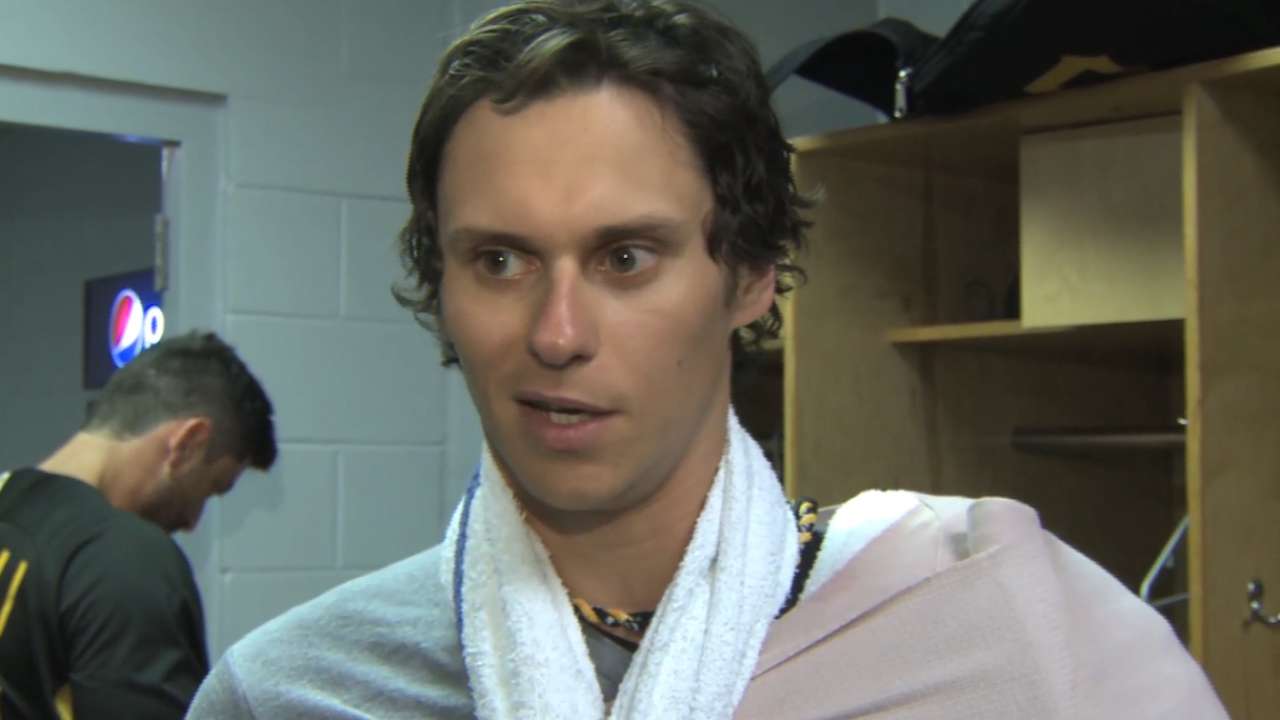 TAMPA, Fla. -- Jeff Locke says he doesn't spend much time thinking about the competition for the final spot in the Pirates' rotation, a two-man race between him and Vance Worley.
"Just when it gets brought up, really," Locke said Friday night.
But it's one of the few position battles for the Pirates this Spring Training, and it's going to be brought up until the club decides on a winner. It came up again Friday night at George M. Steinbrenner Field, where Locke delivered a successful spring debut against the Yankees.
The left-hander gave up a hit and a walk and struck out two batters in two innings. He raved afterward about his first time working with catcher Francisco Cervelli, as the battery made a concerted effort to establish Locke's fastball on both sides of the plate.
"He picked up where [Russell Martin] left off. He's getting to know all of us the same way Russ did when he came in," Locke said. "He's trying to learn our tendencies, learn the things we like to do and not try to say, 'Hey, this is good. Maybe we can try this.' It's just about you. He's back there for you. It puts a lot of confidence in you, whether it's the first Spring Training game or it's August. That's the kind of confidence that you want."
Locke also made it a priority to get more comfortable attacking lefty hitters in a less conventional manner, and he got a chance to do so Friday night as four of the seven batters he faced were left-handed.
"He wanted to come out tonight and establish his fastball, which he did. I think he also wanted to move the ball around to left-handers a little bit more -- just not glove-side command, but arm-side command," Pirates manager Clint Hurdle said. "Good rhythm and pace tonight. Good and aggressive stuff."
Worley turned in his first start of the spring Wednesday, giving up two runs on two hits while striking out two batters in two innings. The right-hander went 8-4 with a 2.85 ERA in 110 2/3 innings for the Pirates last season, while Locke was 7-6 with a 3.91 ERA.
Assuming everyone else makes it through Spring Training in good health, the final spot in the rotation will go to either Locke or Worley. The other pitcher likely would head to the bullpen.
"I haven't thought too much about, 'It's me or this guy; it's this guy or me. Who's it going to be?' I think if I just be the best Jeff I can be, then everything will take care of itself," Locke said. "The only competition I really see is just me and the hitters, me and myself, the little things that I can do the best I can to control my emotions or my preparation. Just going out there and competing with the hitters, and let everything else take care of itself."
Adam Berry is a reporter for MLB.com. Follow him on Twitter at @adamdberry. This story was not subject to the approval of Major League Baseball or its clubs.