Keystone quandary: Angels sorting out options
Rutledge, Green, Giavotella, Featherston among second-base candidates
TEMPE, Ariz. -- Josh Rutledge and Taylor Featherston got to know each other during a stint in the Rockies' instructional league. Rutledge and Johnny Giavotella faced off in college, Rutledge for the University of Alabama and Giavotella for the University of New Orleans. In the Cape Cod Baseball League one summer, Rutledge became familiar with Grant Green, too.
Now here they are, all of them, alternating time at second base and fighting for their baseball lives at Angels camp.
Rutledge prefers to look at it as "doing drills with your buddies."
"Once you play against them, you kind of feel like you know them, so you kind of follow them a little bit," Rutledge said. "That's what I kind of did with all of those guys."
They're all competing to be Howie Kendrick's replacement and Erick Aybar's new double-play partner. Rutledge has the most experience, Giavotella is out of options, Green is the most well known within the Angels and Featherston has the most upside. At least two will crack the Opening Day roster, because the utility-infield job is also open, and up to three could make the team.
By the end of the year, they could all see significant playing time at second base.
"There are guys there that have the ability to go out there and do what we need to do on the defensive end and the offensive end," manager Mike Scioscia said. "We'll see who emerges and who gives us the best look."
Rutledge has done all his drills with the starting infield, was in the starting lineup for Thursday's Cactus League opener -- batting ninth -- and looks like the early front-runner to win the second-base job, which is no surprise given his 266 games of Major League experience the last three years.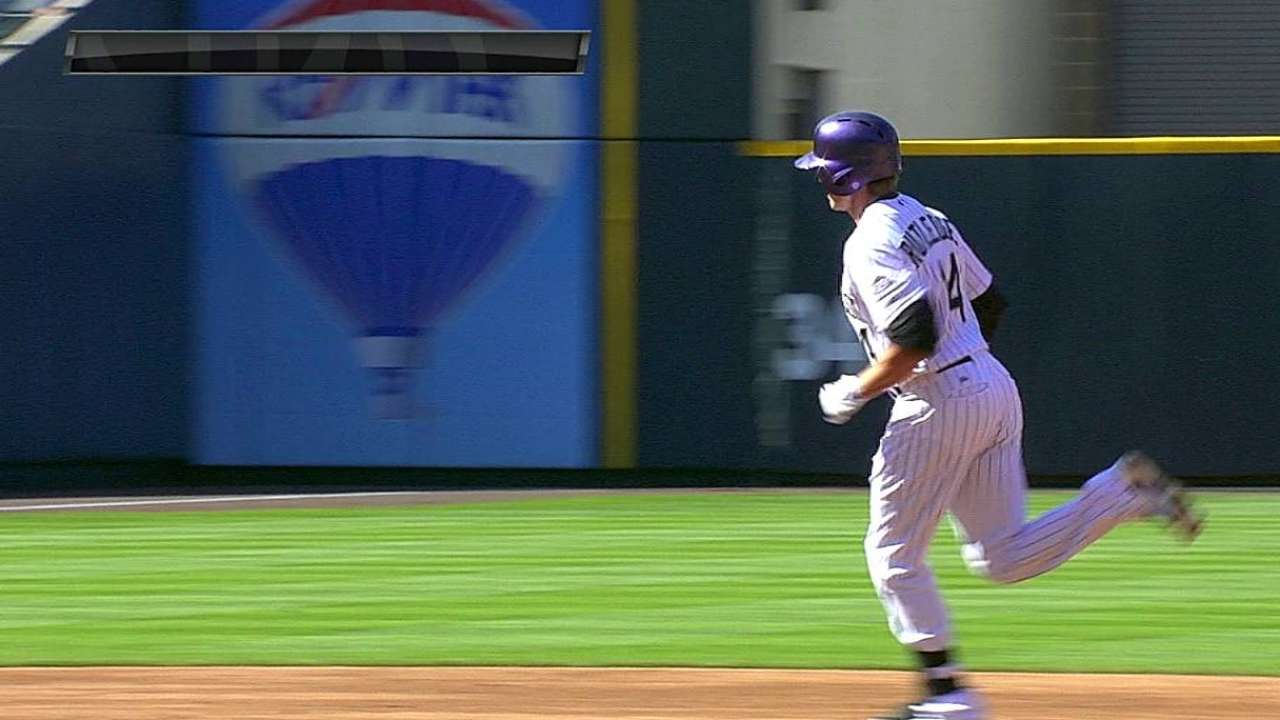 But he has his own questions to answer. Rutledge played shortstop every day after Troy Tulowitzki went down on July 19, but became susceptible to offspeed pitches out of the zone and posted only a .261/.310/.392 slash line despite playing half his games at Coors Field.
Green, the 13th overall pick by the A's in 2009, has batted .309/.357/.473 in his Minor League career but never had a position to call his own. The 27-year-old was a shortstop at the University of Southern California, but hasn't gained much trust on the left side of the infield as a pro and has even tried his hand at the outfield.
Second base is Green's best position, and this may be his last chance to earn consistent playing time with the Angels.
"But if you put more pressure on yourself, you're only going to harm yourself," Green said. "I came into camp with the same mindset I've had every year."
Giavotella had this opportunity before, in Kansas City, while basically splitting the second base job with Chris Getz from 2011-12. Neither hit much -- Giavotella batted .242/.271/.340 in 376 plate appearances, Getz batted .262/.313/.311 in 639 plate appearances -- but Getz had the better glove and played more frequently.
So Giavotella spent most of 2013 in the Minors and hardly sniffed the field when Omar Infante arrived in 2014.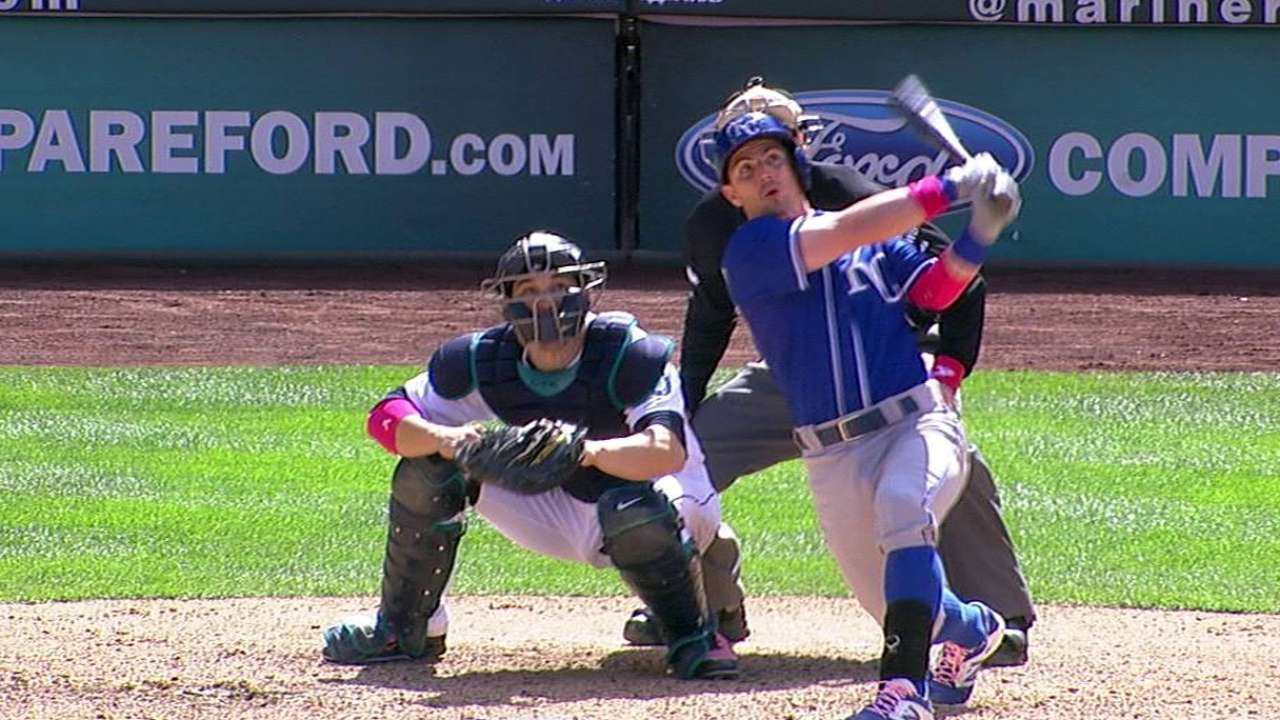 "I never had the opportunity to adjust," said Giavotella, acquired from the Royals in a minor trade in December. "It was more about throwing me into the fire and if I do well I stick. But it's not easy. You put a lot of pressure on yourself to have three hits a game and play incredible defense every game, and if not, you feel like you could be getting sent down. It's not an easy way to play."
Featherston's most likely role will come as the Angels' utility infielder, which means he'll have to learn fast.
The 25-year-old was drafted as a shortstop in the fifth round of the 2011 First-Year Player Draft, spent most of his time at second base because the Rockies took Trevor Story five rounds earlier and batted .260/.322/.439 in Double-A last season. The Angels acquired Featherston in the Rule 5 Draft because they like his glove and approach and believe he can make the big jump from Double-A to the Major Leagues.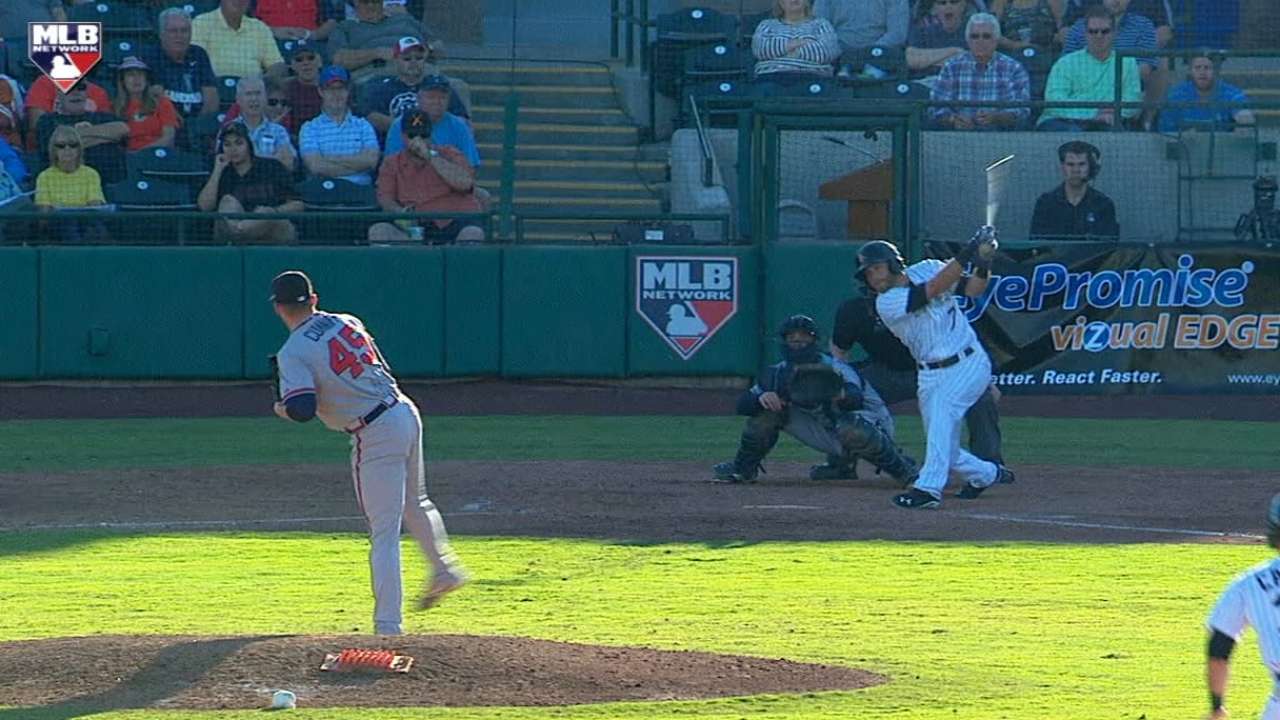 "You never know when it's going to be your turn," Featherston said of adjusting to a utility role. "I don't know how Sosh likes to run it, and I better learn quick. It's my job to be prepared and be comfortable so that every time I come in it's just a smooth transition. If not, that's on me."
Alden Gonzalez is a reporter for MLB.com. Read his blog, Gonzo and "The Show", and follow him on Twitter @Alden_Gonzalez. This story was not subject to the approval of Major League Baseball or its clubs.