MLB.com Columnist
Tracy Ringolsby
Giants don't know the meaning of the word 'panic'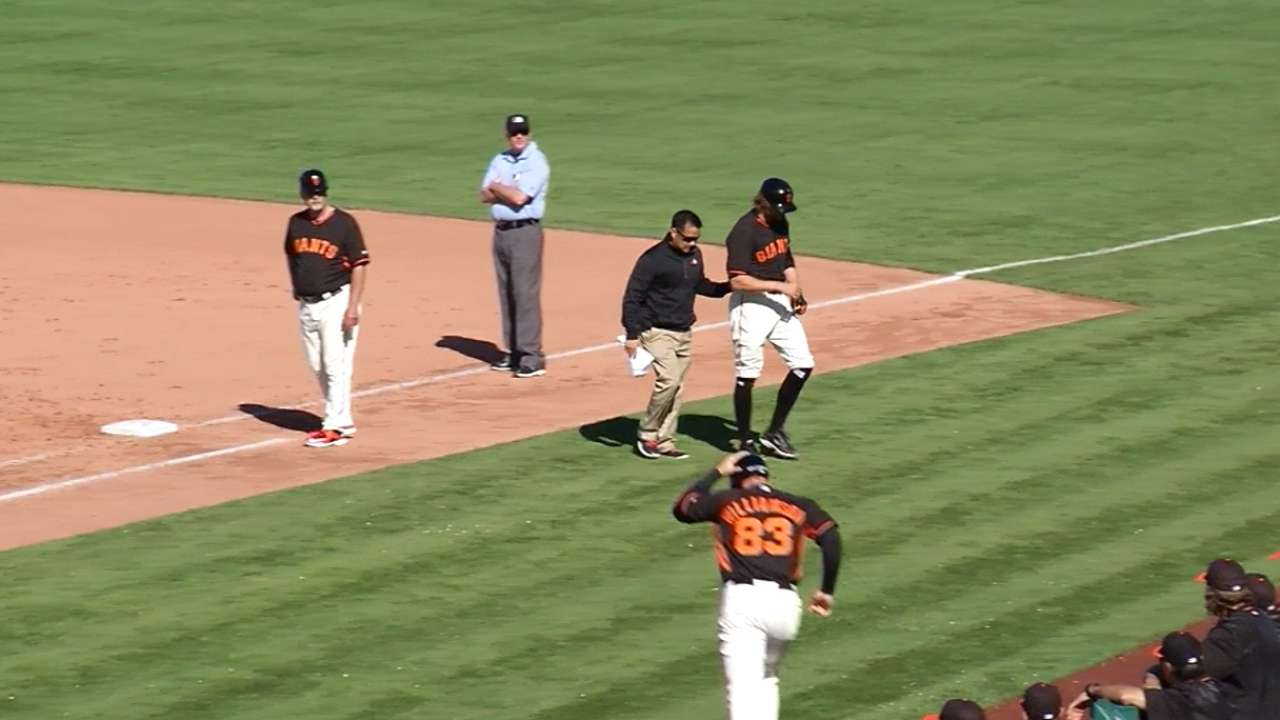 SCOTTSDALE -- Somebody ought to explain to the Giants that there are times when it's OK to panic.
They don't always have to take whatever happens in stride. They could act human once in a while and panic.
OK, they have won three World Series championships in the last five years, so it's not as though outsiders are going to feel sorry for them, but don't they understand that it's OK to have a little self-pity once in a while?
Nope. They don't.
It's not their way.
That old cliché about making lemonade out of lemons? It should be a slogan for a Giants season-ticket campaign.
As though the offseason free-agent departures of cleanup-hitting third baseman Pablo Sandoval and postseason hero Michael Morse weren't enough, in only the third game of Spring Training, Hunter Pence was hit on the left forearm by a pitch from Cubs prospect Corey Black and sustained a non-displaced fracture.
Pence most likely will miss the first month of the season, and the Giants are going to have to figure out a way to avoid being buried early in the National League West without the presence of their emotional leader and a dang good hitter in the middle of their lineup.
Worried? They have to be, but they aren't showing it.
"Unfortunately, these things do happen," said manager Bruce Bochy. "The guys work so hard all winter. You hate to see it [happen] in the [third] game."
But it did. It's reality.
And if there is one strength that sets the Giants apart from the rest of baseball, it's that they are realists. They are confident that they have a system that works, and how can anybody argue with the first NL team to win three World Series titles in a five-year period since the Cardinals did it in 1942, 1944 and 1946?
They get the news on Pence, who had appeared in all 383 Giants games since he was acquired in the middle of the 2012 season, and general manager Brian Sabean doesn't hit a panic button and start running up phone bills, desperate to find a body to insert into right field. It's not the Giants' way.
They will initially consider moving Nori Aoki, who was signed to fill the left-field void, to right, with a likely platoon of Gregor Blanco and Juan Perez in left. And if they decide that Pence's injury is more serious than initially expected and/or Blanco/Perez aren't capable of filling in until Pence returns, rest assured Sabean will find another solution.
He's not about to load up whatever prime prospects are in the Giants' farm system and overpay some franchise anxious to take advantage of possible panic for a fill-in player.
Understand this about Sabean and Co. There is a plan, and they follow it, and they don't get distracted by missteps along the way.
Never have. They're not about to start now.
Sabean joined the franchise following the 1996 season and took so much heat for trading Matt Williams to Cleveland that he held a news conference to announce he "isn't an idiot." And then, with a big lift from the players the team received from the Indians -- Jeff Kent, Julian Tavarez and Jose Vizcaino -- the Giants won the NL West in 1997.
That was the first of seven postseason appearances during the 17 seasons Sabean has been running the Giants, including the three that led to World Series championships in the last five years.
Don't be foolish enough to think it was all smooth sailing in winning those three titles in the last five years, either.
Think about last season. The Giants wound up the NL Wild Card and then disposed of the Pirates in the Wild Card Game, the Nationals in four games in the best-of-five NL Division Series and the Cardinals in five games in the NL Championship Series, and went the full seven games to knock off the Royals in the World Series.
Smooth sailing? Not a chance. But the Giants didn't get distracted.
Emerging staff ace Matt Cain stumbled to open the season, winning only two of his 15 starts before undergoing surgery to remove bone chips and spurs from his right elbow. Enter Jake Peavy, whom the Red Sox couldn't get rid of quick enough after watching him go 1-9 in 20 starts. Peavy did lose his first two starts with the Giants, but the team won eight of the next 10.
Second baseman Marco Scutaro, the in-season lift of 2012, had only 11 at-bats before a back problem sidelined him for the season, and after some mix-and-match initially, Joe Panik got the call from Triple-A and answered by hitting .305.
And don't ignore the fact that center fielder Angel Pagan not only missed 44 games in midseason because of a back problem, he had to call it quits before the postseason even started to undergo surgery for a bulging disk. Blanco came to the rescue, with Morse suddenly getting exposure in left field.
Two years earlier, Scutaro was a late-July addition from the Rockies and had the best two months of his life, hitting .362 with 44 RBIs, while Santiago Casilla and Sergio Romo combined for 39 saves after closer Brian Wilson was shelved two appearances into the season. And Blanco got the call to come off the bench and step in when Melky Cabrera was suspended and the Giants opted not to reinstate him for the postseason when the suspension was up.
"You stay focused on what you have control over," said Bochy. "It's the way we do things."
It's been a winning way.
No sense doubting it now.
Tracy Ringolsby is a national columnist for MLB.com. This story was not subject to the approval of Major League Baseball or its clubs.