Phillies have Ruiz on program to keep him fresh
Veteran backstop won't catch many games early in Spring Training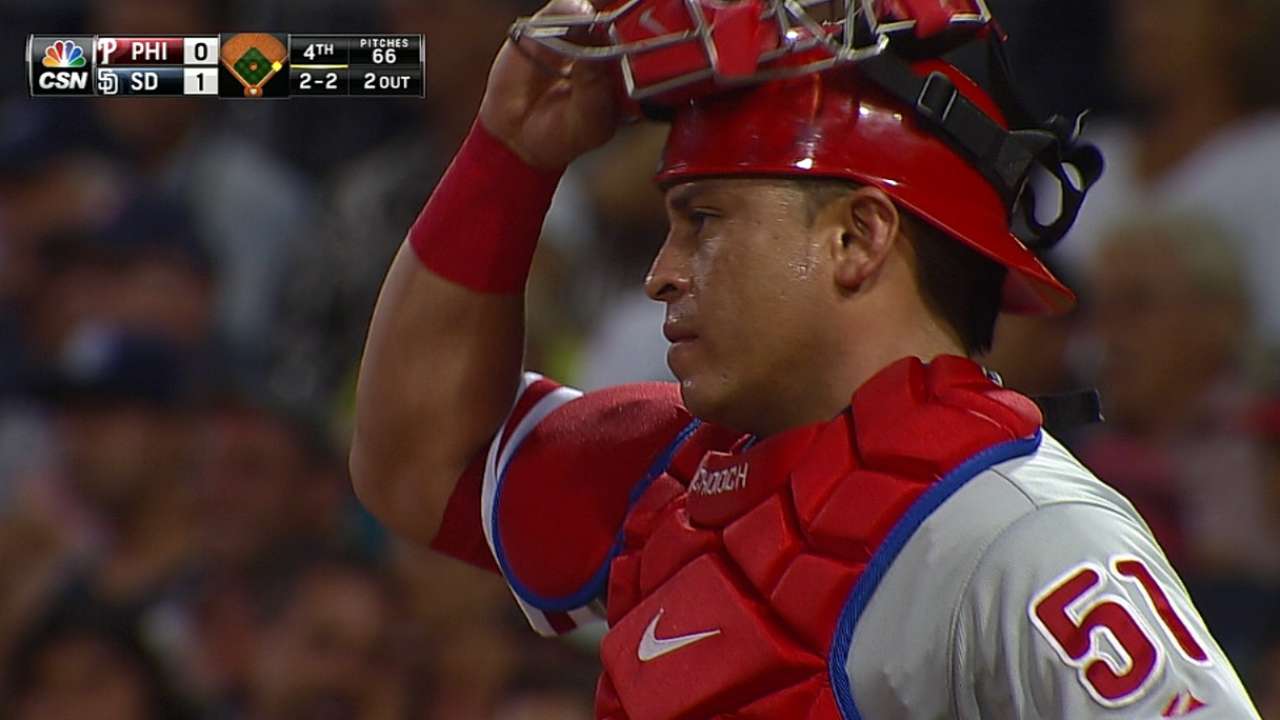 CLEARWATER, Fla. -- The last few springs catcher Darren Daulton spent with the Phillies, when the wear and tear had begun to accumulate, he was on a unique program. He usually didn't play behind the plate until around St. Patrick's Day.
The Phillies are taking a similar approach with Carlos Ruiz this year. Even though he caught Cole Hamels in Friday's 4-1 loss to the Yankees split-squad at Bright House Field, he's not likely to start at catcher often in the early days of Grapefruit League play.
"We kind of have a program for him," said manager Ryne Sandberg. "I'm going to get him behind the plate as needed the first half of Spring Training here. Get him to DH the other games. We also have a chance to get him some at-bats when they start [in the Minor League camp]."
Keeping Ruiz healthy is a priority for the Phillies. He's 36 years old and has spent time on the disabled list each year since 2009, including twice for concussions. He's averaged 94 starts each of the last three seasons. The hope is that keeping Ruiz from getting too beat up in Florida will allow him to play more frequently and stay more productive.
"For him to get work and throw and block and everything. But also preserve himself a little bit and have him on a schedule that has him ready for Opening Day," Sandberg said.
Said Ruiz: "That's the plan until the middle of Spring Training, to be in good shape for the end of the season. I'm still catching bullpens in the morning and doing all my work. To keep fresh. Believe me, I don't want to get hurt. My goal is to stay healthy this year and play the most games that I can. Right now my body feels great. I don't have any issues."
As important as it is for a catcher to get to know his pitchers, Ruiz doesn't anticipate a problem. He's still working with them. Just not during games.
"I catch a lot of bullpens. I'm there every morning and try to catch everybody," he said. "I still do everything to try to stay focused behind the plate. In the bullpen sessions, I do it like a game. I block some balls. I feel great and that's important to me.
"I know the games are different, but I watch the games. When the games are on TV I watch how the guys like to throw. Communication is the key. You put everything together and it ought to be good."
Paul Hagen is a reporter for MLB.com. This story was not subject to the approval of Major League Baseball or its clubs.