Urias wins admiration of Valenzuela in Cactus debut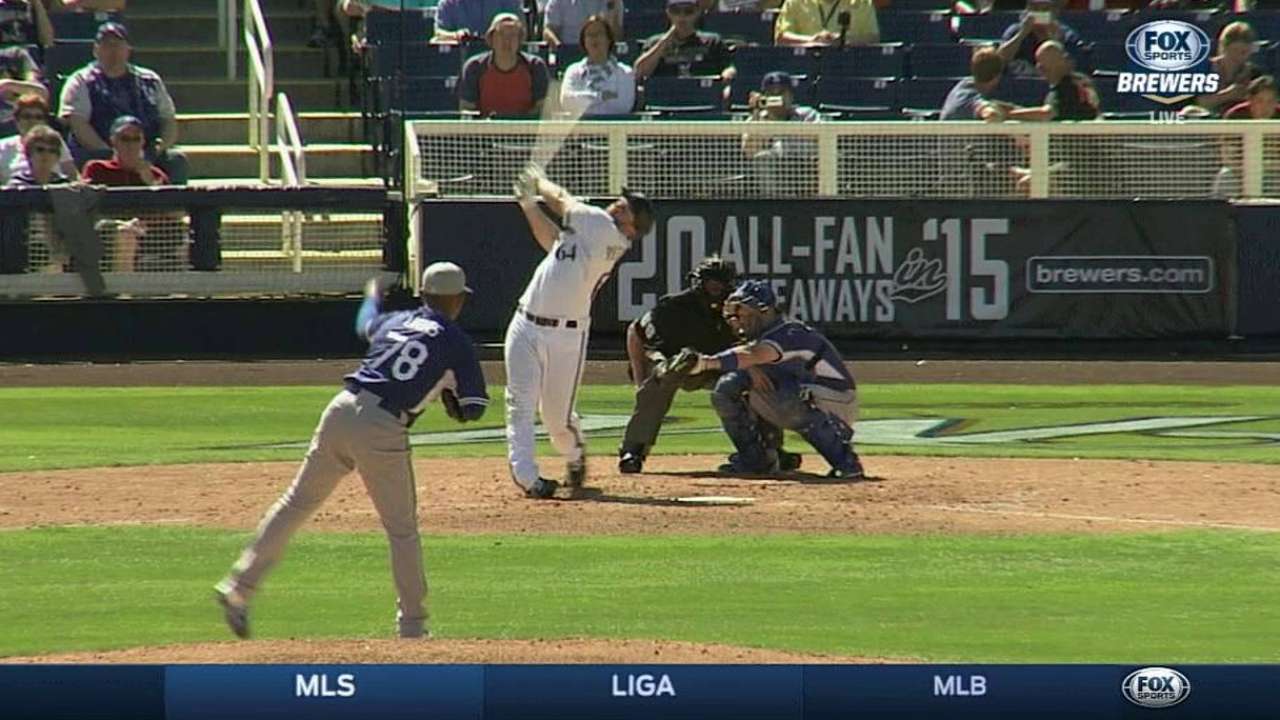 PHOENIX -- Facing proven Major League hitters -- including two-time National League All-Star center fielder Carlos Gomez -- in his Cactus League debut on Friday against the Brewers, 18-year-old left-hander Julio Urias showed why he is one of the game's most heralded prospects.
With his father, grandfather and brother in the crowd at Maryvale Baseball Park, the kid from Culiacan, Mexico, struck out two of the first four hitters he faced, and departed after issuing his third walk. He did not allow a hit or a run. He retired three Brewers regulars -- Scooter Gennett, Jean Segura and Gomez -- in succession to end the third inning and open the fourth.
"It was awesome to face [Gomez] and get an out against him [on a popup] at this early stage," Urias said. "I felt good, comfortable."
A performance that surely thrilled the Urias family impressed the most famous of Mexican pitchers, Fernando Valenzuela, now a Dodgers broadcaster. It was 1980 when Valenzuela made his debut in the Dodgers' shade of blue, creating "Fernandomania" in April 1981 on his way to leading the team to a World Series title.
"He was relaxed, nice and loose," Valenzuela said. "He's got a lot of confidence in himself. He has a good fastball with life and throws a nice curveball and changeup. He got ahead [in counts], but they didn't chase. He looks like he can be something special."
Urias struck out the first man he faced, Shane Peterson, with a fastball and put away Gennett with a curve. He did not get borderline calls on two of the walks.
"Umpires have a job to do," Urias said, "and you have to respect their calls."
Urias, who will be 19 on Aug. 12, is the top-rated southpaw prospect in baseball and ranked No. 8 overall by MLB.com. He already has two professional seasons under his belt. He went 2-0 with a 2.48 ERA in 18 starts (54 1/3 innings) for Class A Great Lakes in 2012, and last year he went 2-2 with a 2.36 ERA in 25 appearances (87 2/3 innings) for Class A Advanced Rancho Cucamonga.
"That experience has helped him a lot," Valenzuela said. "He's very mature for such a young guy. I'm sure his family is happy. They drove up from Culiacan, 13 hours."
Veteran A.J. Ellis, who homered in the second inning, caught Urias after Zach Lee worked two scoreless innings to open the Dodgers' 10-1 victory.
Center fielder Joc Pederson, ranked No. 13 overall by MLB.com, went the other way for a run-scoring single in his first at-bat and doubled into the left-field corner in his second. Both times he was driven home by Alex Guerrero, on a single and a homer.
Corey Seager, ranked No. 7 among all prospects by MLB.com, walked as a pinch-hitter in the fifth inning and stayed in the game at shortstop.
Lyle Spencer is a national reporter and columnist for MLB.com. Follow him on Twitter @LyleMSpencer. This story was not subject to the approval of Major League Baseball or its clubs.