Salazar debuts in pitch for rotation, Marcum solid in relief
Indians' offense jumps on Ventura for four runs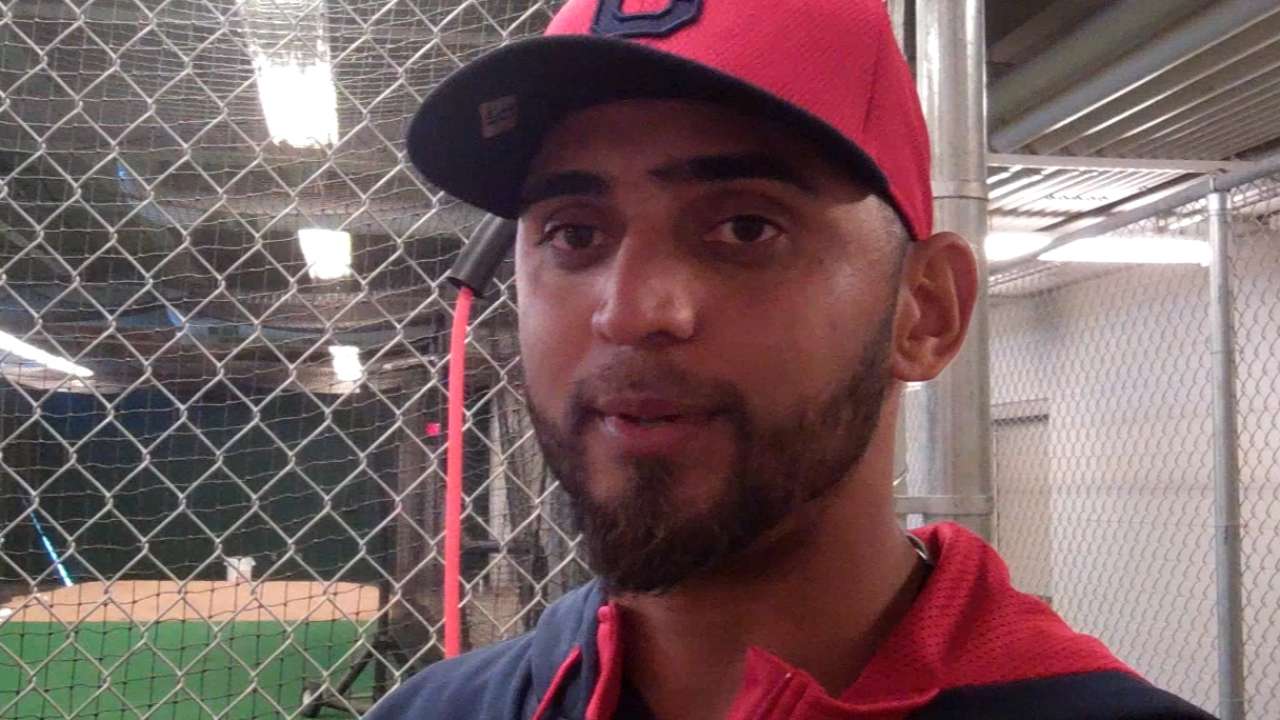 GOODYEAR, Ariz. -- An eight-run outburst in the fifth inning on a windy afternoon at Goodyear Ballpark helped power the Royals to a 11-9 Cactus League win over the rival Indians on Friday. The offensive outpouring overshadowed a shaky spring debut for Kansas City's Yordano Ventura.
Ventura -- a favorite to be the Royals' Opening Day starter -- faced nine batters in the first inning, laboring through 30-plus pitches before calling it a day. The hard-throwing right-hander surrendered four runs and struck out one, but that was hardly enough damage to slow Kansas City down.
Indians starter Danny Salazar, who is one of a handful of candidates for the lone vacancy in Cleveland's rotation, allowed a solo home run to Alex Rios in the first inning. Salazar gave up two runs on three hits in two innings in his first outing of the spring, finishing with four strikeouts and one walk.
"It feels really good being [in a game] for the first time in Spring Training," Salazar said. "There's a huge feeling inside you. You just want to go out there and face batters again. [I'm focusing on] working the corners and I'm trying to throw more inside."
Indians manager Terry Francona said Salazar "came out of the chute throwing the ball really well.
"He made a couple mistakes along the way, but I thought he threw the ball really well. In the season, we can probably nitpick. But, in Spring Training for a first outing, I thought the ball came out of his hand really well and I thought he tried to drive it down with more intent. That's what he needs to do."
Things unraveled for the Indians in the fifth inning, when the Royals exploded for eight runs to grab a 10-5 lead. Setup man Bryan Shaw and Minor Leaguer Shawn Armstrong were on the hook for all the runs, but only one run within Kansas City's onslaught was earned. A one-out error by Indians third baseman Zach Walters helped kick open the floodgates.
"I'm glad it was a spring game," Francona said. "You never want to see an inning like that, but I'm glad it was spring, because you never want to see it. You can take it and, hopefully, learn from it and get better, because that's the kind of game where, if you do that in the season, you might not sleep for a night."
The Royals scored one run on Walters' miscue and then added another on a bases-loaded walk by Moises Sierra. Ryan Roberts drove in one more run with a groundout, setting the table for a towering three-run blast off Shaw by Brett Eibner. Rios added a two-run single against Armstrong, as the ball dropped into shallow right after it appeared that the fielders had issues with the sun.
Earlier in the inning, Kendrys Morales also reached on a single when a fly ball to center fielder clanked off the glove of Tribe farmhand Jordan Smith, who also appeared to lose sight of the ball in the bright Arizona sky. Roberts later added an RBI triple for the Royals in the sixth inning.
Indians right-hander Shaun Marcum, who missed most of last season while coming back from a shoulder issue, logged two shutout innings in relief of Salazar. Offensively, Roberto Perez contributed a pair of hits and three RBIs, and Ryan Raburn chipped in a two-run single.
Up next for the Indians: American League Cy Young Award-winner Corey Kluber is scheduled to log three innings in his Cactus League debut on Saturday, when the Indians host the Dodgers at 3:05 p.m. ET at Goodyear Ballpark. Second baseman Jason Kipnis is also slated to make his spring debut for the Tribe. Also scheduled to pitch for Cleveland is righty Zach McAllister, who is competing for a spot in the rotation.
Jordan Bastian has been a beat reporter for MLB.com since 2005 and took over as Indians reporter prior to the 2011 season.
This story was not subject to the approval of Major League Baseball or its clubs.