Rios stays hot, Ventura shaky in spring debut
Hot bats overshadow rough first inning for Royals' starter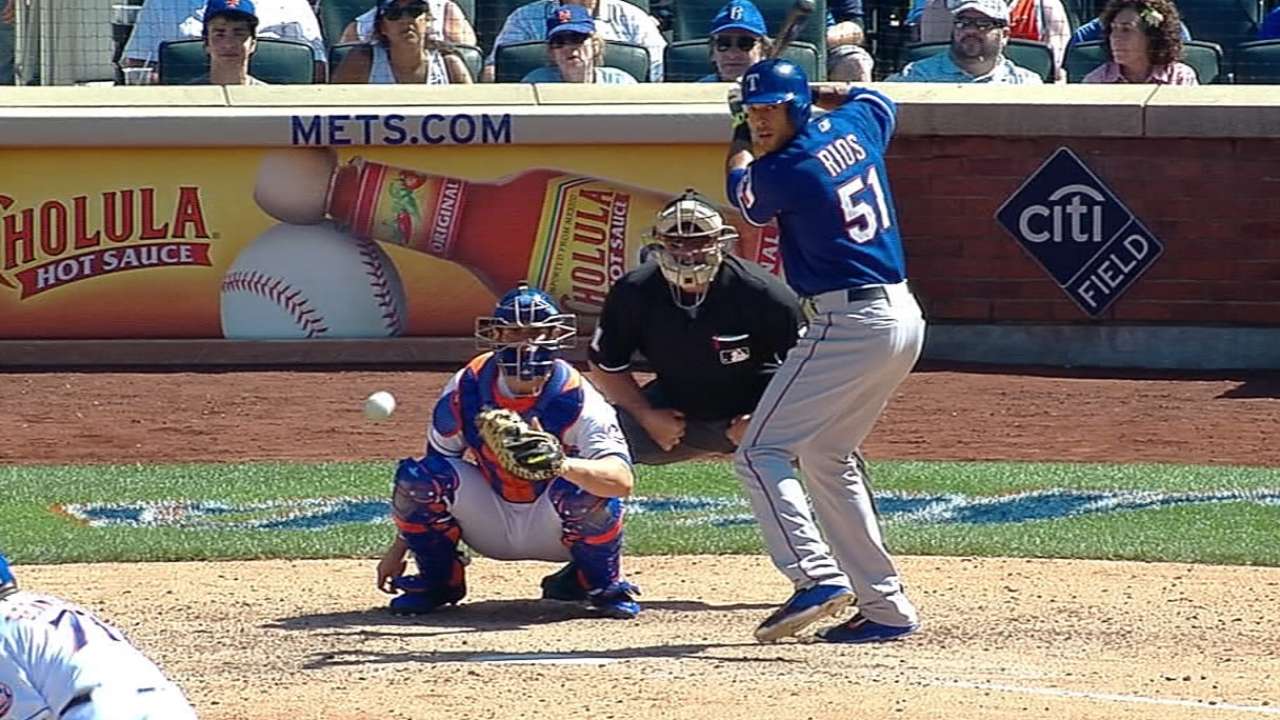 GOODYEAR, Ariz. -- An eight-run outburst in the fifth inning on a windy afternoon at Goodyear Ballpark helped power the Royals to a 11-9 Cactus League win over the rival Indians on Friday. The offensive outpouring overshadowed a shaky spring debut for Kansas City's Yordano Ventura.
Ventura -- a favorite to be the Royals' Opening Day starter -- faced nine batters in the first inning, laboring through 30-plus pitches before calling it a day. The hard-throwing right-hander surrendered four runs and struck out one, but that was hardly enough damage to slow Kansas City down.
Indians starter Danny Salazar, who is one of a handful of candidates for the lone vacancy in Cleveland's rotation, allowed a solo home run to Alex Rios in the first inning. Rios hit just four homers all of last season.
"Being healthy is going to be huge for him," Royals manager Ned Yost said of Rios. "People talk about his four home runs (last year) but he was hurt with the thumb injury. If he's healthy, he's going to be fine. He can drive the ball."
Salazar gave up two runs on three hits in two innings in his first outing of the spring, finishing with four strikeouts and one walk.
"It feels really good being [in a game] for the first time in Spring Training," Salazar said. "There's a huge feeling inside you. You just want to go out there and face batters again. [I'm focusing on] working the corners and I'm trying to throw more inside."
Things unraveled for the Indians in the fifth inning, when the Royals exploded for eight runs to grab a 10-5 lead. Setup man Bryan Shaw and Minor Leaguer Shawn Armstrong were on the hook for all the runs, but only one run within Kansas City's onslaught was earned. A one-out error by Indians third baseman Zach Walters helped kick open the floodgates.
The Royals scored one run on Walters' miscue and then added another on a bases-loaded walk by Moises Sierra. Ryan Roberts drove in one more run with a groundout, setting the table for a towering three-run blast off Shaw by Brett Eibner. Rios added a two-run single against Armstrong, as the ball dropped into shallow right after it appeared that the fielders had issues with the sun.
Earlier in the inning, Kendrys Morales also reached on a single when a fly ball to center fielder clanked off the glove of Tribe farmhand Jordan Smith, who also appeared to lose sight of the ball in the bright Arizona sky. Roberts later added an RBI triple for the Royals in the sixth inning.
Indians right-hander Shaun Marcum, who missed most of last season while coming back from a shoulder issue, logged two shutout innings in relief of Salazar. Offensively, Roberto Perez contributed a pair of hits and three RBIs, and Ryan Raburn chipped in a two-run single.
Up next: The Royals will get their first spring look at left-hander Danny Duffy against opposing hitters when they host the Cincinnati Reds at Surprise Stadium at 2:05 CT Saturday. The game will be on a webcast on Royals.com.
Jordan Bastian is a reporter for MLB.com. Read his blog, Major League Bastian, and follow him on Twitter @MLBastian. This story was not subject to the approval of Major League Baseball or its clubs.