Despaigne, Morrow effective in bid for rotation spot
Right-handers vying for final starter's job, collect 2 scoreless innings against White Sox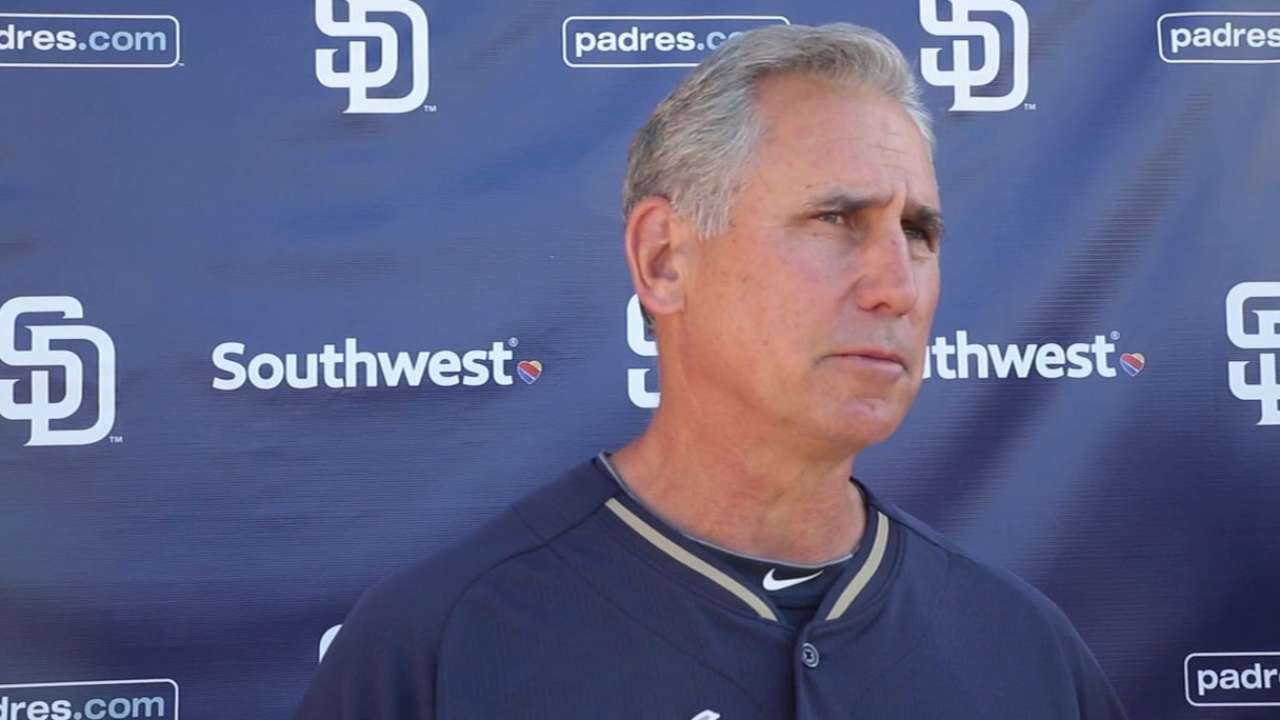 PEORIA, Ariz. -- One of the Padres' few unanswered questions this spring got some fodder to pick over on Friday, as two prime candidates for the fifth starter spot had their first chance to pitch.
Odrisamer Despaigne and Brandon Morrow each looked good in two-inning stints against the White Sox at Peoria Sports Complex.
"I thought they threw the ball well," said Padres manager Bud Black.
Despaigne, who started the game, allowed two hits over his two shutout innings with one walk and two strikeouts. He threw 31 pitches, 16 for strikes.
Despaigne is coming off a season where he had a 3.36 ERA in 16 starts for the Padres.
"I thought Odrisamer threw the ball fine. I liked the fact that he came back from 3-0 to the very first hitter and then [struck out Adam] Eaton. He showed the ability to throw strikes," Black said.
Morrow, who signed a one-year deal with the team in December, had two scoreless innings of his own, striking out one with one walk. He threw 34 pitches, 21 for strikes.
"Brandon threw the ball well. A lot of fastball-change combinations," Black said.
That was by design, Morrow said.
"I felt good, I didn't throw too many pitches, I got to use a lot of my stuff in different situations out there," Morrow said. "I worked from the stretch [with] guys on first, guys on second."
The two-inning stint was actually Morrow's longest since May 2, a five-inning start for the Blue Jays. He went on the disabled list the following day for a torn tendon sheath of his right index finger. He returned later in the season as a reliever.
The other two candidates for the No. 5 spot are left-hander Robbie Erlin and righty Matt Wisler.
Black said it's far too early to draw big conclusions from Friday's performances.
"We are always evaluating our pitching ... the 29 pitchers in camp, how they're going to fit," Black said. "This is just another day along that path of trying to figure out who is going to make our team."
Black said last week that Morrow and Despaigne -- who have the most Major League service time of any of the candidates for the No. 5 job -- had the smallest of edges over Wisler and Erlin.
Erlin made his first appearance of the spring in relief Thursday in the Padres' 9-4 loss to the Mariners, allowing two runs on four hits with one walk in two innings.
Wisler, considered the top pitching prospect in the organization, has yet to pitch in a game. But he is expected to follow James Shields to the mound Saturday when the Padres face the Giants at Scottsdale Stadium (12:05 p.m. PT, MLB.TV).
Corey Brock is a reporter for MLB.com. Keep track of @FollowThePadres on Twitter. This story was not subject to the approval of Major League Baseball or its clubs.