MLB.com Columnist
Richard Justice
Mets thrilled with Harvey's form after long road back
'Special' talent tosses two perfect innings in Spring Training debut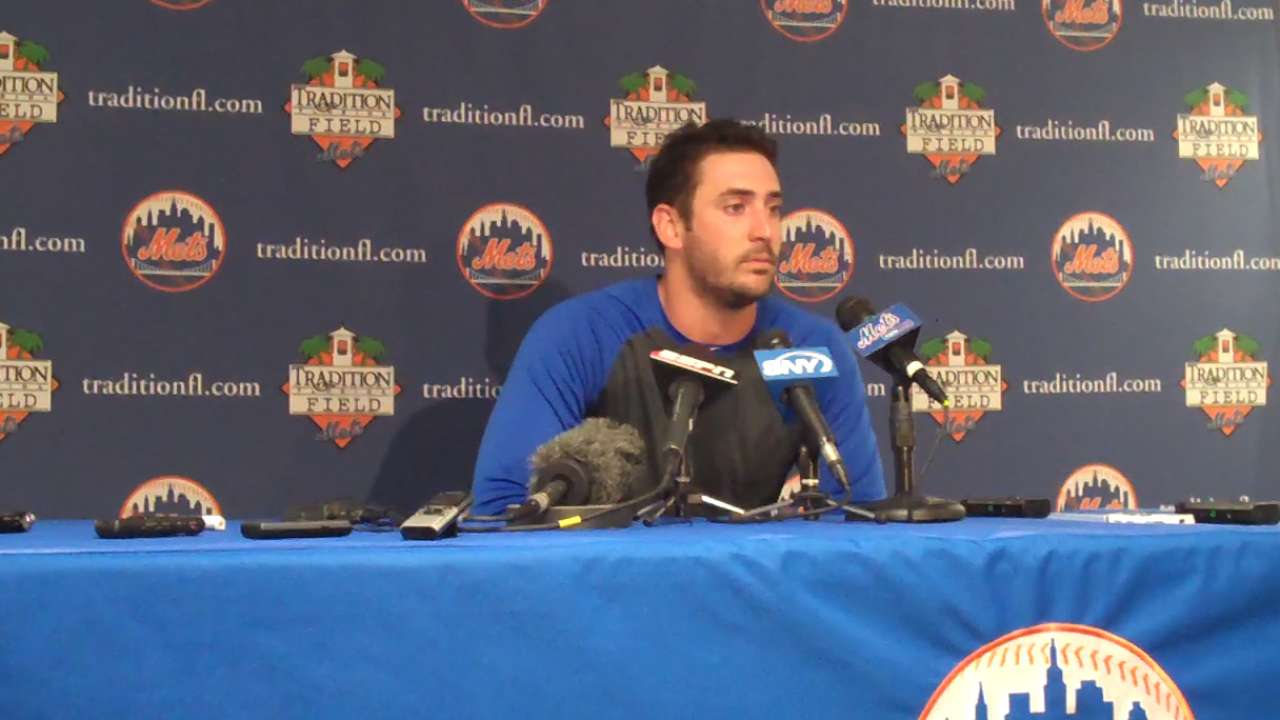 PORT ST. LUCIE, Fla. -- It had the look and feel of a big event. Isn't it always going to be that way with Matt Harvey?
Eighteen months ago, Harvey was arguably baseball's best pitcher, at least in terms of pure stuff and probably in terms of attitude as well. His swagger is the kind that can lead a franchise and rally a clubhouse. His starts are must-see games.
"He's big in our clubhouse," Mets pitching coach Dan Warthen said Friday afternoon. "He's big in New York."
Harvey might not be the difference between the Mets making and missing the postseason, but his importance would be difficult to overstate. The Mets love their pitching, and they've gathered lots of it.
But Harvey is different.
"He's just special," Mets manager Terry Collins said.
Collins recalled a conversation with veteran outfielder Carlos Beltran, who said that Harvey has "the best stuff I've ever seen."
So this was a big deal on Friday afternoon when Harvey returned to the mound for the first time since undergoing Tommy John surgery on Oct. 22, 2013. The Mets took a go-slow approach with Harvey's recovery. He wasn't happy about it at times, and he hoped to make an appearance late last season.
The Mets saw it in simple terms. In Harvey, they have a once-in-a-generation talent. They simply weren't going to risk another injury.
"We're going to look back and see that we did the right thing," Collins said.
So Friday was the day, and the Mets knew how important it was.
"A guy with stuff like that can make or break a team," Mets catcher Travis d'Arnaud said. "He's got that stuff, and he's got that mindset. Everyone in the clubhouse knows he can do that."
When d'Arnaud was asked if he could feel the buzz in the spring ballpark, he didn't hesitate.
"It was the first Spring Training game I've been nervous for in a while," d'Arnaud said.
In the end, it was a perfect day for both Harvey and the Mets. He was as dominant as he'd been in 2013, facing six Detroit Tigers and retiring them all. He needed just 25 pitches. His fastball was consistently in the 96-98 mph range, once hitting 99.
Harvey's curveball was better than it had been in 2013, and he finished the day by striking out Tigers catcher Bryan Holaday on a -- wait for it -- full-count curve. He simply didn't look like a guy who hadn't pitched in a game in 560 days. Once he got back on the mound Friday afternoon, it had the look and feel of just another Matt Harvey game.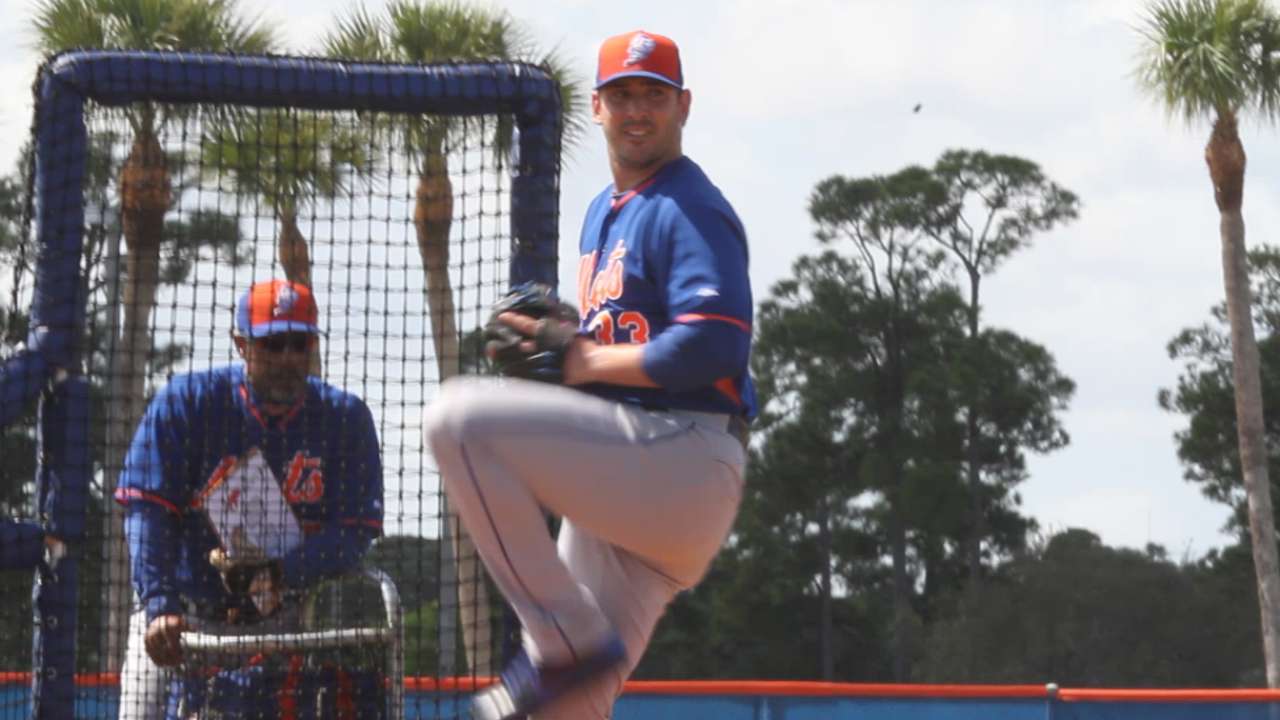 "It was like I never left," Harvey said. "Things felt so good that the fact that I did have surgery was completely out of my mind."
Harvey's afternoon included a sweet pregame scene in the bullpen when his pitching teammates gathered behind him during his warmups. When he was done, they encircled him to offer fist bumps and words of encouragement.
"It's been unbelievable, the support, the excitement that people have," Harvey said. "For me, I know there's a long way to go. It's getting ready and really going into each start like nothing's happened. I was able to do that today."
Harvey said he sensed the vibe in the stadium the moment he left the dugout and walked toward the outfield to begin his early work. When Mets third baseman David Wright handed him the ball to open the game, he said, "You've worked real hard to get to this point."
"It was just like he left off, and that's the biggest compliment you can give him," Wright said. "It reminded me of the last time I saw him on the mound."
When we last saw Harvey in 2013, he was No. 1 among Major League starters in fastball velocity, and he was among the Major League leaders in virtually every pitching measuring stick.
Harvey's so competitive and so driven that the Mets worry about his trying to do too much too soon. They've told him they'll pull back the throttle on his workload to preserve him for late in the year. They understand he will not like this. When he walked off the mound at the end of two innings on Friday, he jokingly asked Collins if he could go another couple of innings.
"We both know that's going to happen at some point," Harvey said. "That was my way of saying I understand the process. I know how things are going to go."
Later, Collins said, "That conversation won't be a joke when it happens in June."
Regardless, it was a good day, not just for Harvey and the Mets, but for the entire sport. We may someday look back and remember we were lucky enough to see someone this good perform at the highest level of his craft.
Richard Justice is a columnist for MLB.com. Read his blog, Justice4U. This story was not subject to the approval of Major League Baseball or its clubs.