Rays raise awareness for pediatric cancer at 'Cut for a Cure'
Members of club shaved heads, made donations to support cause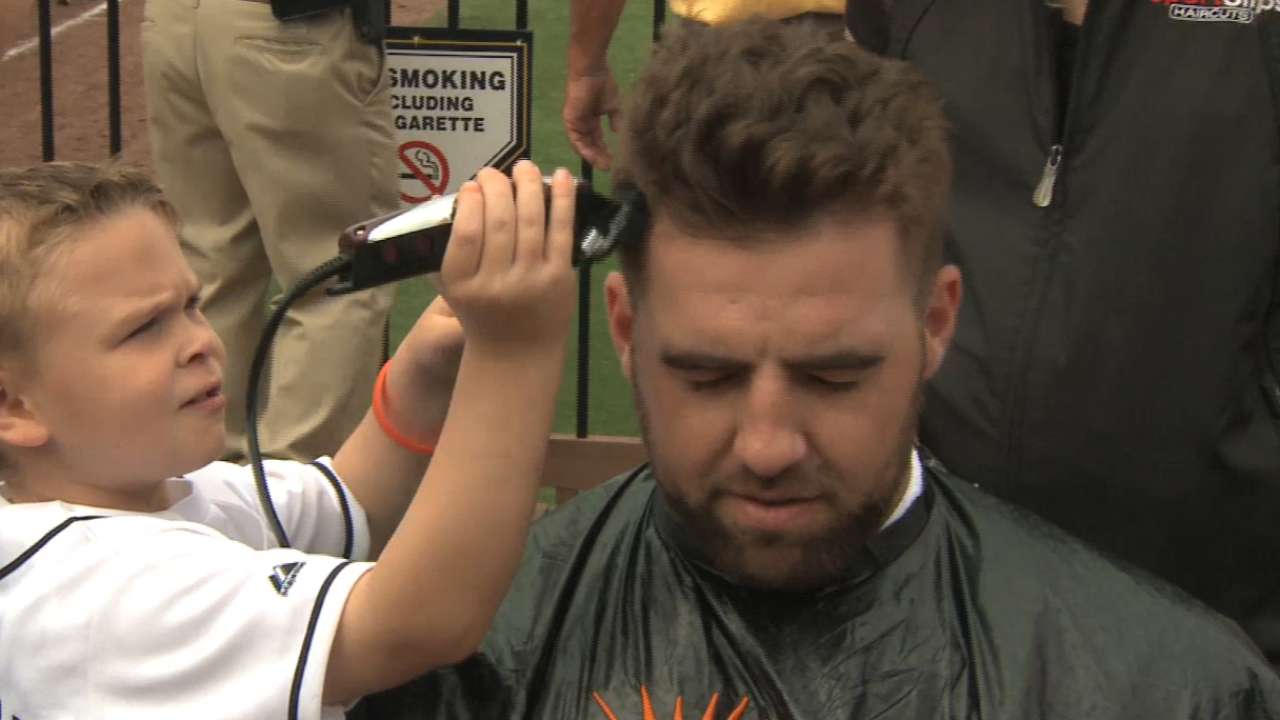 PORT CHARLOTTE, Fla. -- Prior to Friday's Rays-Twins game at Charlotte Sports Park, Rays players, coaches and front office staff took to barber's chairs to have their heads shaved as part of the Pediatric Cancer Foundation's "Cut for a Cure" event.
"I love helping out any way I can," Nathan Karns said. "Particularly in the community with kids. If there's any way I can be of any assistance to make somebody else's day better, I'm all for it. I love to help out."
Karns personified the sentiment from the Rays' clubhouse to the team's front office. This year marked the fourth consecutive the Rays have taken part in the event that pays tribute to children fighting cancer.
"Cut for the Cure and opening Spring Training here with the Tampa Bay Rays in Port Charlotte means the world to the Pediatric Cancer Foundation by raising awareness to this terrible disease," said Nancy Crane, executive director of the Pediatric Cancer Foundation. "By the time we finish this game today, three to four children will die in the United States.
"It's liberating to feel like you've shaved your head, you've helped a cause, and it's just hair," Crane said. "It's just hair, and it grows back. If we can all work together and people can donate just $10 and help this team reach their goal of $15,000 and then eventually our goal of $350,000, we're going to fund an entire phase 1 clinical trial for kids with brain tumors. And we're going to open that trial in December. So we need that commitment of that money, and this is going to help us do that."
Fans also participated in Friday's event. For a $100 donation, they were able to get their heads shaved alongside Rays players and receive a "Rays Cut for the Cure" T-shirt.
Matt Moore's dog, Griffin, even took part in the event. The left-hander's beloved Labradoodle took a seat to get the top of his head cleaned up.
"It's my third year of doing it," Jake Odorizzi said. "It's for a very good cause. It's hard not to donate and come up here and do it. I mean, even if you don't want to get your hair cut, pretty much everyone donates. It's all for a good cause.
"We had one family came in the other day and told us how this has benefitted them. Seeing where everything goes and how it helps the families is pretty incredible."
Odorizzi likes the utility of his new 'do.
"It's easy to get up in the morning," Odorizzi said. "You just roll out of bed in the morning, throw on a shirt, don't have to do anything to your hair. So it's really quick and easy. Convenient."
Karns noted that he liked his buzz, but added: "I've got a big old odd-shaped head. I think everyone is going to get to see all the dents and bumps on the back of my head. But it's all good. I love it. Anything I can do to help out. It's always a good thing."
Bill Chastain is a reporter for MLB.com. This story was not subject to the approval of Major League Baseball or its clubs.