Molitor will continue strategy on infield shifts
Twins manager wants opposing batters to have to adjust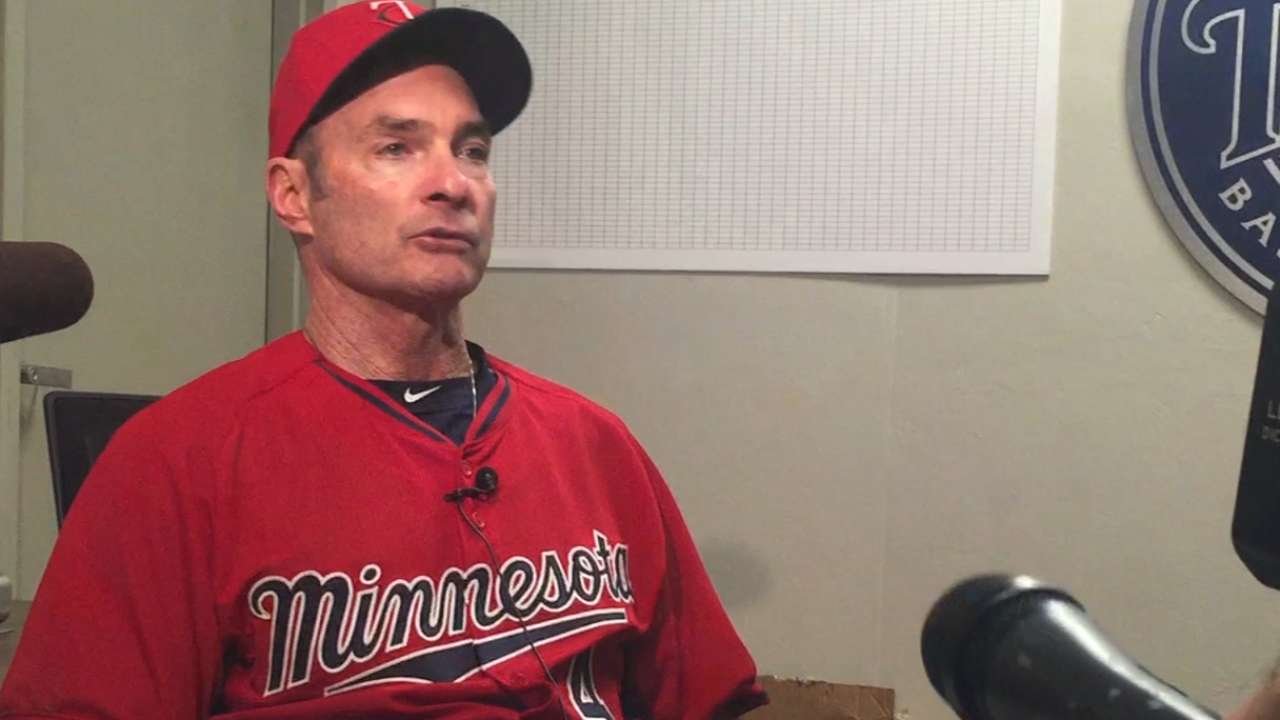 PORT CHARLOTTE, Fla. -- Paul Molitor says he won't be shy about letting data help him make decisions during a game in his first season as Twins manager.
He helped the Twins implement more infield shifts than ever last year when he served as a coach under former manager Ron Gardenhire, as they went from shifting 87 times in 2003 to 553 times in '14, according to data available from Inside Edge. And it's a trend Molitor will continue this season.
"You can't deny the information," Molitor said. "We'd rather have the hitter adjust to us. If you have the information from the track record and charts, that gives us the best chance to give us an out, and we'll do that."
Molitor has also had Twins right fielder Oswaldo Arcia, the club's most obvious candidate to be shifted on this season, work on his bunting with hitting coach Tom Brunansky as a way to help beat the shift in certain situations this season.
"We don't want him to change for the most part, but he has worked on bunting somewhat," Molitor said. "I just think there is going to be a time when getting on base is more important than getting an extra-base hit or a home run."
And as for bunting as an effective offensive strategy, Molitor said he leans more toward a new-school approach that sees bunting as giving away outs rather than increasing offensive output. But he did say there will still be situations where he'll call for a bunt this season, especially if they're playing for just one run.
"Obviously there is going to be a time to bunt along the way, but overall, I'm supportive of the trend that sacrificing is less than it used to be," Molitor said. "But that doesn't mean in certain situations if the right people are involved and I need to move a runner and it increases our chance to score a run, I'll do it at the right time."
Rhett Bollinger is a reporter for MLB.com. Read his blog, Bollinger Beat, and follow him on Twitter @RhettBollinger. This story was not subject to the approval of Major League Baseball or its clubs.