Socrates makes strong early impression in D-backs' camp
Outfield prospect plays all nine innings in Cactus League opener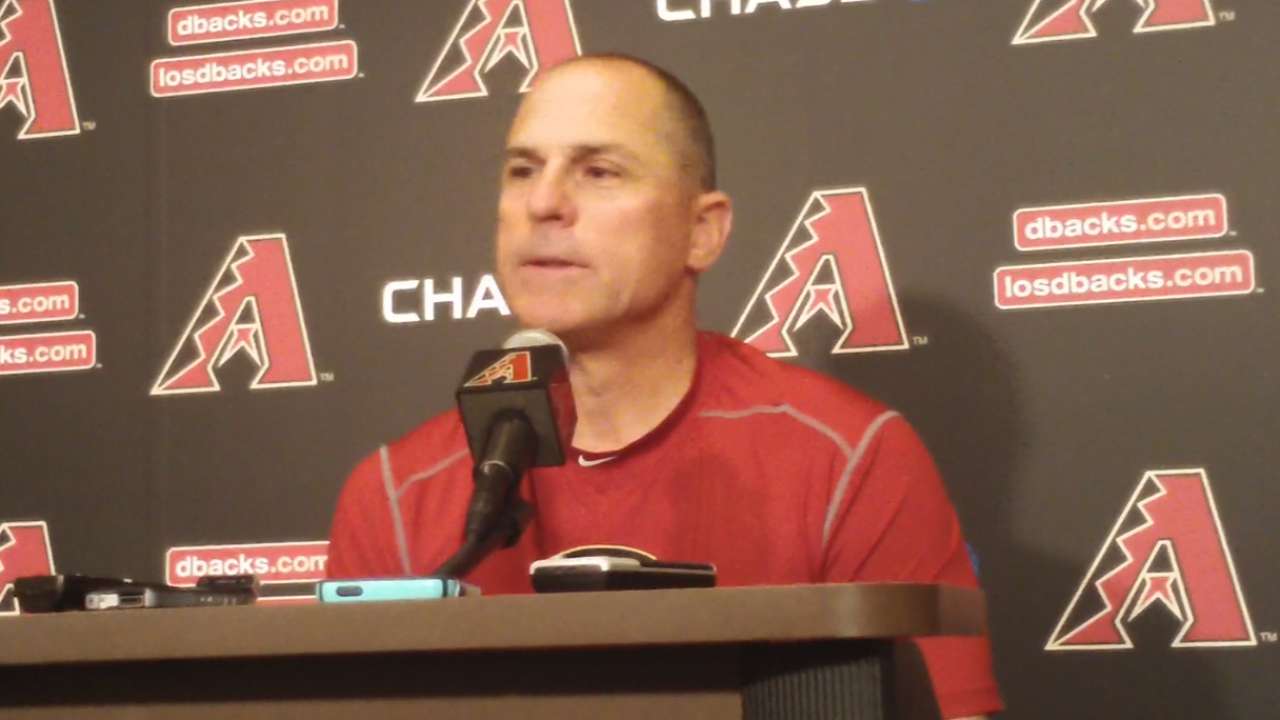 SCOTTSDALE, Ariz. -- His name always got him some attention, but now it's his play on the field that has people talking about D-backs outfield prospect Socrates Brito.
The 22-year-old outfielder has made an impression early on in Arizona's spring camp.
Outside of having the same name as the ancient philosopher, Brito tends to fly under the radar. His tools may not wow you, but when you put them together, it makes for an intriguing package.
"I think everything is a click above average," D-backs farm director Mike Bell said. "And his baserunning skills are well above average."
Signed by the D-backs in April 2010, Brito spent last season at Class A Visalia where he hit .293 and had an OPS of .767.
"Last year he really put it all together in Visalia from running the bases to offensively swinging the bat and coming through in big situations," Bell said.
Brito played all nine innings in the D-backs' Cactus League opener against the Rockies on Wednesday, a rarity that early in camp. Especially for someone who is in his first big league camp.
"I was surprised when I saw that the first game of Spring Training I was going to play all nine innings," Brito said. "That was good for me. It's exciting to be here in big league camp. All these guys here they are good people and good teammates. I like how everyone treats me."
Said D-backs manager Chip Hale, "He showed us something. He's competing pretty well for a guy that's played at the level he's played at. He's showed us a lot of maturity. His defense, offense, baserunning has been fantastic."
It was that baserunning that Bell noticed when he saw Brito play for the first time.
"He was tall, lanky, had a clean swing, not overly powerful or strong yet," Bell said of that day in 2010. "I remember watching him watch first to third and thinking, 'Wow, that's different.' It wasn't like he was a burner, but he just glided. That was my first memory of him. He just kept getting better and better."
Brito has played mostly right field in the Minors, but Bell said the organization is comfortable with him in center and left as well.
Should Brito eventually make it to the Majors he will become the first person named Socrates to do so.
"My father told me I was named after a guy that was smart," Brito said. "Some people say it's a weird name, but I don't think so. I like my name."
And the D-backs, so far, like his game.
Steve Gilbert is a reporter for MLB.com. Read his blog, Inside the D-backs, and follow him on Twitter @SteveGilbertMLB. This story was not subject to the approval of Major League Baseball or its clubs.