Moore's big day lifts Zimmermann, Nats over Braves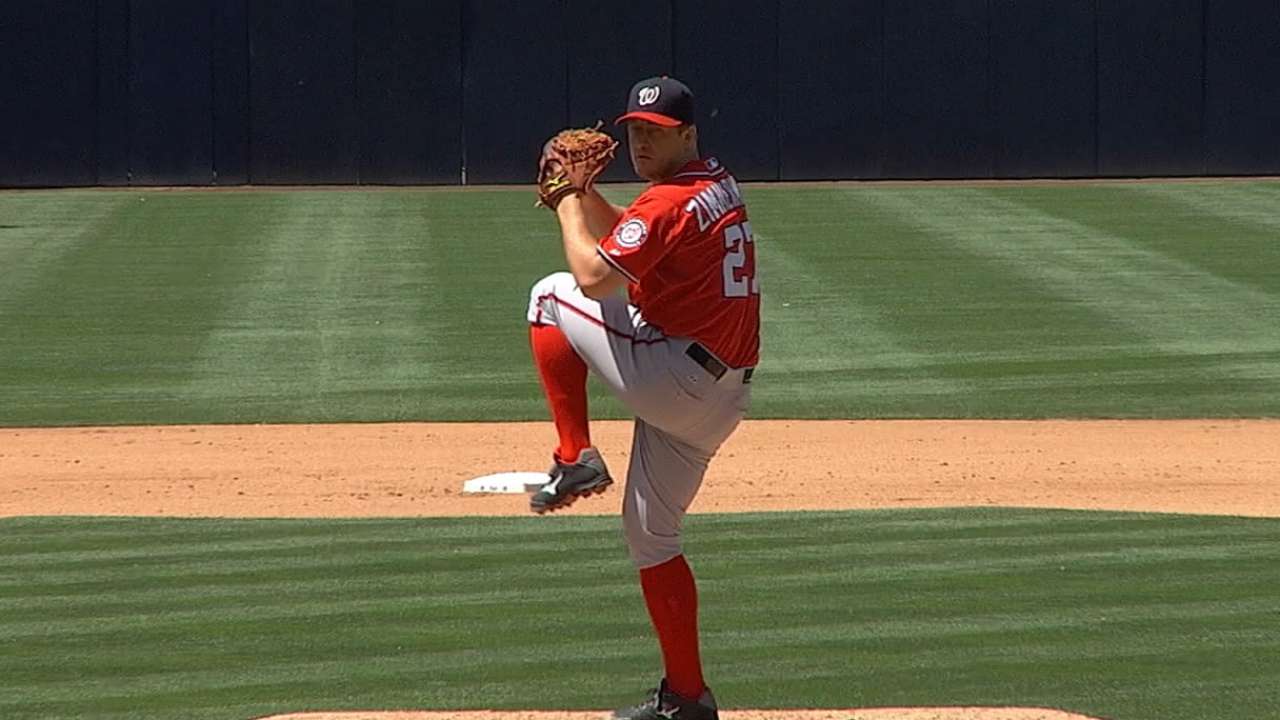 LAKE BUENA VISTA, Fla. -- Jordan Zimmermann surrendered just one hit as he completed two scoreless innings in his Grapefruit League debut as the Nationals defeated the Braves, 9-8, on Friday at Champion Stadium.
The Nationals right-hander proved to be one of the few pitchers who impressed during this slugfest that featured Freddie Freeman's towering home run, a two-hit performance from Ian Desmond and Dan Uggla's encouraging debut against his former Atlanta teammates.
Uggla, who was released by the Braves last year, singled to right-center field in the second inning and then trotted home when Tyler Moore followed with a two-run home run off Alex Wood.
After the Nationals increased their lead to 3-0 with the help of three consecutive one-out hits off Jason Grilli, the Braves produced a game-tying, three-run third inning against Taylor Jordan, who surrendered a solo homer to Pedro Ciriaco and then allowed both Freeman and Jonny Gomes to notch consecutive two-out RBI singles.
After the Nationals used three walks and Moore's three-run triple to construct a four-run fourth against Juan Jaime, the Braves tallied four runs of their own during the bottom half of the inning against Craig Stammen.
Freeman started the barrage by sending a two-run shot over the right-center-field wall and Ciriaco added to Stammen's woes with a two-out, two-run double.
The Nationals erased a one-run deficit with a pair of seventh-inning runs surrendered by Arodys Vizcaino. Matt Skole started the rally with a leadoff double and Kila Ka'aihue capped it with a go-ahead sacrifice fly.
Up next: Right-hander Stephen Strasburg makes his Spring Training debut as the Nationals host the Cardinals at Space Coast Stadium on Saturday at 1:05 p.m. ET. Strasburg was 0-1 with a 3.55 ERA in two starts against St. Louis last season. A.J. Cole, Casey Janssen and Matt Thornton are also scheduled to pitch.
Mark Bowman is a reporter for MLB.com. This story was not subject to the approval of Major League Baseball or its clubs.