Martin finding handle catching Dickey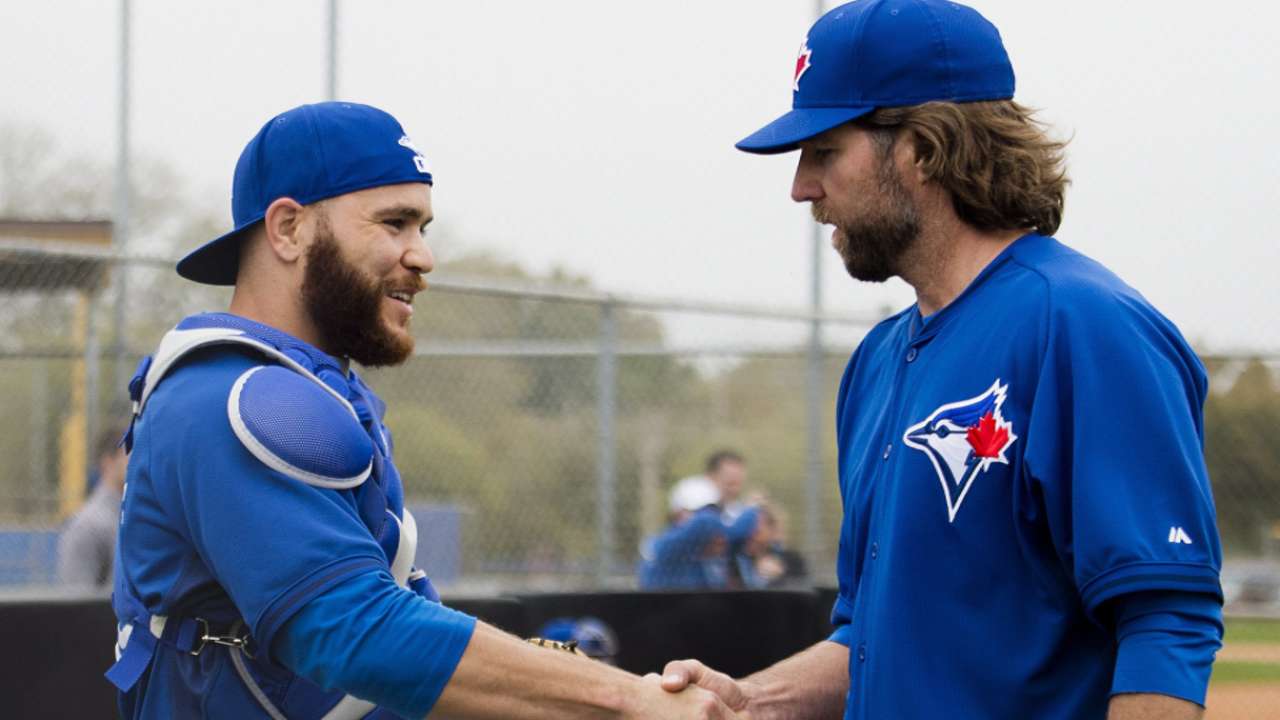 DUNEDIN, Fla. -- There is still a lot of work to be done, but Russell Martin says he is getting more comfortable catching R.A. Dickey with each passing game.
Dickey had a particularly effective knuckleball during Friday's 5-4 win over the Orioles that caused issues for Martin on more than one occasion. Martin dropped six balls in the two innings Dickey pitched, but only one of the knuckleballs really got away from him completely.
Part of the issue also could be that Martin is trying to break in a new glove to use exclusively with Dickey. He got the glove earlier this week and used it when Dickey was throwing off flat ground on Thursday, but Friday marked the first time the glove was used in a game.
"The more I get used to it, the more comfortable I am [and] the less of a mental grind it is," Martin said of catching the knuckleball. "But two innings is nothing. It's not like a complete game or whatnot. So it's kind of hard to tell from a short sample. But I do know I'm getting more comfortable. I'm starting to get a better feel for it, and as we go along I feel like it's just going to get better."
Dickey is used to the process of working with a new catcher because he went through it during each of the past two springs when J.P. Arencibia and Erik Kratz gave it a shot. Overall, he gave Martin a solid review, even though there were a few blemishes along the way.
The most important thing was that only one of the dropped balls came with runners on base, and Martin was able to react in time to keep the man on first.
"There was only really one that I thought that he would have normally handled with a little more experience," Dickey said. "Outside of that, I threw two strike-threes that were really good. One was on a 3-2 count to [Travis] Snider where it dropped 12 inches right at the last second. He did a great job. He's definitely got all the tools; it's just a matter of working together."
Gregor Chisholm is a reporter for MLB.com. Read his blog, North of the Border, and follow him on Twitter @gregorMLB. This story was not subject to the approval of Major League Baseball or its clubs.